Canadian Sculptors and Monument Creators
108. SOLD
109. SOLD
110. HAHN, Emanuel Otto. RCA. ALC. P-SSC. [1881-1957]. [King George V and Queen Mary Silver Jubilee of Coronation Medal].9 ½ inches diameter. silver painted cast plaster relief medallion. editioned work of art. initialed in the cast "EH". [c1935]. $1,500


This work was probably done as a proposal for the Silver Jubilee medal of King George V and Queen Mary in 1935. The Jubilee medals were produced in Britain and then parceled out in limited quantities to the Dominions. Emanuel Hahn also designed the old Canadian dollar coins (The Voyageur Dollar; The 1939 Royal Visit Dollar with Parliament Buildings), the current quarter (The Caribou), the current dime (The Bluenose), and other Canadian medallions.
"It was in the years immediately following the First World War that [the German-born artist] established himself as one of the leading sculptors in English Canada, initially on the strength of his designs for Canadian war memorials and civic monuments...In 1926 he was awarded the contract for the Edward Hanlan monument, erected on the Canadian National Exhibition grounds in Toronto, and in 1929 won the competition for a memorial to Sir Adam Beck, his most important monumental project, unveiled in 1934 on University Avenue, Toronto." (Canadian Encyc.) Among his notable independent sculpture were the bronze, Indian Scout (1913), which was purchased by. the National Gallery of Canada, his 1926 marble portrait bust of his wife, Elizabeth Wyn Wood, Flight of 1928, and his 1929 Head of [Arctic explorer] Vilhajalmur Stefansson (National Gallery of Canada) which won him the 1930 Willingdon Prize.
Provenance: Collection of Lawrence Hayward, Kingston.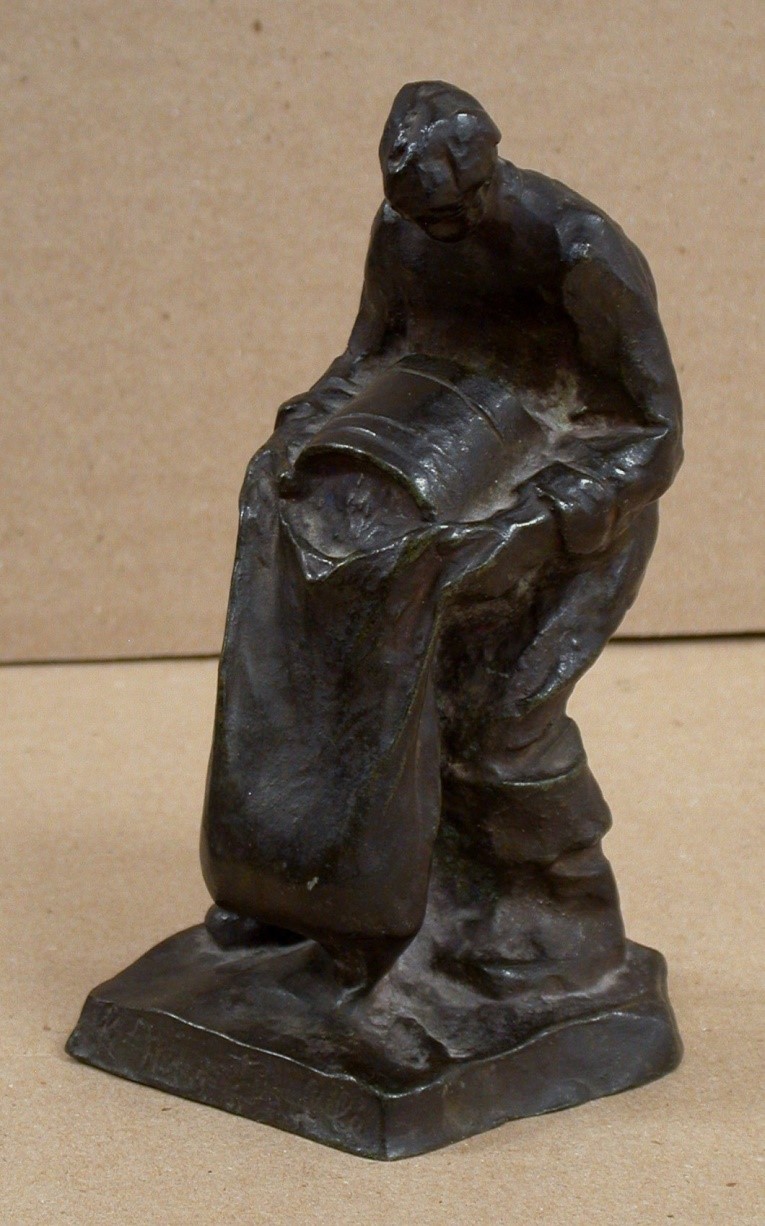 111. LALIBERTÉ, Alfred RCA. [1878-1953]. Le minot de blé. 5 ½ x 2 7/8 x 2 5/8 inches. cast bronze sculpture with dark patination. signed & titled in the cast. circa 1910-1911. $4,000


Canadian sculptor Alfred Laliberté is best known for his large memorial monuments, scattered across Quebec, as well as for his smaller sculptures depicting rural Quebec life, legends and customs, of which this is a nice example. When he was only twenty, Laliberté won first prize at the Provincial Exhibition in Quebec City for a life-sized bust of Sir Wilfrid Laurier. Auguste Rodin was a major influence on his allegorical and religious work.
112. McKENZIE, Robert Tait. RCA. NSS.[1867-1938]. The Ideal Scout. 18 x 7 ½ x 7 ½ inches. cast plaster sculpture toned and painted in a cream colour. signed & dated 1915 in the cast. $1,500
One of the artist's most popular and signature pieces. McKenzie was a friend and associate of Baden Powell and an early supporter of the Scout movement. The artist originally produced a number of examples in bronze to present to Baden Powell and other members. In 1917 he formally ceded the molds and copyright to the International Scouts movement who produced reproductions in plaster with different finishes, smaller versions in white metal, and, in 1937, life-sized versions installed at scouting locales. In the early years McKenzie would regularly examine the moulds to maintain quality.
McKenzie was a professor and orthopedic surgeon, as well as a sculptor. He produced numerous medallions and many statues and war memorials throughout Great Britain, Canada and the US. One of his statuettes, The Sprinter sat on US President Theodore Roosevelt's desk at the White House.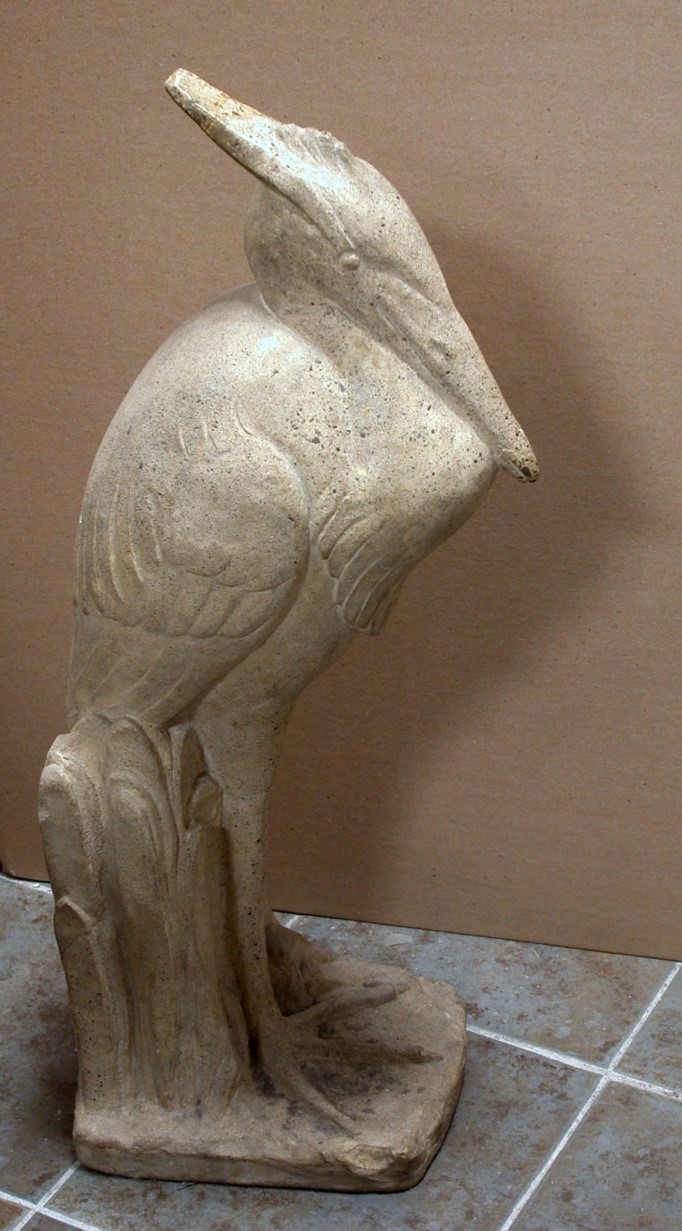 113. WYLE, Florence. RCA. OSA. SSA. [1881-1968]. Heron [figure for fountain].31 x 8 x 13 inches. cast stone composition sculpture. editioned work of art. [c1931]. $5,000
This work was probably produced as part of the artist's sculpture designs for the Rainbow Garden, at the Rainbow Bridge in Niagara Falls, Ontario. Two examples are in the collection of the Art Gallery of Ontario.
A founding member of the Sculptors Society of Canada and the first woman accorded full membership in the Royal Canadian Academy of Art, Wyle is highly regarded as one of the finest figurative sculptors of her generation in Canada. She was a friend of members of the Group of Seven and eventually sculpted busts of A.Y. Jackson and F.H. Varley. In 1953 she was awarded a Coronation Medal by Queen Elizabeth II.
Boyanoski, "Loring & Wyle Sculptors' Legacy", Art Gallery of Ontario, Toronto, 1987, Exhibition catalogue, illus. #51a, 51b, p. 99.
Provenance: Collection of Lawrence Hayward, Kingston, acquired directly from the artist.
Traditional Quebec Woodcarving
114. BOURGAULT, André. [1898-1951]. [Man and woman at harvest-time, standing in field holding scythes]. pair of book ends. 11 x 4 x 3 ¾ inches. carved and painted wood sculpture. [#2 & 3]. signed in the carving. [1930s]. the pair $900


The Bourgault brothers André, Medard, and Jean-Julien, are considered two of the finest 20th century Quebec carvers. Most of their works treat religious and folk themes. A museum devoted entirely to their works has been established in St. Jean Port Joli, Quebec.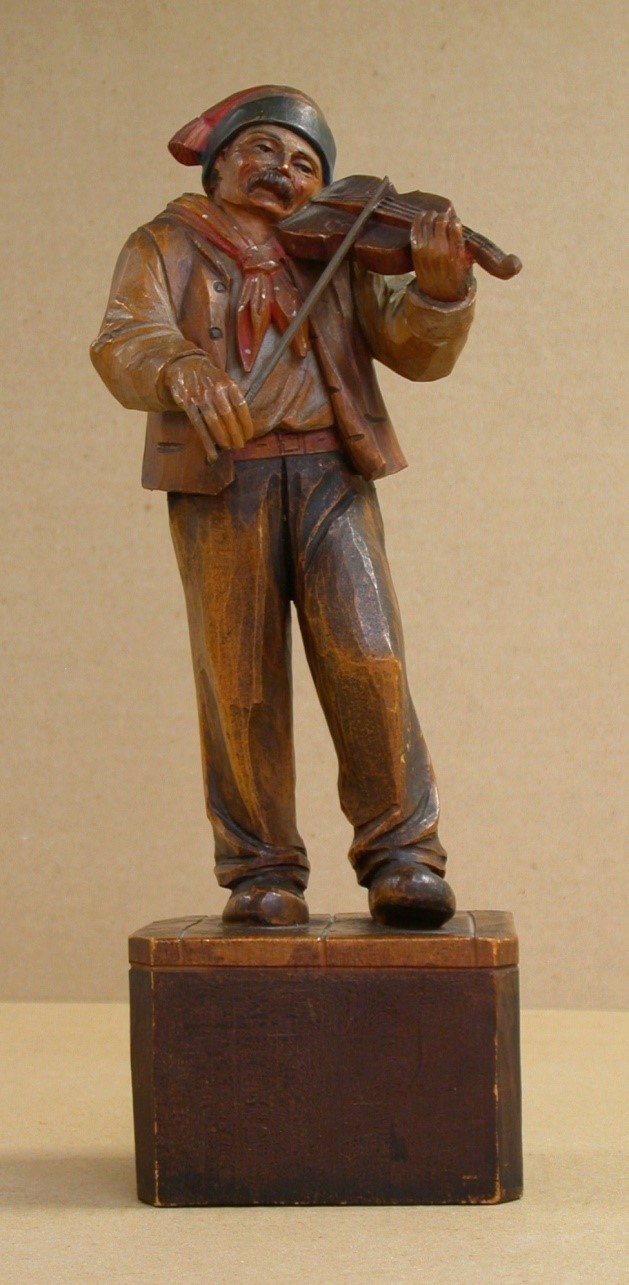 115. CARON, Paul Archibald Octave. ARCA. AC. CSGA. CPE. PPC. [1874-1941]. Baptiste [Quebec fiddle player].11 x 3 ½ x 3 ½ inches. carved and painted wood sculpture. titled & inscribed "Copyright Paul Caron". $4,000
Caron studied drawing and painting under William Brymmer. Maurice Cullen and Edmond Dyonnet at the Art Association of Montreal School. He is principally known for his paintings, mostly watercolour, of old buildings and ancient cottages in the districts of Montreal and Quebec City, and landscapes of the Laurentians and Baie St. Paul region. Several of his winter scenes were reproduced on Christmas cards. He won the Jessie Dow Prize for watercolours twice, in 1931 and in 1936.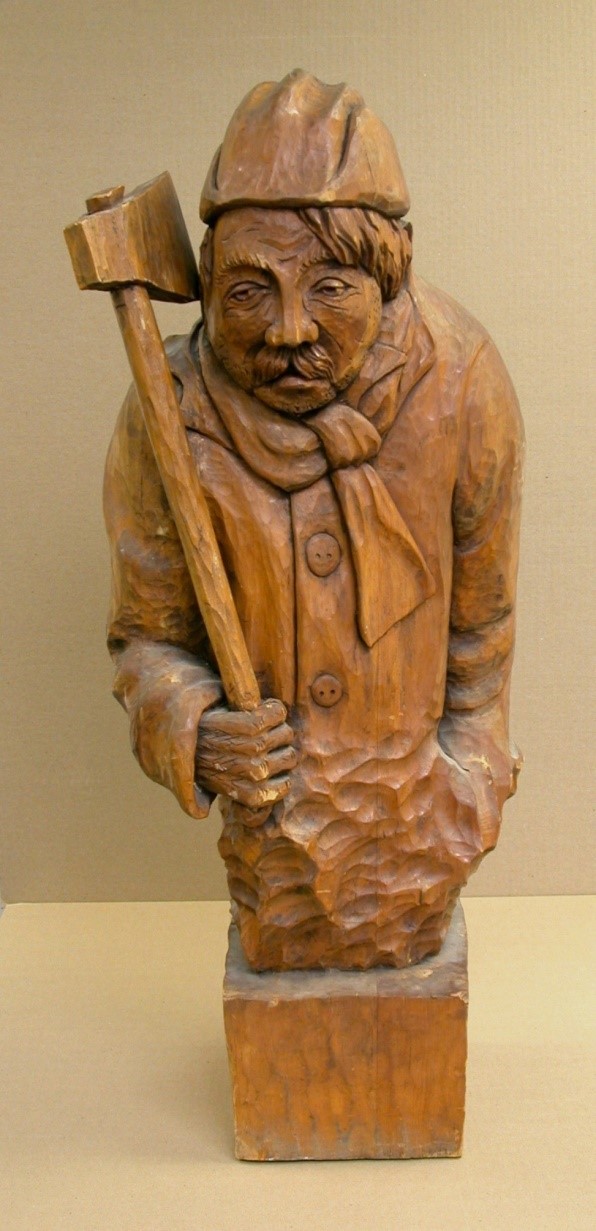 116. ROCHON. [20th Century Quebec Carving School]. [Woodsman]. 14 x 34 x 10 inches. carved wood sculpture. with originally applied carved wood axe. signed in the carving. $2,000


It has been suggested that this work was part of a display of Quebec wood carving shown at Expo 67, in Montreal.
Provenance: Collection of Harry and Marcia Klamer, Toronto.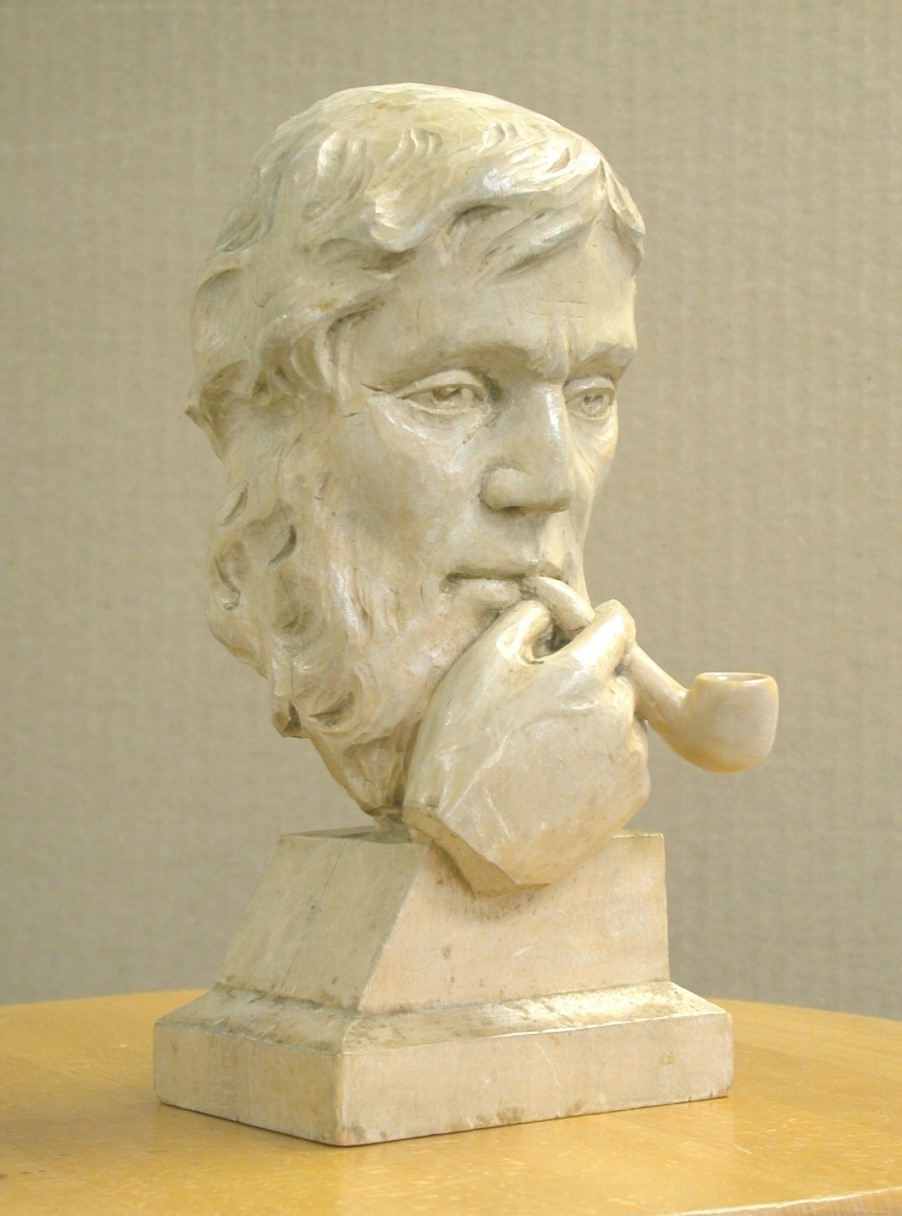 117. SOUCY, [Joseph Alfred] Elzéar. President, l'Association des Sculpteurs Sur Bois d'Amérique; Federation of Canadian Woodcarvers, Quebec branch. [1876-1910]. La Pipe [The Smoker]. 4 x 4 x 8 ½ inches. carved wood sculpture (repair to pipe). signed & dated 1941 in pencil. $1,750
The artist had a similar work cast in bronze, which was illustrated in "Artisans du Québec" by Jean-Marie Gauvreau (p. 108), and was known to have made other examples in wood. In 1930 he exhibited a work entitled "La Pipe" at the 47th Annual Spring Exhibition, Art Association of Montreal (# 319). The work was also one of the artist's favourites and was reproduced on his business letterhead. In a Paris exhibition the work was reviewed by writer Clément Morro in "La Revue Moderne illustrée des Arts et de la Vie" October, 15th, 1930: "La Pipe" is a remarkable morsel, a singular expressive evocation of Canadian man; robust, prudent, good and happily mischievous".
Soucy became professor of sculpture and wood carving at le Monument National and at l'École du Meuble. His works include monuments to Pierre Le Moyne d'Iberville (Québec Legislature), Cardinal Taschereau, place de l'Hôtel de Ville, Quebec, (third prize, international competition, Paris), and Bishop Mgr. Laflèche, Trois-Rivières (first prize, international competition, Paris); as well as work for the House of Commons, Ottawa, numerous church commissions, interior decorations, busts and figures of illustrious personages.
Jean-Marie Gauvreau, "Artisans du Québec", [pp. 141-151, (illus. pp. 106-111)]; McMann, Montreal Museum of Fine Arts, Spring Exhibitions, 1880-1970, (p. 361). McMann, Royal Canadian Academy of Arts Exhibitions & Members, 1880-1979, (p. 384).