Canadian livre d'artiste
ATWOOD, Margaret & Charles PACHTER. The Journals Of Susanna Moodie. folio. 37 deckle-edges sheets (30 folded).p 32 serigraphs. loosely laid into dark blue suede and cloth clamshell box. [Toronto: Manuel and Abel Bello-Sanchez, 1980]. $10,000
A flawless copy of the finest and most coveted of Canadian livres d'artiste, Limited to 120 copies + 2 printers' proofs, signed by the author, artist, printers and binder, this one of 100 printed on deckle-edged Arches, Rives BFK and Canadian handmade paper. The book was designed and illustrated by Charles Pachter, and hand printed by Manuel and Abel Bello-Sanchez. The type was hand set by the artist in Della Robbia, Kennerly Old Style Italic, and Goudy Old Style foundry typefaces in 1969. The images are serigraphs, some drawn directly on screens or photo-stencils, some re-worked spontaneously from lithographs, drawings, and collages. The blue suede and cloth clamshell box was done by Marion Mertens.
"I think it is fair to say that [the book] set a new standard for the handmade livre d'artiste in Canada. As a poetic evocation of the travails experienced by a nineteenth century genteel English immigrant in her new Canadian homeland, it is also a landmark literary work….Marriage of the creative efforts of two fellow voyagers, The Journals of Susanna Moodie is nothing if not my homage to the writer, poet, and friend whose genius has been a sustained source of inspiration for my imagination." (Charles Pachter)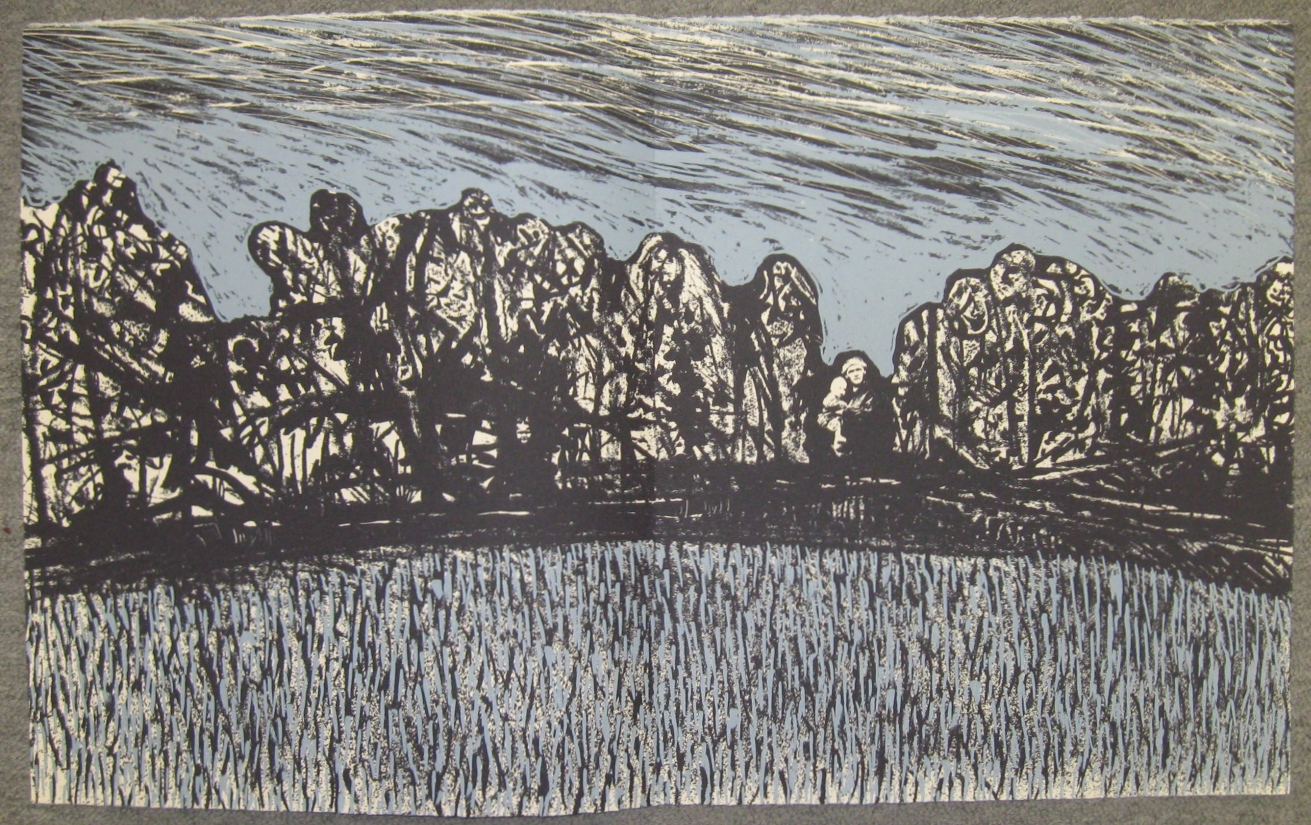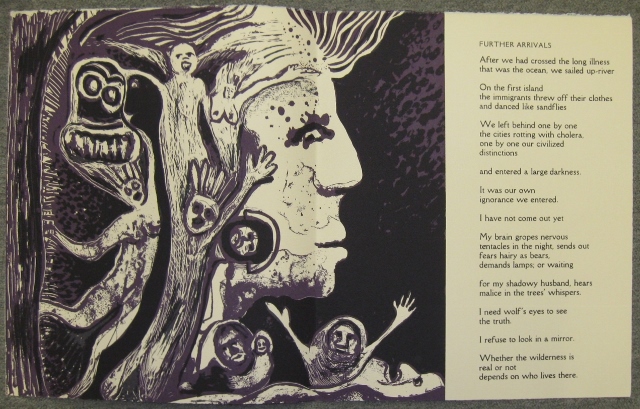 "Susanna Moodie was a nineteenth century British immigrant to the backwoods of Canada, and her autobiographical text provides a narrative context from which both Margaret Atwood and Charles Pachter respectively grapple with and negotiate the complex, polyglossic nature of Canadian culture, identity, and art. The interface between Atwood's poetic explication of cultural, linguistic, and literary identity and Pachter's illustrative visual representations reveals the powerful synergy that is born when text and image collide…Moodie's chronicle, with its maternal whispers of advice, warning, hope and promise, is our point of departure, as it is from this nebulous ground of narrative instability that the complex amalgam of textured histories grows. Captivated by the specter of Moodie's early immigrant account, Margaret Atwood's cycle of poems…fleshes out Moodie's bare-boned backwoods chronicles. And, born from Atwood's poetical "turning of Moodie on her head", Pachter's evocative graphic art further deepens and extends the branches of this towering and tangled family tree. The immigrant experience, as articulated and rearticulated by Moodie, Atwood, and Pachter for particular historical contexts and audiences, becomes a powerful metaphor for the Canadian artist's tenuous endeavour of writing, creating, mapping, and navigating his/her way through the harsh narrative and imaginative landscape. Rather than providing us with any sort of assuring closure, Pachter's visual text opens the very earth in which Moodie was laid to rest, leaving us, once again, haunted." (Jennifer Aldred, Haunted: The Journals of Susanna Moodie)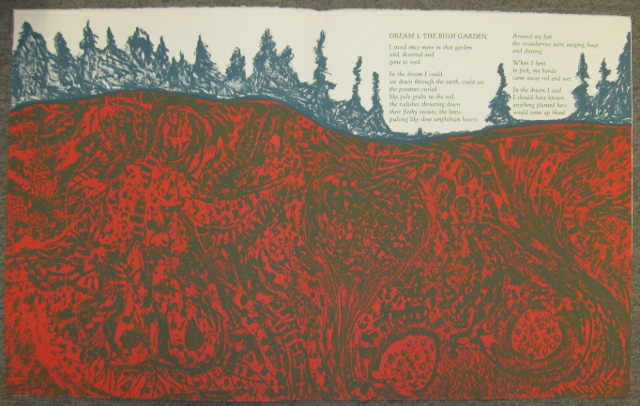 "[Pachter's] pictures are much more commanding in their bold colours and turbulent designs, and even in their size. Many are spread over two pages as they enfold, rather than supplement, the poems…After Moodie intrudes into the Canadian bush, it stealthily invades her: "In time the animals / arrived to inhabit me." This mutual invasion is reflected in Pachter's style, which arranges off-balanced patterns, transposed colours, positives and negatives, mirror images.". (John Kerzer, a blizzard in my eyes, in Canadian Literature Issue 216 (Spring 2013)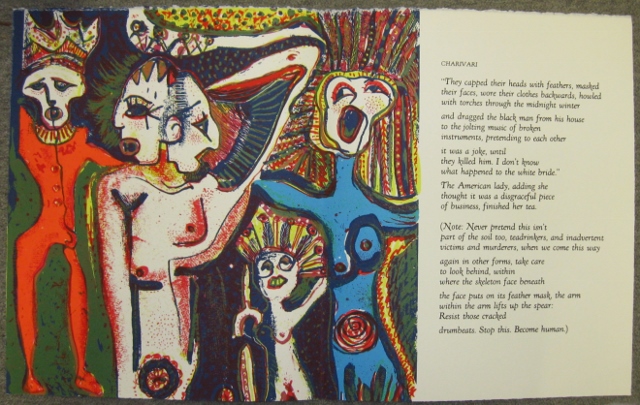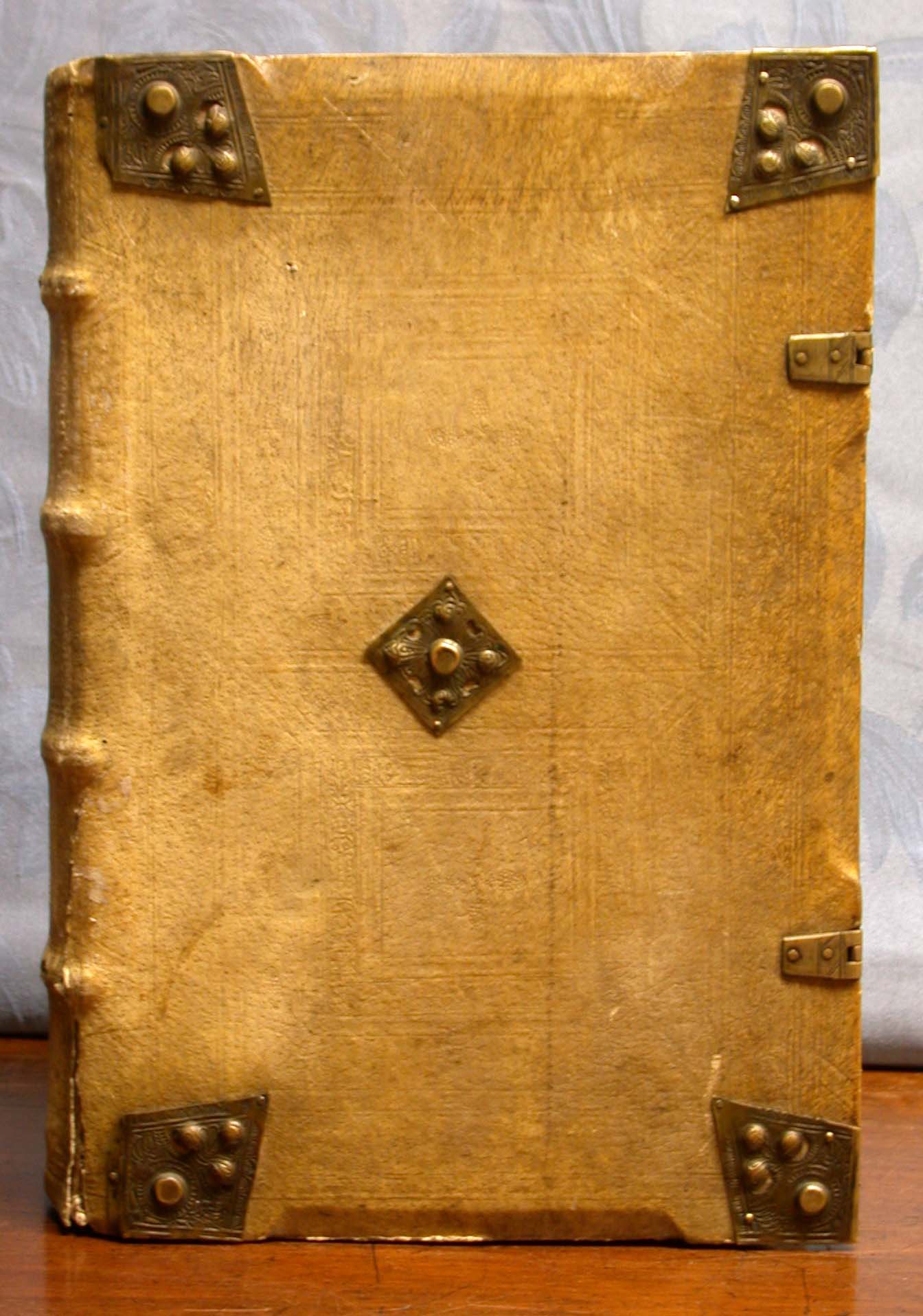 The World Described
MÜNSTER, Sebastian [1489-1552]. Cosmographiae universalis Lib. VI. in quibus, iuxta certioris fidei scriptorum traditionem describuntur… folio. pp. 12 p.l., [56], 1162 [ie. 1174], [2]. woodcut title border. woodcut portrait of Münster on verso of title. 14 double-page woodcut maps, 37 double-page woodcut city plans & views, 3 woodcut city views consisting of 2 double-page sheets each (Worms, Heidelberg, Vienna), & over 900 woodcut illustrations in the text including maps, plans, town views, portraits, natural history subjects, &c. woodcut printer's device on verso of last leaf. woodcut initials. contemporary blind-stamped pigskin, brass bosses, clasps & catches (2 cornerpieces wanting, lower front joint partly split, front paste-down renewed, title cut down & mounted – concealing woodcut portrait on verso, lower outer corner of [*]6 torn away with loss of a few words on 9 lines, scattered light foxing, a few leaves embrowned, occasional minor stains, a few marginal tears – no loss, but overall an appealing & impressive copy). [Colophon on 3H8r:] Basel: Henrich Petri, September 1554. $55,000
Third Edition of the Latin Translation [first: 1550] of Münster's celebrated Cosmographia, "the first detailed, scientific and popular description of the world in Münster's native language [first: German, 1544], as well as a supreme effort of geographical study and literature of the Reformation period." (Encyc. Britan., 11th Edn.) One of the most popular treatises of the sixteenth and seventeenth centuries, the Cosmographia reached a total of forty-six editions in six languages by 1650, each incorporating additions and revisions.
Münster was a professor of Hebrew at Basel University and a most distinguished Hebraist, linguist, mathematician, and geographer. This encyclopaedic work was his major undertaking. In its completion, which occupied him for fifteen years, Münster received the assistance of more than one hundred and twenty collaborators, who provided him with the most up-to-date information relating to the towns and places described. The scientifically most valuable sections are those which deal with Germany and Central Europe. In addressing his German colleagues for information, Münster outlined fairly detailed directions, devising the first known example of a simple plane-table survey.
Included are separate sections on the Holy Land, Africa, and Asia, while contained on pages 1099-1112 under the title De Novis Insulis, quomodo, quando & per quem illae inventae sint, is a description of America, with relations of the voyages and discoveries of the early explorers, Columbus, Vespucci, Magellan, &c.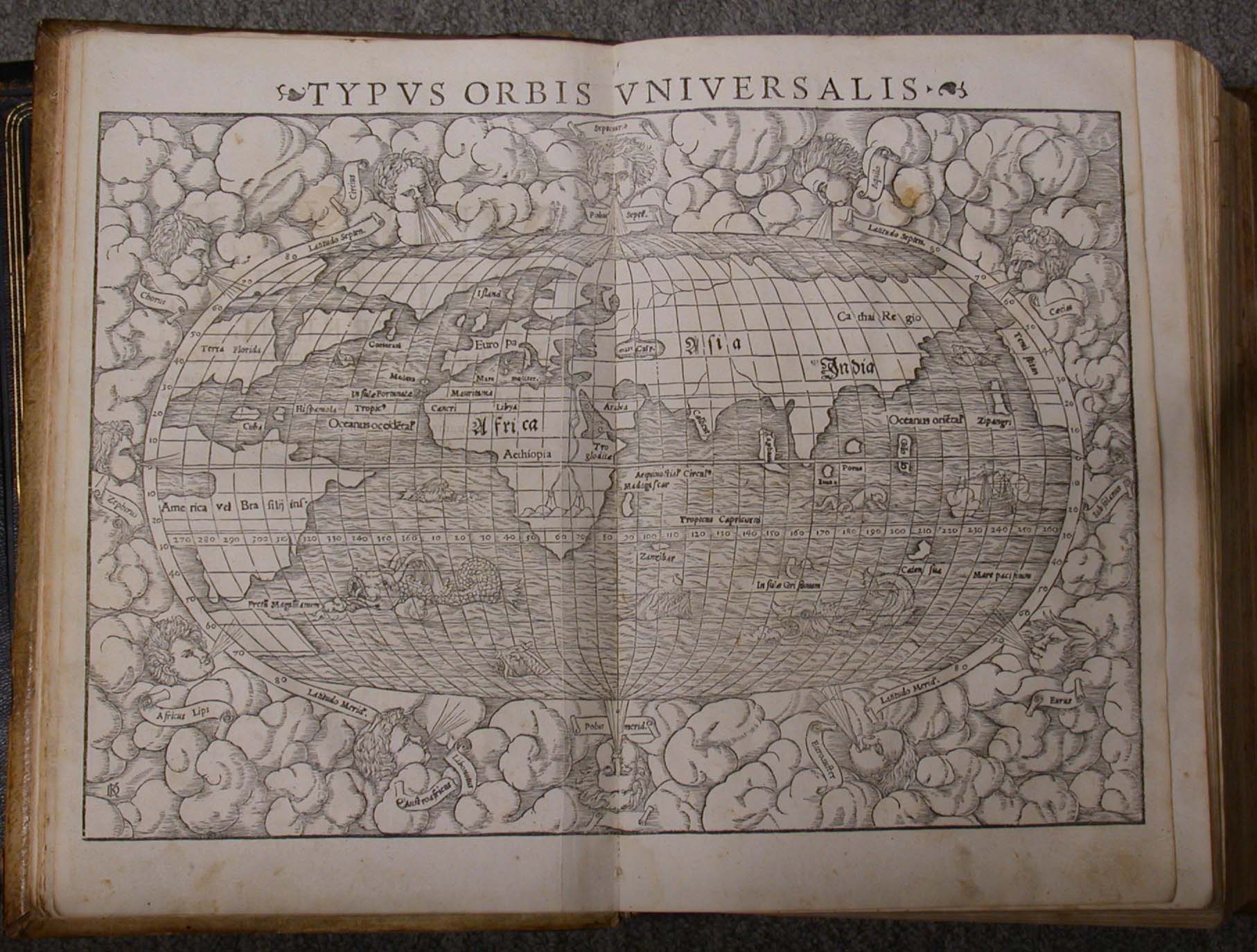 The Cosmographia is profusely illustrated with woodcut town plans and views (many double-page), including some of the earliest published large-scale views of European cities, portraits, coats of arms, costums, customs, mining and other activities, cannibalism, natural history subjects, &c., by Hans Holbein, Urs Graf, Hans Rudolph Manuel Deutsch, David Kandel, and other artists. The fourteen double-page woodcut maps, drawn by Münster himself, include two world maps, on the first of which Terra florida (North America) and America vel Brasilii ins. (South America) are named, and the first general maps of the continents, Europe, Asia, Africa, and America. The Tabula novarum insularum is "the first map of the two American continents showing continuity between North and South America and no connection with any other landmass." (Schwartz & Ehrenberg, The Mapping of America, pp. 43-45, Plate 78). All of the maps had originally appeared in Münster's 1540 edition of Ptolemy, except the modern world map was recut with several changes by David Kandel for the 1550 editions of the Cosmographiae.
Adams M1910. Alden 554/47. Borba de Moraes II 90. BM STC German p. 633. Burmeister, Münster, 89. JCB I p. 183. Ruland, Imago Mundi XVI pp. 87-88. Sabin 51381. cfBell M523, cfHarrisse 300, cfThe World Encompassed, 272 & cfNational Maritime Museum, Atlases, 465 (1550 edn.). cfNordenskiöld Collection II 155 (1552 edn.). cfNordenskiöld, Facsimile Atlas, pp. 108-09 & 24. cfShirley, The Mapping of the World, 92 (modern world) & 76 (ancient world).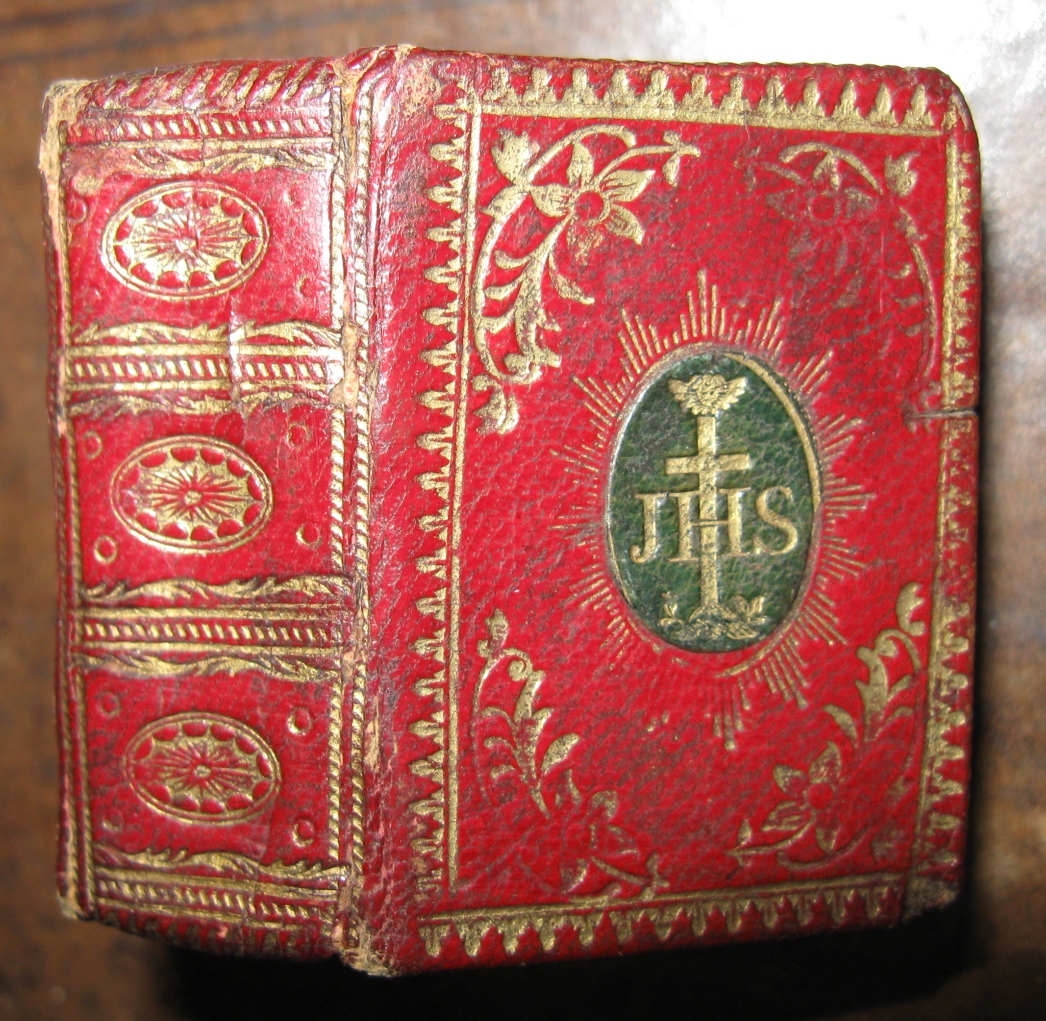 THUMB BIBLE

BIBLE. ENGLISH. The Bible in Miniature, or a Concise History of the Old and New Testaments. 4.3 x 3.2 cm. 2 engraved titles & 14 engraved plates. A fine copy in original gilt-tooled red morocco, gilt back, all edges gilt, central green morocco onlay on both covers with gilt holy cypher 'JHS'. London: Printed for E[lizabeth] Newbery, 1780. $1350
Bondy p. 34.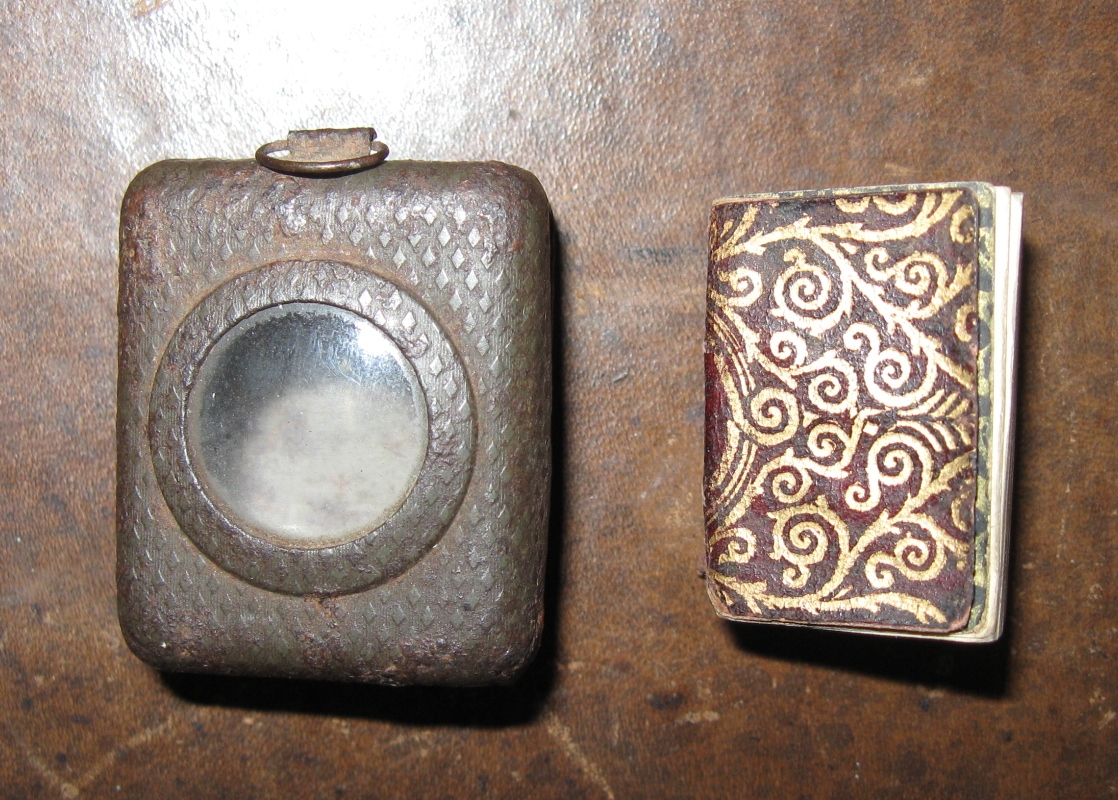 MINIATURE KORAN

KORAN. 2.7 x 1.8 cm. Arabic text. unpaginated. india-paper. title within decorated border. headpieces & marginal decorations. contemporary gilt-stamped limp brown morocco, kept in original metal locket (3.3 x 2.7 x 1.2 cm.) with inset magnifying glass in upper lid (metal locket rusty & not closing). [Glasgow: D. Bryce & Son, c1906]. $750
"The [miniature] Koran is another almost legendary title published by Bryce…During World War I many copies were issued to Muslim soldiers fighting with the Allied troops and were often regarded as talismans. Lately it has become increasingly difficult to find copies of this book which thirty years ago was so common that an oriental bookseller of my acquaintance had an entire drawer full of them…The great economic, political and spiritual revival which has taken place in the Arab world may perhaps account for the present scarcity and have led to the absorption of most of the remaining copies." (Bondy, 1981)
Bondy p. 111.