Books, Manuscripts, Maps, Graphics, Stamps, Medallions, Coins & Memorabilia

11. CANADA (PROVINCE). Three-penny Beaver stamp. 24 x 19 mm. [1852-57]. $150
The Province of Canada began issuing stamps on April 23, 1851. The first were in the values of 3d, 6d, and 12d. Designed by Sir Sandford Fleming, the Threepenny Beaver depicted a beaver in an oval frame, and is considered the first Canadian postage stamp. It was the first stamp to picture an animal and not a monarch. The present stamp is an 1852-57 issue.
Unitrade Catalogue of Canadian Stamps, 4.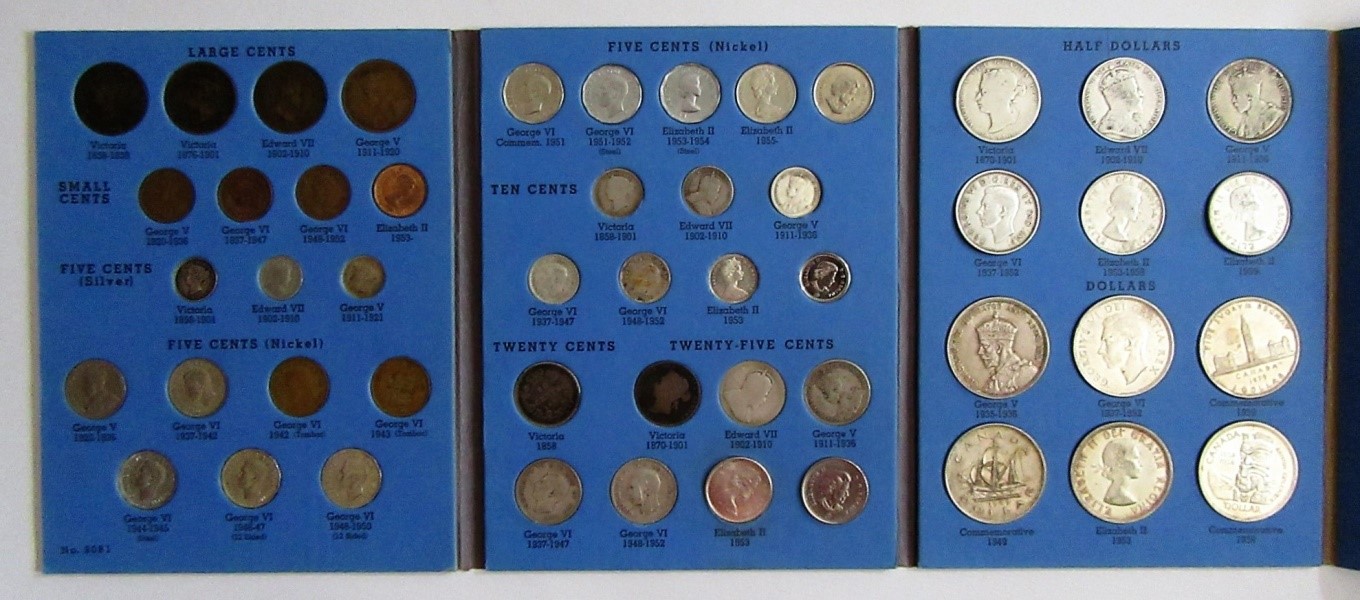 12. ROYAL MINT/ROYAL CANADIAN MINT. Collection of 50 Canadian Coins issued between 1858 and 1958 from the Large Penny and Silver Twenty Cent Piece of Queen Victoria to the Commemorative Silver Dollar of 1958. folding case. 1858-1958. $900
Containing examples of 50 Canadian coins minted during the reigns of all the British sovereigns who ruled from 1860 to 1958: Victoria, Edward VII, George V, George VI, and Elizabeth II: Large Cents (4), Small Cents (4), Five Cents (Silver) (3), Five Cents (Nickel) (12), Ten Cents (7), Twenty Cents (1), Twenty-Five Cents (6), Half Dollars (6), and Dollars (6). The collection was put together by Whitman Publishing Company, Racine, Wisconsin in 1958 (No. 9081).
13. CANADA. (PROVINCE). LEGISLATURE. Parliamentary Debates On The Subject Of Confederation Of The British North American Provinces, 3rd Session, 8th Provincial Parliament of Canada. Printed by Order Of The Legislature. large thick 8vo. pp. ix, 1032. text in double columns. original blind-stamped cloth (hinges cracked, extremities chipped). Quebec: Hunter, Rose & Co., 1865. $400
In 1865, after lengthy debates, the legislative assembly of the United Province of Canada approved confederation by 91 votes to 33. The strongest reasons for the Union included fears of American aggression and expansion combined with Britain's reluctance to maintain the expense of defending its colonies, and abrogation by the United States of the Reciprocity Treaty that had allowed free trade on many goods between the US and British North America.
Dionne III 1213. Gagnon II 496. Lande S356. Sabin 58812. TPL 4396.
14. (FENIANS). Manuscript letter, in French, signed by Assistant Secretary [Étienne Parent (?) [1801-1874]], dated Secretariat Provincial Quebec, June 30, 1865, to L'Honorable M. Le Juge Mondelet, Montreal [Charles Joseph Elzéar Mondelet [1801-1876], assistant judge in Appeals of the Court of Queen's Bench, Lower Canada]. WITH Mondelet's response on same sheet of paper, in French, initialled 'CM', dated Monteal, July 1, 1865, to E.Parent. blue paper. folio. 3 pages. (horizontal & vertical folds). Montreal: 1865. $750
Correspondence relating to George Mathurin's conviction for "unlawfully attempting to engage a person to enlist as a soldier in the service of a foreign state". The assistant secretary's letter requests, on behalf of the Governor General [Sir Charles Stanley Monck], Mondelet's opinion on the Montreal petition for a reduction or commutation of Mathurin's death sentence. In his reply, Mondelet states that, having read the petition and reviewed the testimony given at the trial, he can see nothing that could excuse or mitigate the actions of the accused, and leaves the responsibility for the decision to lessen the sentence entirely in the hands of the Executive Government.
The letter probably relates to the threat of invasion by Fenians. The American branch of the Fenian Brotherhood, which was actively recruiting soldiers serving in the United States army during the Civil War, planned to invade Canada and establish a republic. Raids were planned and conducted against New Brunswick and Upper and Lower Canada in 1866. TheFenian threat to British North America coupled with growing concerns over possible American domination or annexation led to increased support for Confederation among British and Canadian officials.
15. BELLEAU, Sir Narcisse Fortunat [1808-1894] [Premier of United Canada (1865-67); First Lieutenant-Governor of the Province of Quebec (1867-73)]. Autograph letter in French, signed, dated Montreal, January 4, 1867 on Executive Council Canada letterhead, to the 'Procureur Général du Bas Canada'. [Docket Title: Letter the Honble N.F.Belleau Sentence of Death on three Fenians Commuted to Imprisonment in Penitentiary – order to take three in charge by N. Schillar (?) 4 January 1867 – Dispatched 9 January 1867]. 8vo. 3 pages. docket title. (horizontal & vertical folds – 2 short tears at folds, blank bit soiled). Montreal: 1867. $900
An important letter from Narcisse Belleau, premier of United Canada, on the fate of three convicted Fenians. Belleau requests that the unnamed prisoners, whose death sentences have just been commuted to imprisonment, be transported, under armed guard and by special train, directly to the provincial penitentiary at Kingston. Belleau stresses the necessity of keeping the matter strictly confidential: "Ce qui suit doit être tenu sous le plus grand secret & executé avec toute la discretion dont vous avez fait preuve en plusieurs occasions." This and the following letter relate to Fenians captured in the Quebec raid of 1866.
16. ERMATINGER, William [Montreal Militia Officer & Police Magistrate]. Manuscript letter, signed, dated Montreal, May 8, 1867, marked Private & Confidential, addressed to my dear Charles [probably Charles Joseph Elzéar Mondelet [1801-1876], assistant judge in appeals of the Court of Queen's Bench, Lower Canada]. 8vo. 3 pages. docket title on verso of second leaf. (horizontal & vertical folds). Montreal: 1867. $750
An interesting letter on a highly confidential matter, never specifically named, but in all probability relating to the Fenian question. Ermatinger refers to two letters from Sir Narcisse Belleau and the delicate nature of their contents. The person to whom he is writing (Charles Mondelet?) is needed in a legal capacity: "You see as the object is merely to take evidence on the subject matter, mentioned in Sir Narcisse Belleau's letter, and probably involving some diplomatic talk with the Consul General of the U. States, it will require some person possessing the qualities of secrecy and common sense, which I am not aware can be found in the court House of your Department, apart from you and Ramsay…it is of some consequence to the Government, that they are well represented…do not let this…(?) or letter lay about your desk – as everything written & there is laying is invariably read by the crowd."
Canadian Photographic Incunable
17. NOTMAN, W[illiam] [1826-1891] & [John] Fennings TAYLOR [1817-1882]. Portraits Of British Americans, By W.Notman, Photographer To Her Majesty. With Biographical Sketches By Fennings Taylor… 3 Volumes. 8vo. pp. 2 p.l., [blank leaf], vi, 425; 2 p.l., 350 [i.e. 348; pp. 71-72 omitted in pagination]; 2 p.l., 280. 84 mounted albumen photographs. contemporary half roan, all edges gilt, bound by J.Cuthbert, St. Catharines, Ontario, with ticket (some wear to corners & Vol. III spine, some foxing to photo mounts & guard leaves & very occasionally to adjacent text, tear in pp. 35-36 Vol. I – no loss). armorial bookplate of Canadian banker Thomas Rodman Merritt [1824-1906]. Montreal: William Notman, John Lovell, Printer, 1865-67-68. $3,000
First Edition in Book Form (originally issued in 16 parts). Included are 84 albumen cabinet-size portrait photographs and biographical sketches of the leading political, judicial, and religious figures in Canada at the time of Confederation, including a number of the Founding Fathers: Viscount Monk, Bishop Francis Fulford, John A.Macdonald, Louis Lafontaine, George Étienne Cartier, Joseph Howe, Thomas D'Arcy McGee, Alexander Tilloch Galt, George Brown, John Beverley Robinson, Charles Tupper, Louis Joseph Papineau, Bishop John Strachan, &c.
An important early Canadian photographically illustrated work. William Notman came to Canada in 1856, and became the leading photographer in Montreal. Gernsheim refers to him as "the most significant photographer of his time".
Dionne III 1269. Gagnon I 3478. Lande 826. Morgan p. 368. Sabin 56025. TPL 4452. Gernsheim, Incunabula of British Photographic Literature, 301.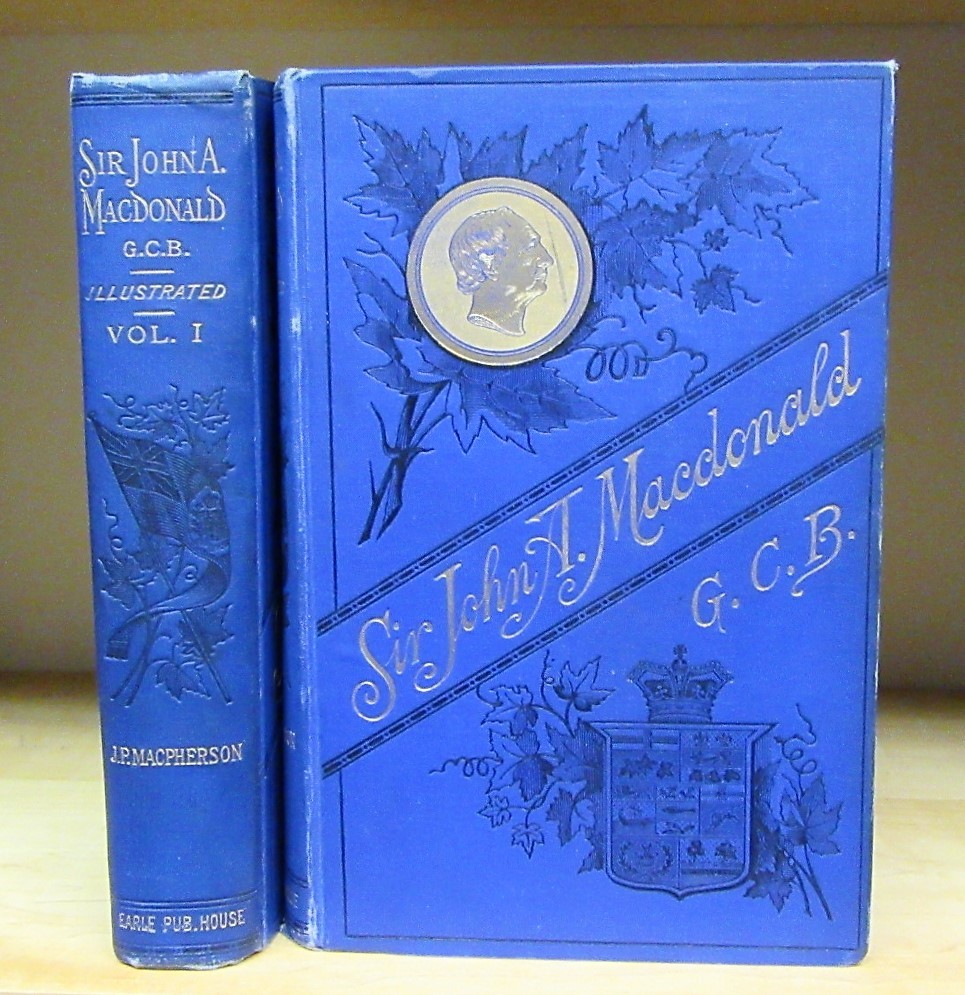 18. (MACDONALD, Sir John Alexander [1815-1891]). MacPHERSON, J[ames] Pennington [1839-1916]. Life Of The Right Hon. Sir John A. Macdonald…By His Nephew… 2 Volumes. 8vo. pp. xvi, [1], [19]-549; xii, [13]-475. half-title in Vol. I. 2 steel-engraved frontis. portraits & 46 full-page illus. A nice bright copy in original back & gilt-stamped cloth (slight wear to extremities). St. John, N.B.: Earle Publishing House, 1891. $200
First Edition. Macdonald, the dominant figure of Confederation, became the First Prime Minister of Canada in 1867, serving to 1873 and again from 1878 to 1891 (he was forced to resign in 1873 over the Pacific Railway Scandal). During his administration Canada acquired the vast territory of Rupert's Land from the Hudson's Bay Company for the equivalent of 1.5 million dollars in 1869-70. The territory encompassed the whole of the Hudson's Bay watershed, what is now northern Labrador and Quebec, northern and western Ontario, all of Manitoba, most of Saskatchewan, south and central Alberta, and parts of the Northwest Territories, Nunavut and the northwestern United States. Following the Riel Rebellion, the newly created province of Manitoba became part of Confederation along with the North West Territories. British Columbia joined in 1871. The North West Mounted Police was created to establish law and order in the frontier lands. The Macdonald administration was challenged by two western insurrections, the Red River Rebellion of 1869-70 and the North-West Rebellion of 1885, both led by Louis Riel. The treatment and execution of Riel for treason divided the country along religious, linguistic and racial grounds. Macdonald's government also implemented a 'National Policy' of high tariffs that would protect the small Canadian firms from American competition and completed the Intercolonial and the transcontinental Canadian Pacific Railways which were so essential to Canada's nationhood.
19. (MACDONALD, Sir John Alexander). POPE, Sir Joseph [1854-1926].Memoirs Of The Right Honourable Sir John Alexander Macdonald G.B.C., First Prime Minister Of The Dominion Of Canada. 2 Volumes. 8vo. pp. xvi, 392; x, 369. with half-titles. 2 frontis. portraits. 2 facsimile letters. index. untrimmed in original cloth, gilt arms on upper cover (covers lightly spotted, short tear at head of each spine, 1 corner frayed). Ottawa: J.Durie & Son, [1894]. $225
First Edition. Pope was Macdonald's private secretary from 1882 to 1891 and was also appointed his literary executor.
20. FITZGIBBON, Agnes [Dunbar (Moodie) (Mrs. Chamberlin)] [1833-1913] & C[atherine] P[arr (Strickland) TRAILL [1801-1899]. Canadian Wild Flowers. Painted and Lithographed by Agnes Fitzgibbon With Botanical Descriptions By C.P.Traill. folio. pp. 86. chromolithographed title & 10 lithographed plates, printed in colour & finished by hand. original blind & gilt-stamped cloth (extremities frayed). Montreal: John Lovell, 1869. $2,400
Second Edition of the first large-scale colour plate botanical to be entirely produced and printed in the country. The work combined the talents of Canadian pioneer, author and accomplished amateur botanist Catharine Parr Traill and her niece Agnes Fitzgibbon, who took drawing and lithography lessons in preparation for the task. Five hundred copies of the first edition of 1868 were printed by subscription, and sold for the hefty sum of $5 each. The plates, copied from Nature's Own Book by the artist, were subsequently grouped, lithographed and coloured entirely by her own hand with the aid of three daughters and two female painting school students. In this second edition the plates were printed in colour and finished by hand.
Lande 2266. cfDionne III 1360. cfWatters p. 643.
Addressed to Sir John A. Macdonald
21. MORRIS, Alexander [1826-1889] [Lieutenant-Governor of Manitoba and the North West Territories (1872-1877)]. Letter in Secretarial Hand marked 'Copy', to Sir John A. Macdonald, dated Fort Garry, 12 Dec., 1872. folio. pp. 3. (horizontal & vertical folds, tears along some folds – no loss of text). Fort Garry: 1872. $3,000
A highly important letter to the Prime Minister discussing the imminent arrest of Louis Riel, which he warns could result in bloodshed, and the issue of amnesty for the insurgents in the Red River Rebellion of 1869-70. Morris had just been appointed (Dec. 2) Lieutenant-Governor of Manitoba and the North West Territories on December 2 and was involved in the process of settling the Métis land claims. He maintains that the Imperial government should grant amnesty on its own responsibility if any promises to that effect had been made.
"I wrote you on the 11th since which little has transpired. I have however ascertained, that the deputation and the questions put were a plan devised at a meeting at which Riel was the central figure and they came from the meeting upon me, without malice or warning.
"I found that Royal was aware of their coming but did not advise me. On reflection I feel that I could have taken no other course than I did. I gave them the amplest satisfaction as to the lands – but when asked to promise that those who had taken part in the troubles should be "inquieté" troubled, I felt it my duty at once, to explain how the law stood, as a warrant for Riel's arrest may issue at any moment and it was right that they should know that they would resist the law, if they attempted a rescue. I was then asked and this was part of the plan of the meeting, if an amnesty had not been promised and to that I could only give the one reply, that I knew of no such promises. It was an evident trap sprung upon me without malice but it has failed. Schmidt the spokesman admits their blunder, and it may lead Riel to leave the country, so Clarke and Royal think...Clarke asked me to...you, about Blake and the Amnesty.
"I believe that Jetté and H? would from here have been negotiating with Blake and McKenzie for the amnesty, the aid of the French here to be given, to bring over their compatriots in Quebec, I am certain that such negotiations have been going on for some time. The Bishop called on me five days before the deputation on the same subject claiming promises and sent me a copy of a memorial for Mitchell (?)...alleging promises from Lord Lisgar & Sir Clinton Murdoch, addressed to the Queen. It was sent to Lord Lisgar but never acknowledged or replied to, and the same fate attended the address of the House on the same subject last session. They talk now of sending a deputation to England. I don't think the Bishop has decided on his course, but is searching for letters or I understand he considers the course of the deputation and explains my reply by my official oath etc. etc. & that I was not yet Governor & had not as I told them been instructed from Ottawa, so long as Riel is in the country there will be agitation. He has a party of strong adherents and an arrest would probably lead to blood-shed.
"The Imperial Govt. ought to deal with the matter and declare either a special or general amnesty on their own responsibility. If Lord Lisgar & Sir C.Murdock gave pledges they should be fulfilled. Promises are also alleged from Cartier but I cannot reconcile this with a letter to Howe from Bishop Taché on the subject & a reply from the council. This transpired while you were in Washington for Howe wrote the reply, I received it & Cartier gave it the finishing touches. You had better see it and send me a reply. I trust you will approve my action...".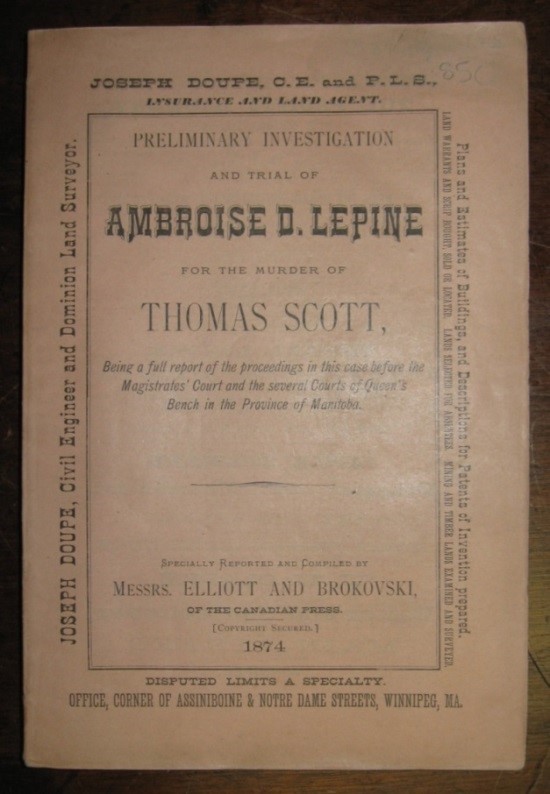 22. LÉPINE, Ambroise D[ydime] [1840-1923] (Defendant).Preliminary Investigation And Trial Of… For The Murder Of Thomas Scott, Being a full report of the proceedings in this case before the Magistrates' Court and the several Courts of Queen's Bench in the Province of Manitoba. Specially Reported And Compiled By Messrs. Elliott And Brokovski, Of The Canadian Press. 8vo. pp. 4 p.l. (ads), 127, [5]ads. 3 plates. A fine copy in original printed wrs. [Montreal]: 1874. $850
First Edition. As adjutant-general in the provisional government of Louis Riel, Lépine commanded the Métis during the Red River Rebellion of 1869-70 and presided over the court martial which condemned Thomas Scott to death. Arrested in 1873, he was tried on the charge of complicity in the murder of Scott, found guilty and condemned to death, but his sentence was commuted to two years' imprisonment and the loss of his civil rights.
Casey I 3952. Dionne III 1608. Peel 710.
"one breathtaking vista after another,
all bathed in the golden haze of the High Victorian glow"
23. GRANT, George Monro [1835-1902] (Editor). Picturesque Canada; The Country As It Was And Is. 2 Volumes. folio. pp. ix, 440; 1 p.l., [ix]-xii, [441]-880. steel-engraved frontis. & over 500 wood-engravings and half-tones (plates & text illus.). Toronto: Belden Brothers, [1882-84]. $500
"The finest expression of middle-class art" produced in Canada (Dennis Reid, Our "Own Country Canada", p. 298) and the most important publication in the history of wood-engraved illustration in the country. Artistic direction for the work was entrusted by the publishers, the American-born Belden Brothers, to Lucius R.O'Brien, first President of the Royal Canadian Academy, "the pre-eminent artist of the Dominion". (Ibid. p. 316) George F.Smith, who was elected a member of the RCA in 1882, was placed in charge of engraving and executed many of the plates. George Munro Grant, principal of Queen's University, Kingston, and prominent clergyman, scholar, and writer, was enlisted as editor of the project and author of some of its parts. The work was initially issued in periodical instalments between 1882 and 1884.
Although it was generally publicized that RCA members would be executing all of the illustrations for the work, it soon became apparent that this would not be so, one of the reasons being that the artists preparing the drawings needed to have some knowledge of the limits and possibilities of the medium of wood engraving in order to achieve a high artistic quality. While O'Brien quickly mastered the technique, most of the other RCA members were not successful. "In the end, of the roughly 543 illustrations…O'Brien made seventy-nine of those which are signed, and all the other Canadians together achieved a grand total of ten. William Raphael did three, Robert Harris four, and F.M. Bell-Smith, John A.Fraser, and Henri Julien, one each. Two of [Canadian Governor-General, the Marquis of] Lorne's drawings were used as well." (Ibid. p. 301) Of the remaining 452 illustrations, the bulk were produced by Americans who had been especially brought in for the work. These included brilliant contributions by Thomas Moran, who had trained first as a wood engraver, and others by H.A.Ogden, R.Swain Gifford, Harry Fenn, Alfred A.Waud, James D.Smillie and J.Henry Sandham (both of whom had moved to the States from their native province of Quebec), and others, but the majority were the work of Frederic B.Schell, a commercial illustrator who had worked on Picturesque Europe.
Albert Moritz, in Canada Illustrated (p.21) provides somewhat different figures from Reid, noting that forty-three artists were employed in total, twelve Canadian, and forty-three others, most of whom were American, attributing ninety-four of the illustrations to O'Brien (the third largest contributor). In addition, the frontispiece of Quebec City, the only steel engraving in the publication, was based on a painting O'Brien had executed for the Queen.
While many of the artists made sketching tours to see the regions they were depicting, mainly in central and eastern Canada, the illustrations of western Canada were probably based on photographs. "In fact, the last twenty-two images in Volume II – all of British Columbia – are half-tone photo-engravings" some of them after photographs by the leading Canadian photographer, William Notman. (Reid, Op. Cit. p. 302)
As most of the best wood engravers were either Americans or Canadians resident in the United States, where they were employed by the illustrated periodicals or by American publishers, approved illustrations were generally sent to New York and Philadelphia for engraving and then brought back to Canada for printing. These engravers included R.Schelling, C.Schwarzburger, J.W.Evans, J.W.Lauderbach, and J.T.Speer. O'Brien seems to have taken a large part in screening the engravings as well as the original art work.
The text was also a collaborative effort, with contributions by Principal Grant, A.M.Machar, J.G.A.Creighton, C.P.Mulvany, F.A.Dixon, J.B.McLaren, Robert Bell, G.Mercer Adam, Charles G.D.Roberts, and others.
"In a sense, the book can be described as a massive catalogue of the resources, visual and material, in which the middle-class of Victorian Canada could take pride…Canada is presented as one breathtaking vista after another, all bathed in the golden haze of the High Victorian glow." (Ibid. pp. 302-03)
Dennis Reid, "Our Own Country Canada" Being an Account of the National Aspirations of the Principal Landscape Artists in Montreal and Toronto 1860-1890. [Ottawa]: National Gallery of Canada and National Museums of Canada, 1979, pp. 298-344. Albert Moritz, Canada Illustrated The Art of Nineteenth-Century Engraving. [Toronto]: Dreadnaught, [1982].
24. FONSECA, W.G. (Publisher). Winnipeg 1884. Entered according to Act of Parliament of Canada in the year 1884 by W.G. Fonseca in the Office of the Minister of Agriculture. Mortimer & Co. Lith. Ottawa. 32 1/2" x 42" (entire sheet). chromolithograph. Ottawa: 1884. $3,000
"The dramatic impact of the coming of the railroad to Winnipeg is illustrated here. Winnipeg's population reached 17,000 in 1884 (not the 30,000 indicated on this map) and in four years the extent of the built-up area more than doubled...Practically overnight Winnipeg had become a major railroad centre." (Artibise & Dahl) Fonseca's plan shows the streets, homes, buildings, railway yards of the Canadian Pacific Railway &c. The plan is illustrated with twenty-two views of the old and new Hudson Bay Company Store, the Grand Pacific Hotel, Manitoba Free Press Office, Manitoba College, St. Marys Academy, St. Boniface Cathedral, the residence of Hon. A.G.B. Bannatyne, St. Johns College, the Hudson Bay Land Office, the Redwood Brewery &c.
Artibise & Dahl, Winnipeg In Maps 1816-1972, pp. 22-23. Reps, Views And Viewmakers Of Urban America, 1269. Warkentin & Ruggles, Historical Atlas of Manitoba, 195.
25. CANADA. ROYAL COMMISSION ON CHINESE IMMIGRATION. Report Of The Royal Commission On Chinese Immigration. Report And Evidence. 8vo. pp. 1 p.l., cxxxiv, cii, [blank leaf], 487. contemporary half calf (worn, joints cracked, lower spine defective). Ottawa: Printed By Order Of The Commission, 1885. $1,250
Between 1881 and 1884, approximately 17,000 Chinese immigrants came to British Columbia to work as labourers on the Canadian Pacific Railway. They were paid just $1 a day, half the wage of white labourers and had to pay their own expenses, which saved the CPR an estimated $3-5 million in construction costs. They were often given the most dangerous jobs, and many lost their lives to landslides, dynamite blasts, and other accidents. In 1885 the British Columbia section of the railway was completed and the status of these immigrants became a pressing issue. While Europeans were being offered free land to come to Canada, the Canadian government decided to create a $50 "head tax" to limit the number of Chinese coming to the country (later raised to $100 and $500). The report was prepared by commissioners John Hamilton Gray [1814-1889], a British Columbia judge, and Joseph Adolphe Chapleau [1840-1898], Canadian Secretary of State. In 1923 the head tax was abolished only to be replaced with the Chinese Immigration or Exclusion Act that banned all Chinese immigrants except for some merchants, missionaries, diplomats and students. The Act was in effect for the next 24 years, until its repeal in 1947.
26. HAULTAIN, T[heodore] Arnold [1857-1941]. The Souvenir Number Of The Canadian Pictorial And Illustrated War News. A History Of Riel's Second Rebellion And How It Was Quelled. 2 Parts in 1. folio. pp. 1 p.l., 44 [i.e. 40; pp. 12-15 omitted in pagination]. text in 4 columns. 2 tinted lithographed front wrs. 3 double-page & 23 full & half-page lithographed text illus. on 12pp., all hand-coloured. 1 small text illus. & several illus. in ads on rear wrs. modern cloth, piece of original cloth with title mounted on upper cover (some minor tears & repairs in outer margin). Toronto: Grip Printing and Publishing Company, 1885. $1,700
An interesting pictorial record of the Northwest Rebellion, representing the principal events and battles: the fight at Duck Lake, the defence of Fort Pitt, the attack on the rebels at Fish Creek, the battle of Cut Knife Creek, the capture of Riel, the capture of Batoche, &c. The suppression of the North-West Rebellion by 5,000 troops under the command of Frederick Middleton was Canada's first independent military action and cost about $5 million. The rebels consisted of Saskatchewan Métis led by Louis Riel and Gabriel Dumont, who wanted legal claim to their lands, and aboriginal forces, most of them Cree commanded by Big Bear and Poundmaker, who wanted the government to respect their treaties and provide adequate food rations. "The rebellion had profound effects on Western Canada. It was the climax of the federal government's efforts to control the Aboriginal communities as well as the settler population of the West. Aboriginal persons who had thought themselves oppressed after the treaties of the 1870s became subjugated and administered people." (Canadian Encyclopedia) As usual this copy does not have the 2 double-page coloured lithographed plates of Middleton and his commanding officers.
Casey II 787. Lande S1044. Peel 1461.
27. (RIEL, Louis [1844-1885]). CANADA. DEPARTMENT OF THE SECRETARY OF STATE. Return To An Address Of The House Of Commons, dated 1st March, 1886; - For a copy of the Report of the Medical men appointed by the Government to enquire into the mental condition of Louis Riel, after his conviction [Drop Title] [Canada. Sessional papers, 1886, no. 43]. with 3 other returns related to the claims of the Métis in the North-West Territories, & the evidence & charges in the trials of participants in the North-West Rebellion (pagination continuous). 8vo. pp. 389. modern wrs. [Ottawa: 1886]. $600
Bowing to petitions flooding in from French Canada requesting the commutation of the death sentence against Riel for high treason and the urging of his French Canadian cabinet colleagues, Prime Minister Macdonald agreed to have Riel's mental condition re-examined. Three doctors were instructed by the government to report on whether Riel was a reasonable and accountable being who could properly be executed: Dr. Jukes of Regina, Dr. Michael Lavel, warden at the Kingston penitentiary, and Dr. François Xavier Valade of Ottawa. The consultation was undertaken in secrecy and Valade's dissenting opinion was falsified in the official report submitted to parliament.
Peel 1403 (1st return, pp. 288).
28. (RIEL, Louis). TACHÉ, [Alexandre Antonin] 1823-1894] & [Louis François Richer LAFLÈCHE 1818-1898]. Opinion De Leurs Grandeurs Mgr. Taché et Mgr. Laflèche... folio broadside. 46 x 31 cm. text in double columns. [np: c1886]. $600
Scarce Riel broadside, printing two letters by L.F.R.Laflèche, Bishop of Trois-Rivières, and A.A.Taché, Archbishop of St. Boniface. The pair played a major role in attempting to quell the popular agitation in Quebec against Riel's execution.
Lande 1403. Not in Peel.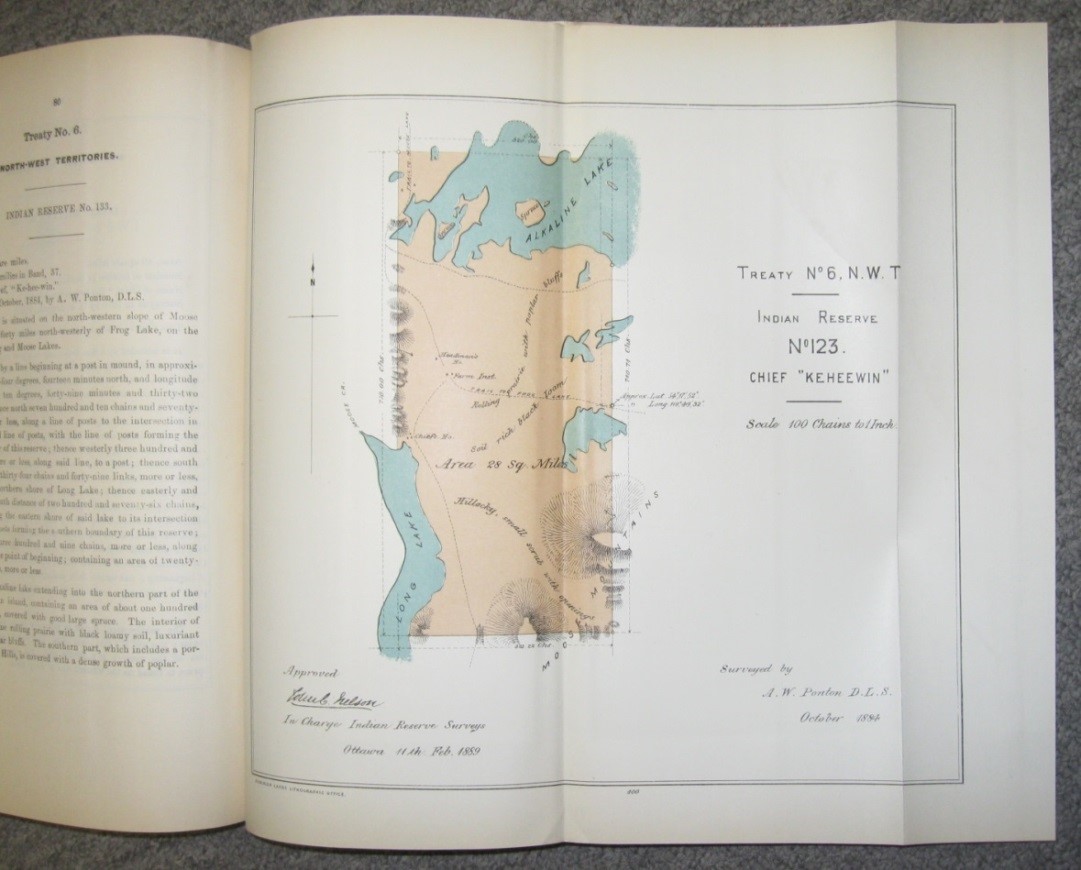 29. CANADA. PRIVY COUNCIL. Descriptions And Plans Of Certain Indian Reserves In The Province Of Manitoba And The North-West Territories. folio. pp. 113. 1 leaf of errata tipped in. 83 folding colour lithographed plans. new quarter calf. [Ottawa: 1889]. $3,500
The information regarding the extent and boundaries of the numerous Indian reservations in Manitoba and present-day Saskatchewan and Alberta allotted under Treaties 4, 6 and 7, and part of Treaty 2 was gathered for the guidance of Indian Agents and other employees of the Department of Indian Affairs, and for the use of the public, especially settlers desirous of taking up lands in the vicinity of the reserves. The descriptions and accompanying plans were prepared by direction of Edgar Dewdney, Indian Commissioner, from the original records of the Department, under the supervision of John C. Nelson, in charge of Indian Reserve Surveys. Each description provides details on area, situation and general features, the number of Indian families in the band, the name of the Chief, the name of the surveyor by whom the reserve was laid out, and the date of the survey. Attention is paid to the condition of the soil, vegetation and suitability for farming, and the presence of woodlands, lakes and ponds, and wildlife.
Peel 1765.
30. (GOODERHAM & WORTS LTD.). HIDER, Arthur H. [1870-1952]. Gooderham & Worts Ltd., [Toronto, Canada. Canadian Rye Whisky]. Toronto: Toronto Lith. Co., [1890]. colour lithograph (portion of title trimmed). original 'G & W', Gooderham & Worts frame. $1,800
By 1890 Gooderham & Worts Ltd. had become one of Canada's most prominent industrial concerns, producing over half of the country's spirits. "Recognized as a National Historic site, Toronto's Distillery Historic District contains over 40 Victorian buildings that document the city's and the nation's architectural and industrial heritage. Between the 1830's and 1890's the firm of Gooderham & Worts grew from a small windmill in the wilderness to the largest distillery in the British Empire and, for a time, in the world. The 20th century brought war, prohibition of alcohol, globalization, decline, and, finally, the area's rebirth as a vibrant arts and cultural district." (Gibson, The Canadian Encyclopedia, Online article)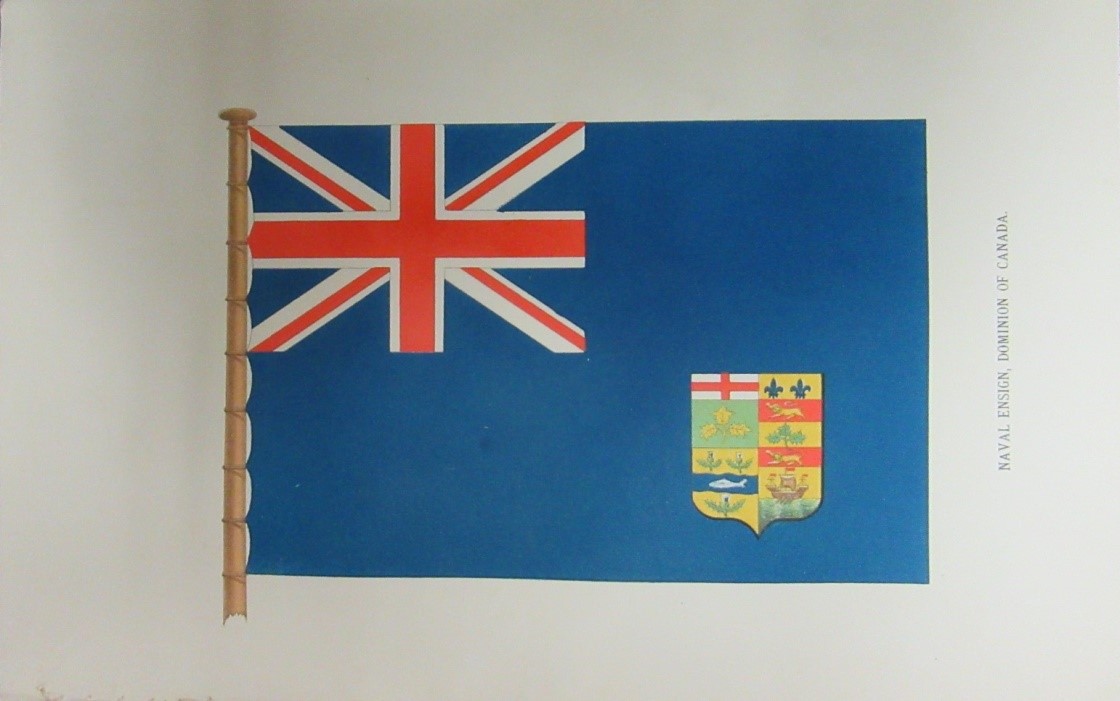 31. CANADA. PRIVY COUNCIL. Dominion Of Canada, Province Of Manitoba. Instructions For The Honourable T.W.Taylor, Chief Justice, Manitoba, Administrator Of The Government Of The Province Of Manitoba. Sammelband of various printed acts, documents & reports. folio. 15 chromolithographed plates. signature on title of John J.McGee, Clerk of the Privy Council. contemporary red leather (joints worn, corners worn, inner front hinge split). Ottawa: [1867-1893]. $1,250
Thomas Wardlaw Taylor [1833-1917] came to Manitoba from Ontario in 1872 to practice law and was Master of Chancery from 1872 to 1883. From 1883 to 1887 he was Puisne Judge of the Court of Queen's Bench, during which time, in the fall of 1885, he was responsible for handing down the decision against Métis leader Louis Riel's appeal of his death sentence: "Forced to wade through difficult constitutional points involving legal jurisdiction in the North-West Territories and the conduct of [Riel's] trial, the full court, relying mainly on Taylor's judgment, dismissed the leave to appeal and its decision was upheld by the Judicial Committee of the Privy Council." (Thomas H. Ferns in Dict. of Canadian Biography, Vol. XIV, p. 991) In 1887 he became Chief Justice of Manitoba, serving until 1899. In 1892 he sided with Judge Bain against Judge Dubuc in endorsing the government's policy to abolish separate schools. As Chief Justice of Manitoba Tayor acted as administrator of the province in 1890 and 1893. He was created a QC in 1881, and knighted in 1897.
The present volume was apparently presented to Taylor upon his appointment as administrator of Manitoba in 1893. It includes a description of uniforms to be worn by Lieutenant-Governors of the provinces of Canada, with chromolithographed plates, a list of Governors-General and Administrators of the Dominion of Canada since Confederation, a list of Lieutenant-Governors and Administrators of the Province of Manitoba since entering Confederation (Taylor's name appears twice at the end of the list, for 1890 and 1893, the second added and with date entered in manuscript), chromolithgraphed plates of Canadian flags & ensigns, and various Canadian acts, documents, instructions, and reports, including Draft of Letters-Patent appointing the Governor-General of the Dominion of Canada to be Governor of Rupert's Land, and an 1870 Order-In-Council relating to Rupert's Land and the North-Western Territory, &c.
32. LAURIER, Sir Wilfrid [1841-1919].1871-1890 Wilfrid Laurier On The Platform: Collection Of The Principal Speeches Made In Parliament Or Before The People...Compiled By Ulric Barthe. 8vo. pp. 1 p.l., iii, xxxii, 624. frontis. portrait. contemporary half roan (worn, joints cracked, some foxing to title & frontis. tissue guard). Quebec: Turcotte & Menard, 1890. $200
First Edition. Laurier was Canada's 7th and first francophone Prime Minister. "As leader of the Liberal Party, 1887–1919 and prime minister 1896–1911, Laurier was the dominant political figure of his era. A skilful and pragmatic politician with a charismatic personality, he unceasingly sought compromise. Above all, he was a fervent promoter of national unity at a time of radical change and worsening cultural conflict." (Canadian Encyclopedia) Although he refused to champion the education rights of the French Catholic minority in Manitoba, it was made possible to have religious instruction in the last half hour of the day in a language other than English. At Queen Victoria's Diamond Jubilee in 1897, Laurier diplomatically rejected British proposals for an imperial parliament and a common defence policy.When the country was sharply divided between English and French over participation in the South African War in 1899, Laurier agreed to provide funding for 1,000 volunteers to Canada's first military service overseas. Under Laurier's administration, Canada experienced a period of intense growth and prosperity, immigration to the West was aggressively encouraged, the Yukon territory was created, a second and third transcontinental railway by Grand Trunk Pacific and Canadian Northern Railway were built, two new provinces, Alberta and Saskatchewan, joined Confederation, and the Canadian Navy and Department of External Affairs were established.
Dionne III 2277.cfGagnon I 217.
33. LAURIER, Sir Wilfrid. Commemorative porcelain plate with photo-transfer portrait of Laurier, 10 inches in diameter, Ridgways, Staffordshire, c1906, together with Gambier, Paris, clay smoker's pipe, c1900, the bowl fashioned with a likeness of Laurier. $500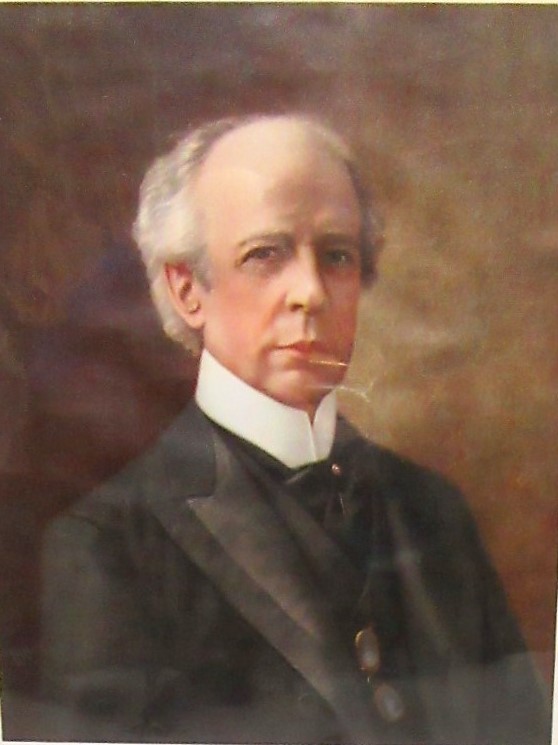 34. (LAURIER, Sir Wilfrid). ANONYMOUS. [Sir Wilfrid Laurier]. 24" x 20" (image; 61 x 50.7 cm). colour offset lithograph portrait (some creasing). [c1910]. $350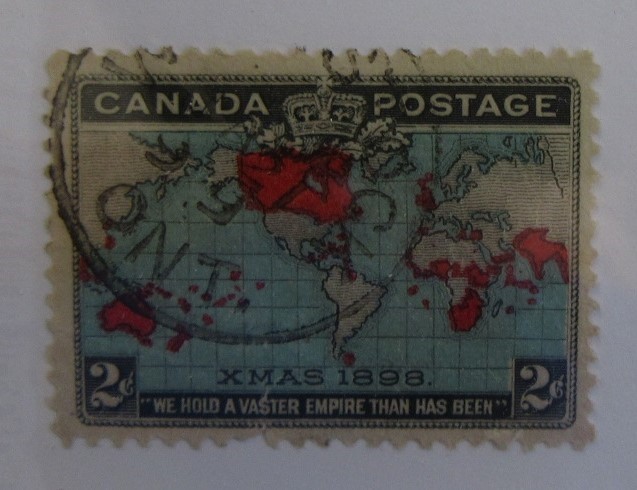 35. CANADA. POSTAGE. Canada PostageXmas 1898 2 cents postage stamp (black, blue & carmine). cancelled. 1" x ½" (2.5 x 3.5 cm). Framed 13" x 13" (33 x 33 cm). $100
"The world's first Christmas stamp" (Unitrade), the 2 cents Imperial Penny stamp was first issued on December 7, 1898. This was also the first Canadian stamp issued in three colours. Designed to showcase the power of the British Empire, "We Hold A Vaster Empire Than Has Been", the stamp features a map of the world with British interests (possessions) coloured in red.
Unitrade Catalogue of Canadian Stamps,86.
36. CHAMBERS, Ernest J[ohn] [1862-1925]. The Royal North-West Mounted Police A Corps History By Captain…(Corps of Guides). 4to. pp. 160, lxxxvii (ads & list of subscribers). text in double columns. numerous illus. incl. frontis. & illus. in ads. endpaper ads. original gilt-stamped red & brown cloth, rebacked with spine mounted, endpapers preserved (covers bit soiled). rubberstamp on paste-downs of the Royal Empire Society, Montreal Branch. Montreal & Ottawa: Mortimer Press, [1906]. $225
'Souvenir Edition'. Chambers had been the correspondent of the Montreal Star during the North West Rebellion. Noteworthy are the numerous pages of advertising for grocers, insurance companies, engineers, builders and associated trades, horse-dealers, grocers, brewers, real estate brokers, saddlers, hotels, brewers, rifle companies, many from western Canada and many illustrated. A map showing the route of the Grand Trunk Pacific Railway and listing its directors and officers is stamped in gilt on the lower cover.
Peel 2678. Story p. 732.
RAILWAYS
37. FLEMING, Sir Sandford [1827-1915]. Report On Surveys And Preliminary Operations On The Canadian Pacific Railway Up To January 1877.8vo. pp. xvi, 431. 3 folding coloured maps & 4 folding plans. original cloth (recased, cloth soiled & spotted, extremities frayed, first map repaired along one fold with tiny loss). Ottawa: Printed By MacLean, Roger & Co., 1877. $600
First Edition. Fleming had previously acted as chief engineer on a number of railway projects including the Simcoe and Huron (Northern Railway), and the Intercolonial. In 1871 was appointed chief engineer to superintend the surveys for the Canadian Pacific Railway. In this capacity he was responsible for surveying the route though the Yellowhead Pass which is now followed by the CNR. When the CPR later decided to adopt a more southerly line, Fleming conducted another survey in 1882 which demonstrated the practicability of the route through the Kicking Horse, Eagle, and Rogers passes.
Lowther 505. Peel 457.
38. FLEMING, Sir Sandford [1827-1915]. Report And Documents In Reference To The Canadian Pacific Railway..1880.8vo. pp. xii, [1 leaf], 373 [i.e. 383]. 5 folding coloured maps & 3 folding diagrams. original cloth. Ottawa: Printed By MacLean, Roger & Co., 1880. $600
First Edition.
Lowther 564. Peel 918.
39. CANADA. National Transcontinental And Railway Acts [Cover Title]. 8 Acts bound together (details below). 8vo. contemporary leather wrs. (damage to lower spine). [Ottawa: 1903-04]. $400
Comprising: (1) 3 Edward VII. Chap. 54. An Act to authorize aid to the Quebec Bridge and Railway Company...[Assented to 24th October, 1903]. pp. 8. (2) 3 Edward VII. Chap. 71. An Act respecting the Construction of a National Transcontinental Railway. [Assented to 24th October, 1903.]. pp. 23. (3) 3 Edward VII. Chap. 121. An Act respecting the Grand Trunk Railway Company of Canada. [Assented to 25th June, 1903.]. pp. 13. (4) 4 Edward VII. Chap. 24. An Act to amend the National Transcontinental Railway Act. [Assented to 18th July, 1904.]. pp. 8. (5) 4 Edward VII. Chap. 80. An Act respecting the Grand Trunk Pacific Railway Company. [Assented to 18th July, 1904.]. pp. 2. (6) Chap. 58. The Railway Act 1903. [3 Edward VII. Chap. 58. An Act to amend and consolidate the law respecting Railways. [Assented to 24th October, 1903.].]. pp. 1 p.l., iii, 119. (7) 4 Edward VII. Chap. 31. An Act to amend the Railway Act, 1903. [Assented to 10th August, 1904.]. pp. 2. (8) 4 Edward VII. Chap. 32. An Act to amend the Railway Act 1903. [Assented to 10th August, 1904.]. pp. 3.
In 1903 the government of Sir Wilfrid Laurier committed itself to the construction of the National Transcontinental Railway connecting western Canada with Canadian Atlantic ports (Winnipeg to Moncton) and opening up northern Ontario and Quebec to development. The Board of Railway Commissioners, the precursor of the Canadian Transportation Agency, was established to oversee the project. Laurier believed that healthy competition would force the Canadian Pacific Railway to lower freight rates. Construction led to significant cost overruns and eventually led to the Liberal downfall in 1911.
40. CANADIAN PACIFIC RAILWAY. Descriptive Timetable of the Tour of Their Royal Highnesses The Duke and Duchess of Connaught. Across Canada by The Canadian Pacific Railway. [Cover Title: Across Canada by The Canadian Pacific Railway.]. narrow 8vo. pp. 3 p.l., 89. printed in red & dark brown ink. 26 plates. bound for presentation to H.R.H. Prince Arthur, third son of Queen Victoria and H.R.H. Albert in full padded dark green sheep, gilt title on front cover with mounted colour royal coat of arms, gilt inside dentelles, all edges gilt, dark green watered silk endleaves (spine damaged & with 3 cloth tape repairs, corners worn, internally very good). [Montreal: Canadian Pacific Railway], 1912. $2,000
Descriptive timetable of the western Canadian tour from Toronto to Vancouver and back by rail and steamship by the new Governor-General of Canada, H.R.H. Prince Arthur [William Patrick Albert, first Duke of Connaught and Strathearn] [1850-1942]. The royal party consisted of the Duke and Duchess, Princess Patricia, two ladies in waiting, Lt.-Col. H.C.Lowther, Capt. T.H.Rivers, 2 aides-de–camp, Major E.S.Worthington (medical officer), and Mr. W.R.Baker representing the CPR. The work is illustrated by photographic based views of the countryside and cities of western Canada. This would appear to be one of a limited number of copies specially bound for presentation. No records have been located.
Prince Arthur (Arthur William Patrick Albert, first Duke of Connaught and Strathearn) was posted to Canada on military duty in 1869-70, serving during the Red River Rebellion and the Fenian Raid of 1870. In 1911 he was appointed Governor-General of Canada, a position he held until 1916.
Not in Peel or Edwards and Lort. Not found in the Amicus data base, Library of Congress or British Library catalogues. No copies found in the Canadian auction records.
41. CANADA. DEPARTMENT OF RAILWAYS AND CANALS. GOVERNMENT BOARD OF ENGINEERS. The Quebec Bridge Over The St. Lawrence River Near The City Of Quebec On the line of The Canadian National Railways 1908-1918. Report… 2 Volumes (Text & Plate Volume). oblong folio. pp. 259; [ff. 5]. numerous text illus. & diagrams in Vol. I (some full-page incl. frontis. & map); plate volume with 111 (many folding). original cloth (Vol. II front free-endpaper detached, chipped & torn, slight fraying to spine ends, pp. 36-37 in Vol. I trimmed down & detached & with 2 short tears & 2 small cellotape repairs). [Ottawa: 1919]. $600
First Edition. The Quebec Bridge over the St. Lawrence River, six miles above Quebec City, opened for rail traffic on December 1919 after two attempts and almost 20 years of construction which cost $25 million. At 1800 feet, the Quebec Bridge is still the longest cantilever bridge span in the world. The first bridge, begun in 1903, met with disaster on August 29, 1907, when the south arm and part of the central section collapsed into the river in just fifteen seconds. With 75 construction workers dead, 33 of whom were Mohawk steelworkers from the Kahnawake reserve near Montreal, and the other 11 on the bridge that day injured, this was the world's worst structural failure in bridge history. A Royal Commission of Inquiry in 1908 attributed the calamity to errors in judgment on the part of the designing engineer of the Quebec Bridge and Railway Co. and its findings led to more stringent rules, regulations, and standards in the engineering profession. Construction on the second bridge was soon begun, but it too suffered a setback when a collapse due to defective steel casting killed 13 workers on September 11, 1916. The whole history of the enterprise is documented here with extensive technical details and numerous illustrations and diagrams.
42. CALDER, W. Y. [British, active 1893-1924]. Canada The Right Land For The Right Man. Travel by Canadian National Railways. For Further Particulars Apply- Sercombe & Hayes, South Street, Dorchester. 40" x 25" (framed 44 x 29 ½). colour lithograph on paper showing wheat fields (poster) (restored crease). signed in stone. London: Canadian National Railways / Lochend Printing Co. Ltd. [c1920]. $2,500
Canadian railway promotional posters frequently engaged in depicting the country as an ideal destination for new immigrants.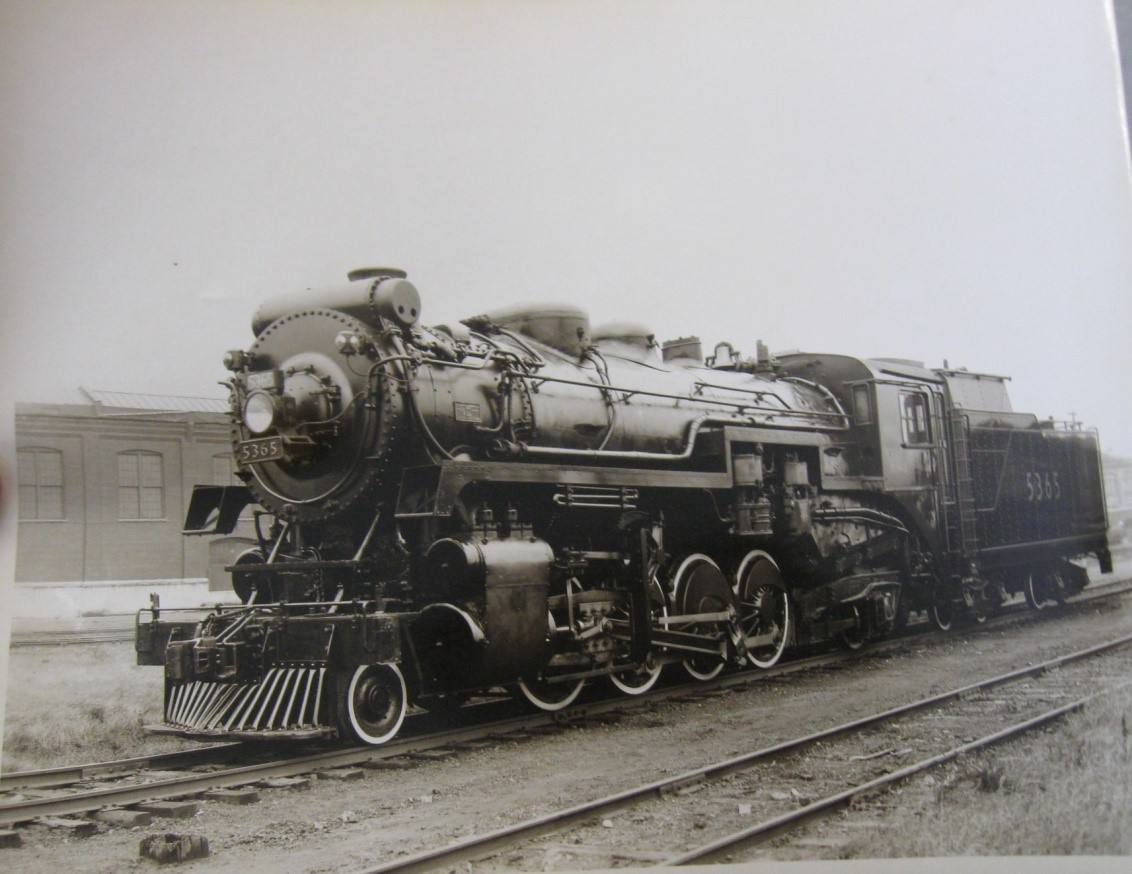 43. Collection of 1160 silvertone railway photographs, all 8 x 10 inches in size unless otherwise stated. Most date from or appear to have been processed in the 1950's-60's. Dates in round brackets indicate either date of building or date of original negative. Provenance is indicated when available. The collection consists of 366 CPR photos, 344 CN photos, and 450 of other railways, &c., almost all Canadian or CN subsidiaries (lines include Algoma Central, Canadian Northern, Central Vermont, Grand Trunk, Grand Trunk Western, Newfoundland, Northern Alberta, Ontario Northland, Quebec North Shore and Labrador, South Shore, Sydney and Louisbourg, and Toronto, Hamilton and Buffalo. Overall condition is very good. Detailed list available upon request. $25,000
THE ARCTIC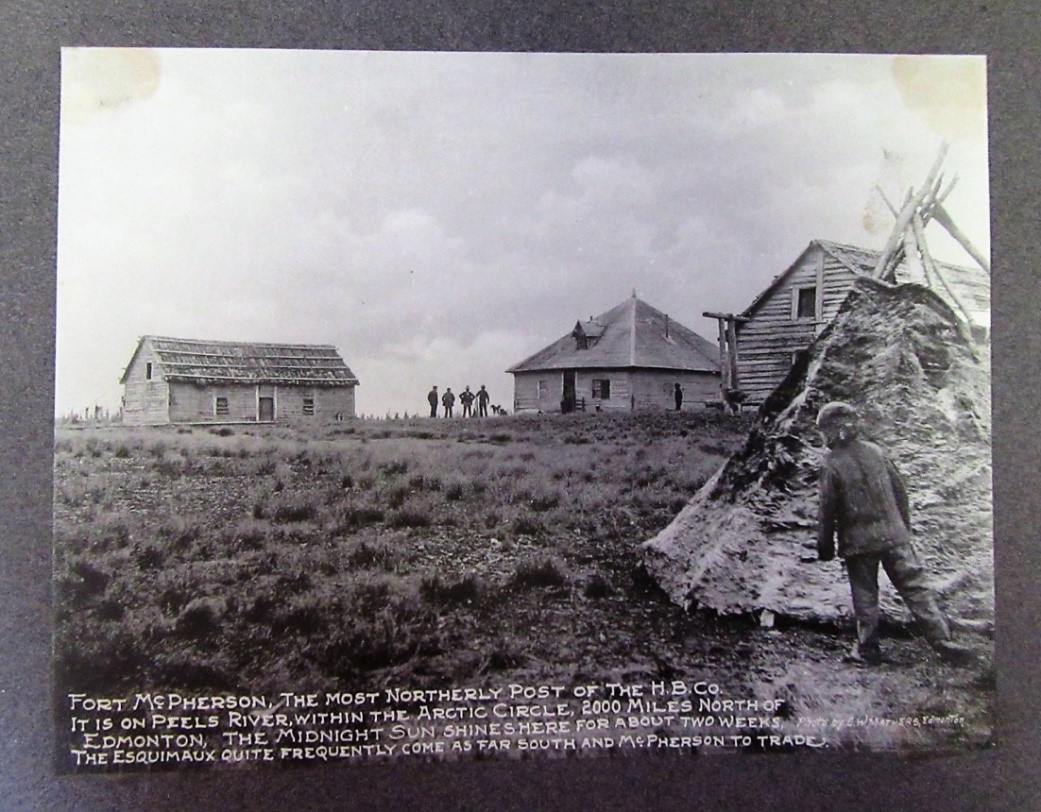 44. MATHERS, C[harles] W[esley] [1869-1950].The Far North [Cover Title]. oblong 4to. [ff. 27]. 27 mounted photographic illus. wrs., mounted photographic illus. on upper wr., corded tie (wrs. rubbed, corners or wrs. curled, small stain on upper wr., some leaves sprung). [Edmonton: 1902]. $175
C.W. Mathers began his photographic career with the Edmonton branch studio of the Calgary photographic partnership of Boorne & May. According to Alberta photohistorian Brock Silversides, Mathers was Edmonton's only photographer for several years, including the first two years of the Klondike Gold Rush. In 1901 he travelled with a Hudson's Bay Company trader to Fort MacPherson on the Peel River, N.W.T., the first trading post north of the Arctic circle, and was able to take the first professional photographs of Inuit in the region. Mathers sold his business in 1904 and moved to Vancouver, B.C.
45. LOW, Albert Peter [1861-1942].Report On the Dominion Government Expedition To Hudson Bay And The Arctic Islands On Board The D.G.S.Neptune 1903-1904. 8vo. pp. xvii, 355. with half-title. large folding coloured map in rear pocket. numerous plates & text illus. (incl. frontis.). original cloth (covers spotted). Ottawa: Canada Department of Marine and Fisheries, 1906. $200
First Edition. The first Canadian arctic expedition, led by Albert Peter Low of the Geological Survey of Canada, was sent to explore and patrol the waters and to assist in the establishment of permanent government stations on the shores in order to assert Canada's sovereignty over the eastern Arctic. Canada had secured the Arctic coast though the purchase of Rupert's Land from the Hudson's Bay Company in 1870. In 1880 Britain gave Canada sovereignty over the whole of the Arctic Archipelago including as yet undiscovered land, although this was challenged by American and Norwegian expeditions led by Greely, Amundsen, Peary, and Sverdrup. In 1904 Low's expedition took formal possession of Ellesmere, Beechey, and Somerset Islands. A second expedition, under Joseph Elzéar Bernier in 1908-09, laid claim to the rest of the Arctic Archipelago.
Arctic Bib. 2717. O'Dea 1349.
46. CAMERON, Agnes Deans [1863-1912]. The New North Being Some Account of a Woman's Journey through Canada to the Arctic. 8vo. pp. xix, 398. with half-title. map, frontis. & numerous text illus. after photographs, many by the author. A nice bright copy in original cloth, colour map mounted on upper cover, t.e.g., others untrimmed (extremities a bit frayed). New York & London: D.Appleton And Company, 1910. $200
First Edition. The author, a British Columbia school teacher and trustee, undertook the 10,000-mile journey herein described in 1908 at the age of forty-five and became the first white woman to reach the Canadian arctic overland. She travelled from Chicago to the Arctic Ocean by way of Winnipeg, Calgary, Athabasca, Great Slave Lake, and the Mackenzie River, returning via the Peace River and Lesser Slave Lake.
Arctic Bib. 2657. Peel 2105. Smith 1397.
47. STEFANSSON, Vilhjalmur [1879-1962].The Friendly Arctic The Story Of Five Years In Polar Regions. 8vo. pp. xxxi, 784. frontis., 34 double-sided plates, & 9 maps(5 folding incl. 2 in rear pocket – 1 in colour). A nice copy in original cloth. New York: Macmillan Company, 1921. $450
First Edition. Account of Manitoba-born Vilhjalmur Stefansson's third arctic expedition, 1913-18, made under the auspices of the Canadian government, an expedition which played a decisive role in strengthening Canadian jurisdiction in the arctic. Rudolf M.Anderson was second in command and in charge of the scientific crew of thirteen other scientists. They were to investigate the little known areas of the western Canadian Arctic. After the loss of his flagship, the Karluk, in the Beaufort Sea in 1913, Stefansson set out with two companions from Bernard Harbour, Alaska, crossed the ice to Norway Island and explored the area between Prince Patrick Island and the Ellef Ringnes and Amund Ringnes Islands, discovering Brock and Borden Islands in 1915 (Borden was later found to be two islands), and Meighen and the Lougheed Islands in 1916. The expedition was halted when Stefansson contracted typhoid fever at Herschel Island.
Arctic Bib. 16808. Ricks p. 209. Wickersham 386. Story p. 777.
48. [JENNESS, Diamond, John CAMERON & Stephen G.RITCHIE]. Report Of The Canadian Arctic Expedition 1913-18 Volume XII: The Copper Eskimos Southern Party 1913-16. 3 Parts in 1: The Life Of The Copper Eskimos by D.Jenness, Physical Characteristics Of The Copper Eskimos by D.Jenness, & Osteology And Dentition Of The Western And Central Eskimos by John Cameron & Stephen G.Ritchie. 8vo. pp. 277; 89b; 79c. frontis. & text illus. (8 full-page) & folding map; 12 full-page text illus.; 2 full-page text illus. & 7 plates. original cloth. Ottawa: F.A.Acland, 1923. $150
First Editions. The Canadian Arctic Expedition of 1913-1918 was the first Canadian Government-sponsored expedition to the western arctic and at the time it was the largest multi-disciplinary scientific arctic expedition ever undertaken. Fourteen researchers from the world's top universities including Toronto and McGill took part. The scientific results of the expedition filled 64 reports in fourteen volumes and constituted a major contribution to polar science, ethnography and natural history. The first two of the present reports contain the first ethnographic studies of the Copper Inuit, who inhabit what is now Nunavut's Kitikmeot Region and the Northwest Territories' Inuvik Region. They were written by Diamond Jenness, who would become Canada's foremost anthropologist. Jenness spent two years among the Copper Inuit and gathered and sent thousands of their cultural artifacts to the Geological Survey of Canada.
Arctic Bib. 8041, 8049, & 2669.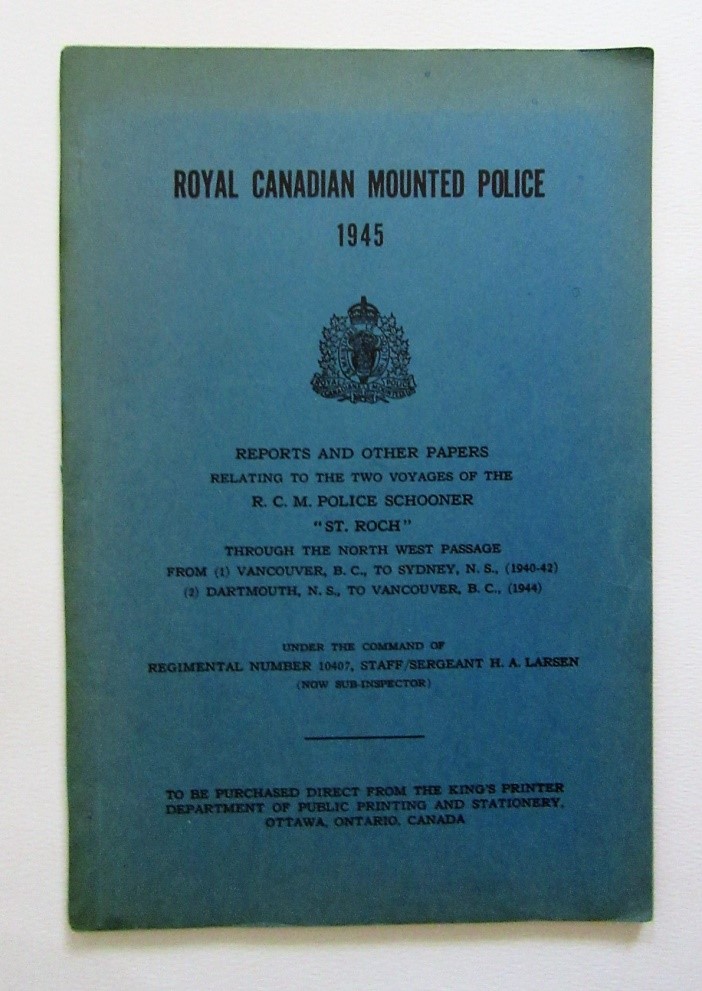 49. ROYAL CANADIAN MOUNTED POLICE. Reports And Other Papers Relating To The Two Voyages Of The R.C.M.Police Schooner "St. Roch" Through The North West Passage From (1) Vancouver, B.C., To Sydney, N.S., (1940-42) (2) Dartmouth, N.S., To Vancouver, B.C., (1944) Under The Command Of…H.A.Larsen… 8vo. pp. 97, [4]. 2 full-page illus. & 2 full-page maps. wrs. Ottawa: 1945. $150
First Edition. The St. Roch, commanded by Henry A. Larsen, was the second ship to navigate the northwest passage after Amundsen's Gioja and the first to make the voyage from east to west. "During the eastward voyage 1940-42, the St. Roch wintered at Walker Bay, west side of Victoria Island, 1940-41; proceeded via the southern route, south of King William Island, and north to Pasley Bay, west side Boothia Peninsula, where the schooner wintered 1941-42; continued north through Bellot Strait and east through Lancaster Sound to Pond Inlet on Baffin Island; thence to Sydney, N.S. On the westward trip in 1944, the schooner accomplished the first Northwest Passage in a single season, via Pond Inlet, Lancaster and Melville Sounds, and Prince of Wales Strait…" (Arctic Bib.) While the ship was trapped in the ice for two winters on the first voyage, she managed to accomplish the second in 86 days.
Arctic Bib. 14926.
50. CHAMPLAIN SOCIETY. Complete set of Champlain Society publications. 115 Volumes, including the main series, the Hudson's Bay Record Society series (12 Vols.), the Ontario series (16 Vols.), and the set of Champlain's works (7 Vols.). all crested limited editions. 8vo. original cloth (a few volumes with staining to cloth, some spines faded). Toronto: 1907-2012. $14,000
A significant achievement in Canadian scholarship and a cornerstone series for any serious collection of Canadiana. The set includes important narratives relating to the exploration, fur trade, and early history and settlement of Canada. Some of these are first editions in English of major French sources, i.e. Samuel de Champlain, Nicolas Denys, Chrestien LeClercq, Pierre de La Verendrye, the Sieur de Dièreville, Gabriel Sagard, and François Du Creux. Other accounts include those of Marc Lescarbot, Samuel Hearne, John Knox, David Thompson, John Maclean, Patrick Campbell, James Colnett, Lord Selkirk, John Palliser, Alexander Henry, and Sir John Franklin. There are numerous volumes of documents relating to the North West and Hudson's Bay Companies, others on the War of 1812, the 1837 Rebellion in Upper Canada, the diaries and papers of Simeon Perkins, Chief Justice William Smith, and Lord Minto, telegrams of the North-West campaign, &c.
51. OGILVIE, William [1846-1912]. Early Days On The Yukon. 8vo. pp. xii, 306. with half-title. 32 plates (incl. frontis. portrait). untrimmed in original cloth (2 small stains on lower front cover). London & New York: John Lane & Toronto: Bell & Cockburn, 1913. $275
First Edition. The author carried out many surveys and explorations in the Canadian West between 1875 and 1898, notably in the Mackenzie River and Yukon districts, and was in the Yukon at the time of the Gold Rush of 1898. When the Yukon Territory Act (1898) created the region as a separate geographic and political entity, Ogilvie was appointed commissioner for the Dominion Government until 1901.
Street Atlas of Toronto
52. GOAD, Cha[rles] E. Atlas of the City of Toronto and Vicinity From Special Survey Founded On Registered Plans And Showing All Buildings And Lot Numbers Third Edition - 1910. 3 Volumes.folio. [pp. 8; 5; 2]titles & street & registered plan indexes (no title in Vol. III). 2 single-page & 114 double-page coloured maps.some mounted correction slips. contemporary cloth (extremities frayed, lower outer corners of first leaves in each volume worn or chipped with slight loss, scattered soiling). Toronto: 1910[-1924]. $15,000
Third Edition, second revision to July 1923 (Volume I), second revision to October 1923 (Volume II). The first edition, published in 1884, contained 40 maps, and the second, published in 1890, contained 50 maps. The third was greatly expanded to 114 double-page maps in 1910. The maps in this atlas were revised to incorporate new information by means of mounted correction slips or by reprinting in 1913, 1923, or 1924.
"What "Goad is to Canada, "Sanborn" is to the United States, a quasi-monopoly on municipal mapping for a century, and a companion to the insurance industry." (Maps & Data Library, University of Toronto website) Established in Montreal in 1875, the Charles E. Goad company had by 1910 created fire insurance plans for more than 1300 Canadian communities. These street atlases serve as important source materials for the progress of urban development, containing detailed maps showing and naming streets, lots, homes, businesses, churches, schools, parks, government buildings, hotels, banks, and stores.
See Gentilcore & Head, Ontario's History in Maps, pp. 264-65.
53. (OSLER, Sir William [1849-1919]). CUSHING, Harvey. The Life Of Sir William Osler. 2 Volumes. 8vo. pp. [xvi], 685, [1]; [xii], 728. 41 plates (incl. 2 photogravure frontis.). index. cloth. Oxford: At the Clarendon Press, 1925. $225
First Edition, Second Impression. Osler received his medical degree from McGill University, and returned there after postgraduate training in England and Europe to lecture in medicine and pathology. In 1884 he joined the faculty of the University of Pennsylvania, and five years later, became the first professor of medicine at Johns Hopkins University in Baltimore. "By the turn of the century, Osler was probably the best-known physician in the English-speaking world. He achieved this position with a combination of superb practice, excellent and innovative teaching, wide-ranging publication, and association with outstanding colleagues in the most advanced school of its time, Johns Hopkins. His professional interests were unusually wide, but he was particularly expert in diagnosis of diseases of the heart, lungs and blood. His textbook, The Principles and Practice of Medicine, first published in 1892 and frequently revised, was considered authoritative for more than 40 years." (Canadian Encyc.)
54. WINNIPEG GENERAL STRIKE DEFENSE COMMITTEE. The Winnipeg General Sympathetic Strike May-June 1919…Strike – Arrests – Trials – Penitentiary. [At Head of Title: "Saving The World From Democracy"]. 8vo. pp. 276. original printed wrs. (head & foot of spine chipped, some dampstaining to lower margins). [Winnipeg]: Wallingford Press, [1919]. $200
First Edition. The defense committee was composed of delegates from the various labour organizations in Winnipeg. High unemployment rates and inflation following World War I and news of the success of the Russian Revolution led to increased labour unrest. The Winnipeg general strike, a landmark event in the history of trade unionism in Canada, was called by the Winnipeg Trades and Labour Council when negotiations broke down between management and western labour leaders in the building and metal trades over the creation of One Big Union. In a stunning display of solidarity over 30,000 workers from the public and private sectors left their jobs in support of workers' rights to collective bargaining and better wages and working conditions, bringing the city to a standstill. The federal government intervened, arresting ten leaders of the Central Strike Committee and two propagandists from One Big Union. On 'Bloody Saturday' the Royal North-West Mounted Police charged a group of strikers, injuring 30, killing 2, and arresting 94. Federal troops occupied the city streets, and on June 26 the strike was called off. Seven Winnipeg strike leaders were eventually convicted of a conspiracy to overthrow the government and sentenced to jail terms ranging from six months to two years.
Peel 4548.
55. KING, William Lyon Mackenzie [1874-1950]. LEWIS, John. Mackenzie King The Man: His Achievements. 8vo. pp. 4 p.l., 139. A fine untrimmed copy in red leather. cloth slipcase. Toronto: Morang And Company, 1925. $450
First Edition, Deluxe Edition, Limited to 500 copies signed by Mackenzie King (this copy unnumbered). Mackenzie King, grandson of William Lyon Mackenzie, served as the 10th Canadian Prime Minister in 1921-26, 1926-1930, and 1935 to 1948, spanning the Roaring 20s, end of the Great Depression, World War II and reconstruction. He was leader of the Liberal Party for 29 years, and with 21 years and 154 days in office, he was the longest serving Prime Minister in Canadian history. The King administration saw major advances in international status, leading to the Statute of Westminster which essentially recognized the independence of Canada, the creation of a Canadian citizenship (1947), and the establishment of Old Age pensions (1927), the Canadian Broadcasting Corporation (1936), Air Canada (1937), the National Film Board (1939), Unemployment Insurance (1940) and Family Allowances (1945).
56. STEWART, Margaret & Doris FRENCH. Ask no quarter A Biography of Agnes Macphail. 8vo. pp. 311. frontis. portrait. index. cloth. Toronto: Longmans, Green and Company, 1959. $45
First Edition. Agnes Macphail [1890-1954] was the first woman elected to Parliament in 1921, the same year that women were first allowed to vote. She served in the House of Commons for 19 years. In the 1943 provincial election she was elected to the Legislative Assembly of Ontario as a member of the Ontario CCF, and became the first woman sworn in as an Ontario MPP. She fought for Ontario's first equal pay legislation in 1951.
57. INNIS, Harold [1894-1952]. The Fur Trade In Canada An Introduction to Canadian Economic History. 8vo. pp. [xiii], 463. biblio. index. cloth (ownership entry on front free-endpaper else very good). Toronto: University of Toronto Press, 1956. $125
Second Revised (First Canadian) Edition (originally published by Yale University Press in 1930]. Innis's classic study of the history and social and economic significance of the fur trade introduced his staples theory of Canadian economic development. "The book chronicles the trade in beaver fur from the early 16th century to the 1920s. Instead of focusing on the "heroic" European adventurers who explored the Canadian wilderness as conventional histories had done, Innis documents how the interplay of geography, technology and economic forces shaped both the fur trade and Canada's political and economic destiny. He concludes that the fur trade largely determined Canada's boundaries adding that the country "emerged not in spite of geography but because of it." (Wikipedia) Innis also emphasized the cultural and economic contributions of the First Nations in the development of the country.
With Two Original Pencil Sketches by Clarence Gagnon
58. (GAGNON, Clarence). HÉMON, Louis. Maria Chapdelaine. Illustrations de Clarence Gagnon. 4to. pp. 2 p.l., 205, [1]. with half-title. 54 colour illustrations (incl. title vignette) by Clarence Gagnon & 1 colour tailpiece. 2 original coloured pencil sketches by Gagnon bound in. modern hard-grained leather, original printed wrs. bound in. cloth slipcase (scuffed). Paris: Éditions Mornay, 1933. $8,500
First Edition illustrated by Clarence A. Gagnon: limited to 2,000 copies (+ 80 hors commerce), this is one of 1,900 printed on Rives. Hémon was born in Brest, France, and spent the last two years of his life in Canada, 1911-13. Here he lived in Montreal, Péribonka, Saint-Gédéon, Roberval, and among the pioneers of the Saguenay district. His sympathetic portrayal of the harsh existence and simple endurance of Canadian habitant life originally appeared serially in the Parisian daily Le Temps in 1914. Following its first publication in book form in Montreal in 1916 the work became a classic and was translated into several languages. This is the finest edition, beautifully illustrated with colour illustrations after drawings by Canadian artist, Clarence Gagnon [1881-1942].
Gagnon studied art in his native Montreal and in Paris. For most of his life he divided his time between the French capital and the Canadian countryside near Baie-St Paul on the St. Lawrence River. "His love of the habitants was passionate and intense, and he painted them at work or play with a background of quiet villages or the rural Quebec hillsides. The colour is brilliant...the subject matter became more picturesque at the time when the seductive romance of the simple peasant folk and their gaily painted houses lured him into illustration. His colour illustrations for Le Grand Silence Blanc and Maria Chapdelaine are intricate classics whose technical excellence far surpasses anything similar achieved by Canadians." (J.R. Harper, Painting in Canada: A History, p. 236)
Bound into the present copy are 2 original coloured pencil sketches by Gagnon both bearing 'Atelier Gagnon' rubberstamp. The first is a design for the front cover of the 1933 edition while the other consists of a number of preparatory church and building studies. One of these serves as the prototype for the church which appears in two of the finished book illustrations.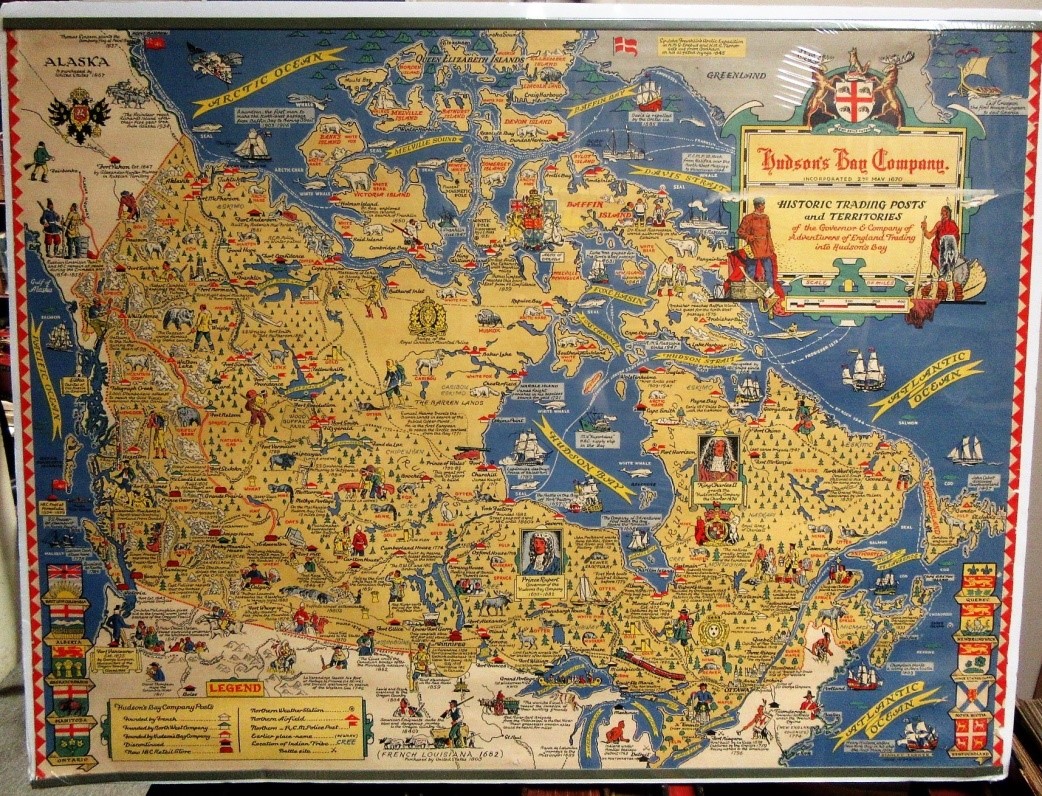 59. TURNER, Stanley [1883-1953]. Hudson's Bay Company…Historic Trading Posts And Territories of the Governor & Company of Adventurers of England Trading Into Hudson's Bay. Stanley Turner [Artist]. Made In Canada [c1938]. 19 ½" x 25 ½" (49.4 x 64.8 cm). colour silkscreen (several tears & two small 2-3 cm holes to title portion). $250
Showing Canada from Newfoundland to British Columbia and from the Arctic to the Great Lakes, this map is filled with historical information and vignettes illustrating fauna, railways, explorers, inhabitants, ships, canoes &c. Examples include: "Fort Whoop-Up Whiskey-traders flee from the Mounted Police 1874"; "Buffalo almost exterminated 1880's"; "Marble Island James Knight perishes in his hopeless search for gold 1721" &c.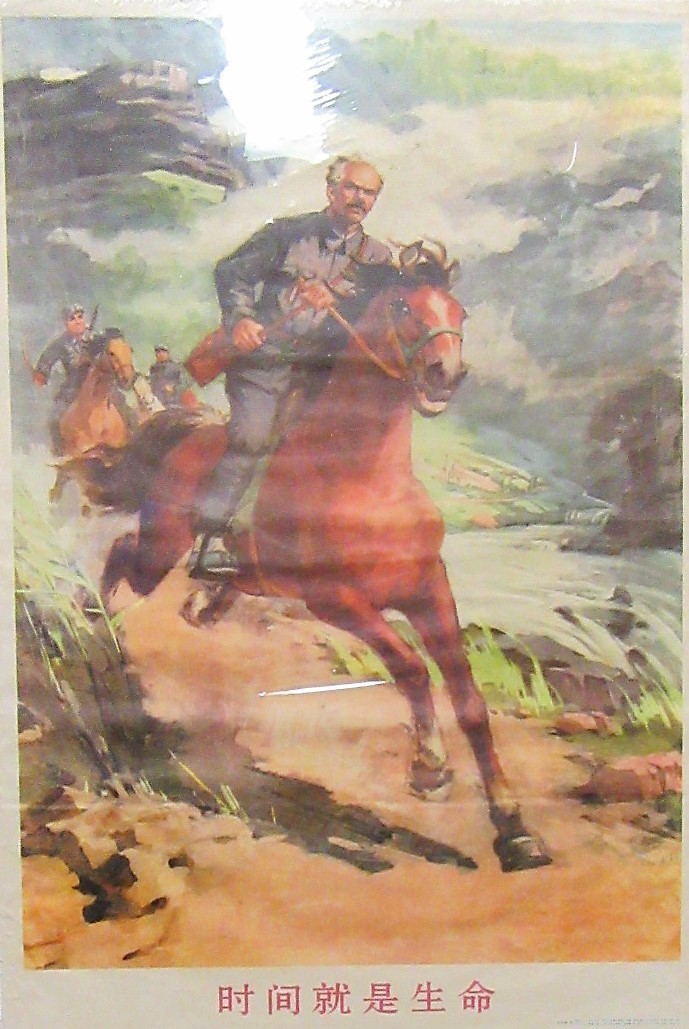 60. (BETHUNE, Doctor Norman Henry) [1890-1939]. ZHANG XIN GUO (Editor). Time is a Life (English Translation). 29 ¼" x 20 ¼". colour offset (margins creased with few stains). Hebei: Ren Ming Publishers, October, 1969. $350
Doctor Bethune advanced tuberculosis care in Canada through thoracic technique improvements and invention and modification of 12 medical and surgical instruments. He also was an early advocate for universal health care in Canada. His international medical contributions included developing a mobile blood-transfusion service for the Republicans in the Spanish Civil War and surgical work with the 8th Route Army in the Shanxi-Hobei region of China. "His accidental death from septicemia evoked Mao Zedong's essay "In Memory of Norman Bethune," which urged all communists to emulate his spirit of internationalism, his sense of responsibility and his devotion to others. One of three prescribed articles during the Cultural Revolution, the essay made Bethune's name almost synonymous with Canada in China." (Hilary Russell, 'Historica Canada' website)
61. CARR, Emily [1871-1945]. Klee Wyck. With a foreword by Ira Dilworth. 8vo. pp. [xiii], 155. 4 colour plates. tissue guards with legends. cloth (spine spotted, dampstain to lower outer corner of front cover).London…: Oxford University Press, [1941]. $100
First Edition. A pioneering Canadian female artist,Carr has become a Canadian icon. The present collection of literary sketches won the Governor-General's Award for Nonfiction in 1941. They relate to her experiences on early sketching and painting trips she made to Nootka villages on the west coast of Vancouver Island, where she stayed near Ucluelet. 'Klee Wyck', meaning 'laughing one' was the aboriginal name she was given. Carr's recalled that her time in Ucluelet made "a lasting impression on me" and aboriginal culture became a dominant theme in her early work.
62. MacLENNAN, Hugh [1907-1990]. Two Solitudes. 8vo. pp. 5 p.l., 370. cloth. dw. (edges of dw. creased & chipped). Signed by the Author. Toronto: Collins, [1945]. $500
First Canadian Edition. MacLennan's most famous novel on the tensions between English and French Canada won him his first Governor General's Award for Fiction. MacLennan won a combined total of five Governor-Generals Awards for Fiction and Non-Fiction. In 1967, he was made a Companion of the Order of Canada, and in 1985 he was made a Knight of the National Order of Quebec. From Glace Bay, Nova Scotia, MacLennan was a Rhodes scholar and professor of English at McGill University, where he numbered Leonard Cohen among his students.
63. LAYTON, Irving [1912-2006].Here and Now poems. 8vo. unpaginated. wrs. (ownership entry on leaf before title that has a printed notice on verso). dw. A near fine copy. Montreal: First Statement New Writers Series, No. 1, 1945. $1,500
First Edition of Layton's first book. Layton won the Governor General's Award in 1959 and was nominated for the Nobel Prize for Literature in 1981. In 1976 he was made an Officer of the Order of Canada. He is best remembered for his outspoken and flamboyant style and his erotic love poems.
64. SMALLWOOD. J[oseph] R[oberts] [1900-1991] (Editor). The Book Of Newfoundland. 4 Volumes. 4to. pp. xl, 486; xvi, 531, [1]; [xii], 602, [82]; [xii, 599, [95]. index. text in double columns. profusely illus. incl. some colour plates. errata slip laid in to Volume I. cloth. St. John's: Newfoundland Book Publishers Ltd., [1937-37-67-67]. $450
First Editions. The standard reference on Newfoundland edited by the self-described 'last father of Confederation'. Smallwood was the driving force behind Newfoundland's entry into Confederation in 1949, serving as its first Premier until 1972.
65. CANADA. DEPARTMENT OF EXTERNAL AFFAIRS. Documents Relatifs Aux Relations Entre Le Canada Et Terre-Neuve. Documents On Relations Between Canada And Newfoundland. Volume I 1935-1949.Defence, Civil Aviation And Economic Affairs. [Volume 2 1940-1949. Confederation.]…Edited by Paul Bridle. 2 Volumes in 3. 8vo. pp. lxxiv, [1 leaf], 1446; li, 999; vii, [1001]-2106. 4 folding maps (2 in colour) & 25 plates (mostly double-sided, 1 folding). original cloth. J.L.Granatstein's copy, with review enclosure letter from The International History Review, & copy of Granatstein's 5-page typed review of Vol. II. [Ottawa: 1974-84]. $300
"The more than 2000 pages of material here offer a splendid view of events from 1940-1949 and put the Confederation arrangements of 1949 into clear perspective." (Granatstein, reviewing Vol. II) Vol. II was published to mark the 25th anniversary of Newfoundland entering Confederation.
O'Dea 2156.
66. McLUHAN, Herbert Marshall [1911-1980]. The Mechanical Bride: Folklore Of Industrial Man. 4to. pp. vii, 157. text in double columns. illus. cloth. New York: Vanguard Press, 1951. $125
First Edition of McLuhan's first book, a pioneering study of the effects of the communication media and advertising on public consciousness and behaviour. McLuhan coined the expression 'the medium is the message' and the term 'global village' and predicted the World Wide Web almost thirty years before it was invented. The title of this work was derived from a piece by Dadaist artist, Marcel Duchamp. McLuhan was the recipient of numerous awards and honours including being named to the Albert Schweitzer Chair in Humanities at Fordham University in the Bronx in 1967, and being named a Companion of the Order of Canada in 1970.
67. DIEFENBAKER, John George [1895-1979]. One Canada Memoirs. 3 Volumes. 8vo. pp. xiii, [1 leaf], 298; xv, [1 leaf], 330; xxiii, [1 leaf], 309. illus. index. cloth. dws. (creasing to Vol. II dw.). Each volume signed by Diefenbaker. Toronto: Macmillan Of Canada, 1975-76-77. $350
First Editions. Diefenbaker was Canada's 13th Prime Minister, serving in 1957 to 1963. He was the first Progressive Conservative party leader between 1930 and 1979 to win an election, which he did three times. Diefenbaker is noted to having appointed the first female minister in Canadian history to his Cabinet, as well as the first aboriginal member of the Senate. During his administration the Canada Bill of Rights was passed and the vote was granted to the First Nations and Inuit. He opposed apartheid which helped secure the departure of South Africa from the Commonwealth of Nations, but his government suffered defeat because of his indecision on whether to accept Bomarc missiles from the United States.
68. SOUSTER, Raymond [1921-1012] & Michael SNOW [b. 1929]. Place Of Meeting poems 1958-1960. 8vo. pp. 5 p.l., 67, [1]. 2 tipped-in original lithographs, numerous text illus. by Michael Snow. A near fine copy in bds. [Lindsay: Gallery Editions, 1961]. $750
Limited to 100 copies, signed & numbered by Souster, the tipped-in lithographs signed & numbered by Snow. Raymond Souster won the Governor General's Award in 1964, the Centennial medal in 1967, and was named an officer of the Order of Canada in 1995. Snow was the first recipient of the Governor General's Award in Visual and Media Arts inn 2000, and was appointed an Officer of the Order of Canada in 1981, a Chevalier de l'ordre des Arts et des Lettres, France, in 1995, and a Companion of the Order of Canada in 2009.
69. COHEN, Leonard [1934-2016].Beautiful Losers. 8vo. pp. 6 p.l., 243. unbound stitched gatherings in pictorial dw. (as the dw. is larger than the book the edges are torn, small pink stain on front blank). Toronto & Montreal: McClelland and Stewart Limited, [1966]. $450
Uncorrected proof copy of the First Canadian Edition of Cohen's highly controversial second and last novel."Beautiful Losers is Cohen's most defiant and uninhibited work. The novel centres upon the hapless members of a love triangle united by their sexual obsessions and by their fascination with Catherine Tekakwitha, the 17th-century Mohawk saint. Complex and highly allusive, [it] has been called "one of the most radical and extraordinary works of fiction ever published in Canada." (CBC) Cohen was the recipient of many awards and honours including Governor General's Awards in 1968 and 1993, Companion of the Order of Canada in 2003, and one of the Prince of Asturias Awards for literature and the ninth Glenn Gould Prize in 2011. He was inducted into the Canadian Music Hall of Fame, the Canadian Songwriters Hall of Fame, and the Rock and Roll Hall of Fame.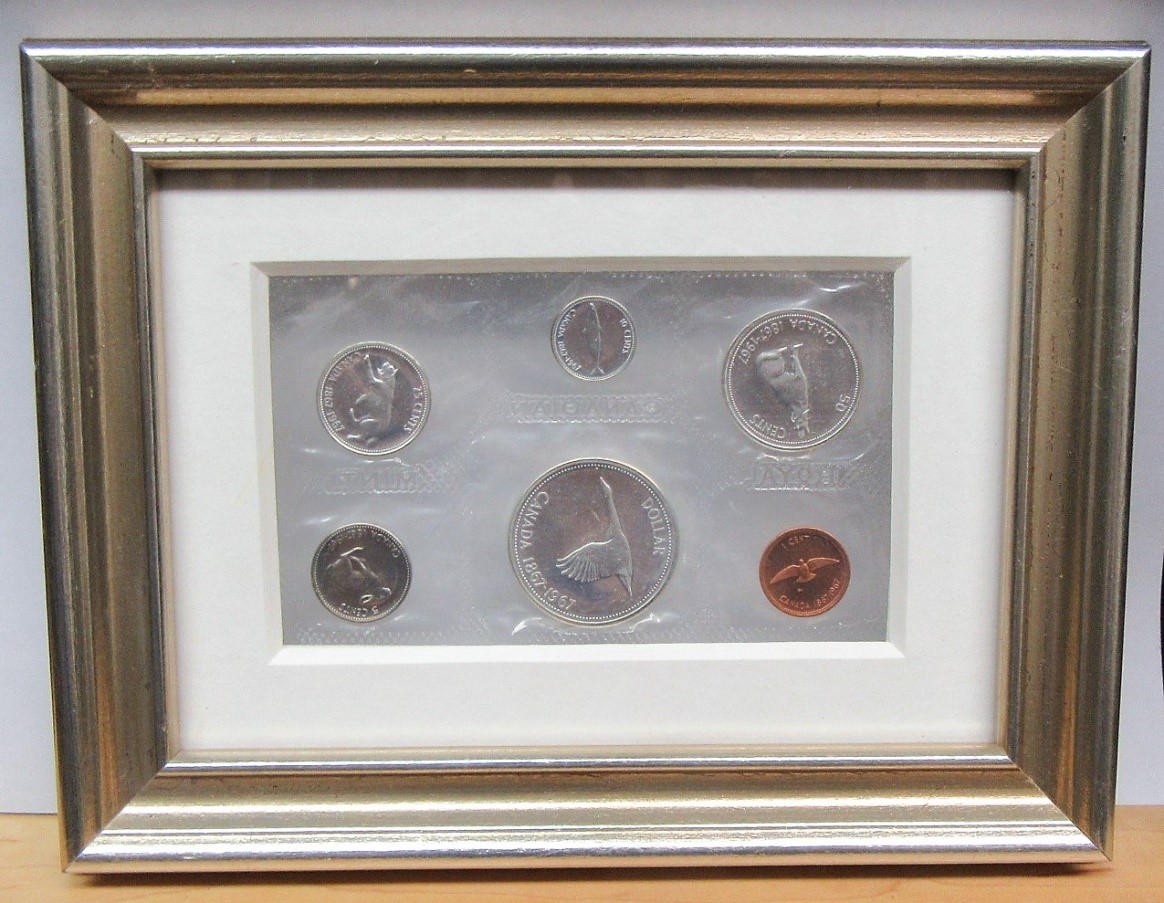 70. (1967 CENTENNIAL COIN SET). ROYAL CANADIAN MINT. 1967 Centennial coin set, uncirculated proof set, as issued, with original plastic wrap ($1, 50 cents, 25 cents, 10 cents, 5 cents & 1 cent). Framed 6 ½" x 8 ½" (16.4 x 21.4 cm). $160
David Alexander Colville [1920-2013] designed all six of Canada's 1967 Centennial coins: Canada Goose (1 dollar), wolf (50 cents), wildcat (quarter), mackerel (dime), hare (nickel) and rock dove (penny). "A half-century later, the coins he designed are regarded as some of the most beautiful ever minted. To this day, they occasionally appear among your change, worthy of a moment's reflection and a happy reminder of an exciting year: hand-held sculptures that put art into the pocket of even the poorest." (Hawthorn, The Year Canadian Lost Their Minds, p. 30)
71. (EXPO 67). CANADA POST OFFICE. Canada 1967 Centennial Regular Issue Postage Stamps. original plastic box with 12 stamps mounted inside window on upper cover. in original box (box very worn, windows on upper cover scuffed & soiled). [Ottawa: 1967]. $140
A new portrait of Queen Elizabeth is featured in the design for the 1, 2, 3, 4 and 5 cent issues. Designs for the higher denominations feature central portions of works by Canadian artists depicting the various regions of Canada: 8 cents 'Alaska Highway between Watson Lake and Nelson' by A.Y.Jackson, 10 cents 'The Jack Pine' by Tom Thomson, 15 cents 'Bylot Island' by Lawren Harris, 20 cents 'The Ferry, Quebec' by James Wilson Morrice, 25 cents 'The Solemn Land' by J.E.H.Macdonald, 50 cents 'Summer Stores' by John Ensor, and $1 'Imp. Wildcat Nr. Edmonton' by HG.Glyde.
Offered with an Expo 67 decorated circular metal tray, Expo 67 silver-coloured metal and blue melamine ashtrays, and 'Expo 67 edu-kit' which includes a sheet of cinderellas.
72. (EXPO 67). [LORIMIER, Jean-Louis de]. expo 67 The Memorial Album of the first category universal and international Exhibition held in Montreal from the twenty-seventh of April to the twenty-ninth of October nineteen hundred and sixty-seven. oblong folio. 367, [1. text in double columns in French & English. profusely illus. (many colour). index. cloth. slipcase.np: [Thomas Nelson & Sons, 1968]. $150
First Edition.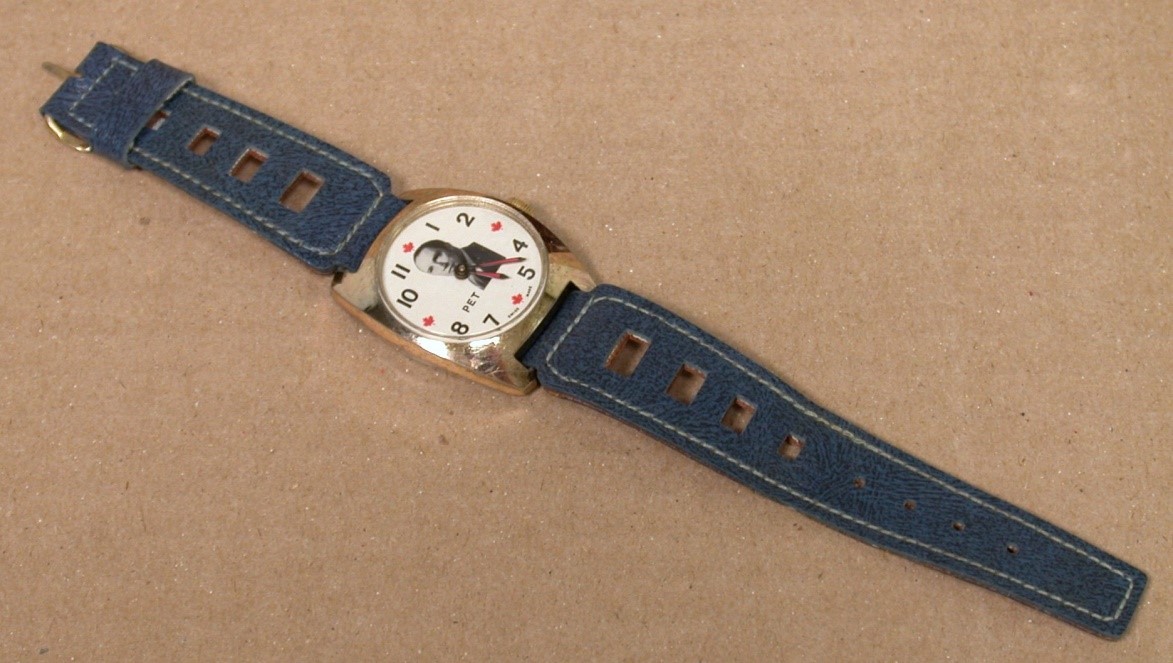 73. TRUDEAU, Pierre Elliott [1919-2000]. 'Trudeaumania' wrist watch, winding action, roman numerals and red maple leaves, marked "PET" with small portrait of Pierre Elliot Trudeau on the face, 1 1/8 inches in diameter (face), gold tone bezel, blue leather band, (in full working order). "Swiss Made" for the Canadian market, c1968. $200
Trudeau was Canada's 15th Prime Minister, in office 1968-1979 and 1980-1984. The debonair intellectual, whose personal motto was 'reason before passion', was swept into office on an unprecedented wave of personal popularity known as 'Trudeaumania'. His administration's achievements included the implementation of official bilingualism, the patriation of the Constitution, and the establishment of the Charter of Rights and Freedoms. He also strove to preserve national unity against the Quebec sovereignty movement, and controversially invoked the War Measures Act to deal with the FLQ crisis.
74. TRUDEAU, Pierre Elliott & Thomas S. AXWORTHY (Editors). Towards A Just Society: The Trudeau Years. 8vo. pp. 5 p.l., 404. cloth. dw. Signed Presentation Copy from Trudeau. [Markham]: Viking (Penguin), 1990. $250
First Edition.
75. TRUDEAU, Pierre Elliott. Lifting the Shadow of War. Edited by C. David Crenna. 8vo. pp. xx, 151. illus. biblio. index. cloth. dw. (price-clipped). Fine copy. Signed Presentation Copy. Edmonton: Hurtig Publishers Ltd., [1987]. $250
First Edition.
76. VALLIÈRES, Pierre [1938-1998]. White Niggers of America. 8vo. pp. 278. bds. dw. Toronto & Montreal: McClelland and Stewart Limited, 1971. $75
First Edition of the English Translation by Joan Pinkham. An important account of the Front de Libération du Québec (FLQ), its organization, program of action, motivations and aims, by an intellectual leader and active participant who was convicted in the bombing death of two people in 1966.
77. WATSON, Patrick [b. 1929] Et Al. "…Strong and Free…" "…Nos Foyers et nos Droits…" A Response to the War Measures Act. narrow 12mo. 2 p.l., ii, 41. wrs. Toronto & Chicago: New Press, 1970. $60
First Edition. In response to the FLQ kidnapping of British diplomat James Cross, and provincial cabinet minister Pierre Laporte who was later murdered, Prime Minister Trudeau invoked the controversial War Measures Act. The emergency act outlawed the FLQ, suspended normal civil liberties, and authorized arrests and detentions without charge, with 465 persons being detained in Quebec. There were many vocal critics of the action, including NDP leader Tommy Douglas, who remarked, "The government, I submit, is using a sledgehammer to crack a peanut."
78. WIELAND, Joyce [1930-1998]. True Patriot Love Véritable amour patriotique. 8vo. illus. inserted in rear pocket is an exhibition list, a large poster & a map of Canada. tipped on to front paste-down is a small cloth Maple Leaf flag. Ottawa: The National Gallery of Canada, 1971. $200
Wieland's landmark exhibition at the National Gallery in 1971 was the first major museum retrospective of a living female artist. ""True Patriot Love" altered the course of Canadian art. It also marked Wieland's emergence as a national figure, as she brought a startlingly original voice to express a timely idea of national identity." (Angel, article in Canadian Art) Wieland was made an Officer of the Order of Canada in 1982.
79. LAURENCE, Margaret [1926-1987]. The Diviners. 8vo. pp. 6 p.l., 382, [3]. cloth. dw. (former owner's bookplate & signature, dw. price-clipped & chipped at edges). Signed by the Author. [Toronto]: McClelland And Stewart Limited, [1974]. $350
First Edition. The Manitoba author's final novel, whose protagonist is a strong independent female writer with a Métis lover, won her her second Governor General's Award for Fiction. Viewed as obscene by Christian groups, the book was often banned from the high school curriculum. It is now considered a Canadian classic and was adapted for television in 1993. "Margaret Laurence is one of the pivotal and foundational figures in women's literature in Canada." (Canadian Encyc.). She was awarded the Order of Canada and honorary degrees from 14 Canadian universities, and her works have been translated into many languages.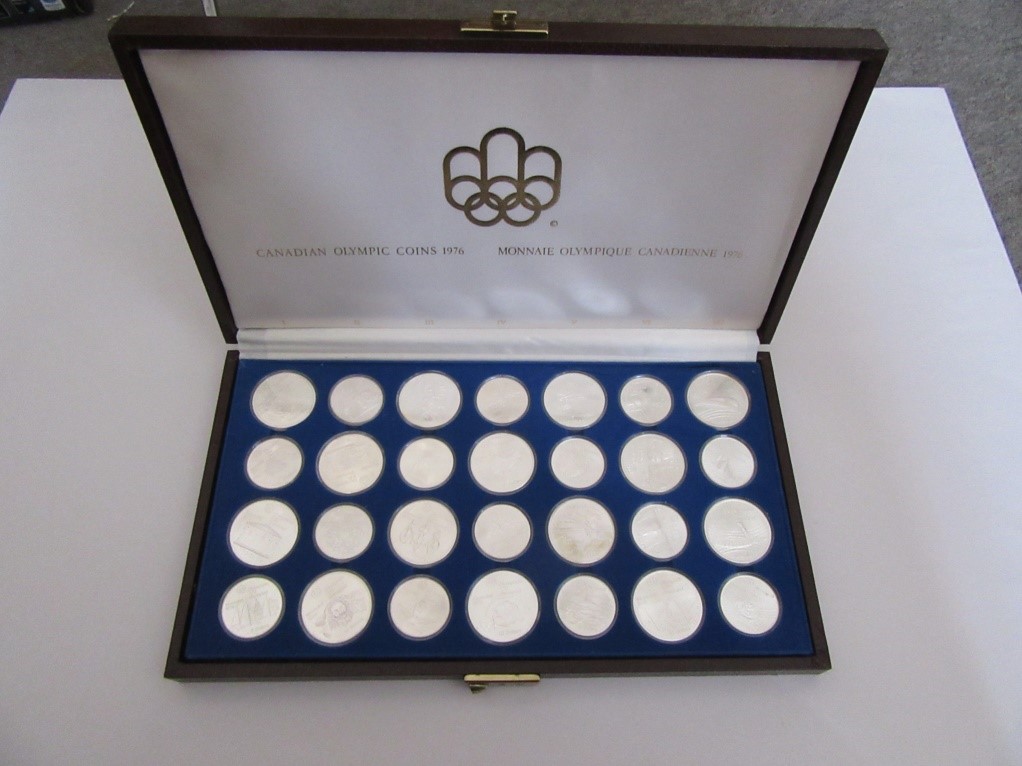 80. (MONTREAL SUMMER OLYMPICS 1976). ROYAL CANADIAN MINT. Canadian Olympic Coins 1976. Set of twenty-eight proof silver coins (92.5% silver, 7.5% copper)): fourteen $5 & fourteen $10 silver coins. coins encapsulated. felt & satin-lined presentation leather case with key (40.5 x 22.8 mm.). [Ottawa: Royal Canadian Mint, 1973-1976]. $1,250
These coins, the first silver Canadian coins to feature face values of $5 and $10, were struck to finance and commemorate the XXI Summer Olympics held in Montreal in 1976. They are arranged in seven series: Geographic, designed by Georges Huel, Olympic Motifs, designed by Anthony Mann, Early Canadian Sports, designed by Ken Danby, Olympic Track and Field Sports, designed by Leo Yerxa, Olympic Water Sports Olympic Team and Body Contact Sports, designed by Lynda Cooper, and Olympic Souvenirs, designed by Shigeo Fukada. The coins were issued in two newly designed finishes, one being a satin or frosted effect which adorned the coin, the other a proof finish, which consisted of frosted lettering and a design set off against a brilliant mirror field. The obverse of each coin features Arnold Machlin's classic effigy of Queen Elizabeth II.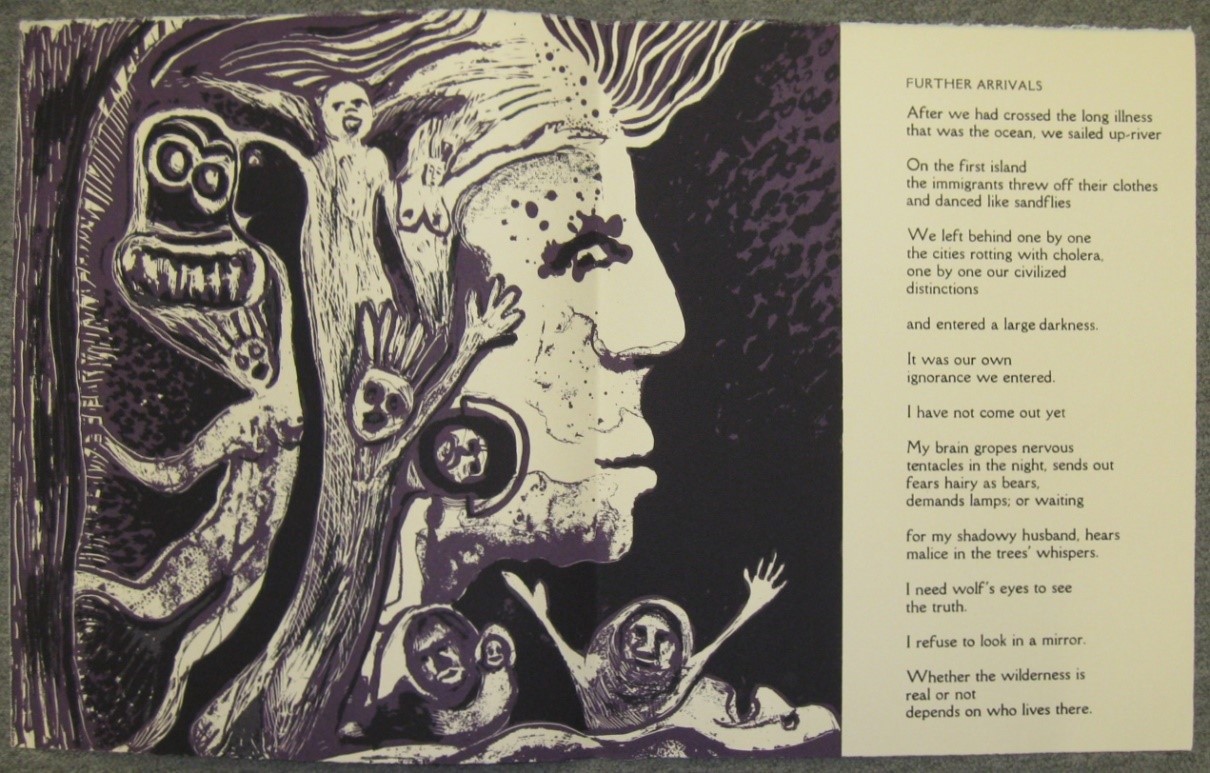 81. ATWOOD, Margaret [b. 1939] & Charles PACHTER b. 1942].The Journals Of Susanna Moodie. folio. 37 deckle-edges sheets (30 folded). 32 serigraphs. loosely laid into dark blue suede and cloth clamshell box. [Toronto: Manuel and Abel Bello-Sanchez, 1980]. $10,000
A flawless copy of the finest and most coveted of Canadian livres d'artiste, Limited to 120 copies + 2 printers' proofs, signed by the author, artist, printers and binder, this one of 100 printed on deckle-edged Arches, Rives BFK and Canadian handmade paper. The book was designed and illustrated by Charles Pachter, and hand printed by Manuel and Abel Bello-Sanchez. The type was hand set by the artist in Della Robbia, Kennerly Old Style Italic, and Goudy Old Style foundry typefaces in 1969. The images are serigraphs, some drawn directly on screens or photo-stencils, some re-worked spontaneously from lithographs, drawings, and collages. The blue suede and cloth clamshell box was done by Marion Mertens.
"I think it is fair to say that [the book] set a new standard for the handmade livre d'artiste in Canada. As a poetic evocation of the travails experienced by a nineteenth century genteel English immigrant in her new Canadian homeland, it is also a landmark literary work….Marriage of the creative efforts of two fellow voyagers, The Journals of Susanna Moodie is nothing if not my homage to the writer, poet, and friend whose genius has been a sustained source of inspiration for my imagination." (Charles Pachter)
"Susanna Moodie was a nineteenth century British immigrant to the backwoods of Canada, and her autobiographical text provides a narrative context from which both Margaret Atwood and Charles Pachter respectively grapple with and negotiate the complex, polyglossic nature of Canadian culture, identity, and art...Captivated by the specter of Moodie's early immigrant account, Margaret Atwood's cycle of poems…fleshes out Moodie's bare-boned backwoods chronicles. And, born from Atwood's poetical "turning of Moodie on her head", Pachter's evocative graphic art further deepens and extends the branches of this towering and tangled family tree. The immigrant experience, as articulated and rearticulated by Moodie, Atwood, and Pachter for particular historical contexts and audiences, becomes a powerful metaphor for the Canadian artist's tenuous endeavour of writing, creating, mapping, and navigating his/her way through the harsh narrative and imaginative landscape. Rather than providing us with any sort of assuring closure, Pachter's visual text opens the very earth in which Moodie was laid to rest, leaving us, once again, haunted." (Jennifer Aldred, Haunted: The Journals of Susanna Moodie)
"[Pachter's] pictures are much more commanding in their bold colours and turbulent designs, and even in their size. Many are spread over two pages as they enfold, rather than supplement, the poems…After Moodie intrudes into the Canadian bush, it stealthily invades her: "In time the animals / arrived to inhabit me." This mutual invasion is reflected in Pachter's style, which arranges off-balanced patterns, transposed colours, positives and negatives, mirror images.". (John Kerzer, a blizzard in my eyes, in Canadian Literature Issue 216 (Spring 2013))
82. ATWOOD, Margaret [b. 1939]. The Handmaid's Tale. 8vo. pp. 324. cloth. dw. [Toronto]: McClelland and Stewart, [1985]. $150
First Edition. Atwood is one of Canada's best known and most prolific authors, who has been honoured with an unequaled number of national and international awards and honorary degrees. Her dystopian novel set in a future totalitarian America run by religious fundamentalists, where fertile women are enslaved as breeders to the country's leaders, brought her international acclaim and financial success. It won the Governor General's Award, the Los Angeles Times Prize, the Arthur C. Clarke Award for Science Fiction and the Commonwealth Literary Prize, and was shortlisted for the Booker Prize (UK) and the Ritz-Paris-Hemingway Prize (Paris). The work was made into a film in 1990, an acclaimed opera by the Royal Danish Opera Society in 2000, and recently was adapted for television. Margaret Atwood has honorary degrees from numerous national and international institutions including Oxford, Cambridge, Harvard and the Sorbonne. She is a Companion of the Order of Canada, and in 2012 she was the recipient of the Queen Elizabeth II Diamond Jubilee Medal, Canada.
83. MUNRO, Alice [b. 1931]. The Progress of Love. 8vo. pp. 4 p.l., 309. bds. dw. A fine copy. [Toronto]: McClelland and Stewart, [1986]. $120
First Edition. Munro's sixth collection of short stories won her her third Governor General's Award for Fiction. She had previously won the award in 1968 and 1978. She also won the Giller prize in 1998 and 2004, the 2009 Man Booker International Prize for lifetime achievement, and in 2013 she became the first Canadian and the thirteenth woman to be awarded the Nobel Prize in Literature. Other awards included the Canada-Australia Literary Prize, the Commonwealth Writers' Prize (Canada and the Caribbean), and the O. Henry Award in the US for continuing achievement in short fiction.
84. (1988 CALGARY WINTER OLYMPICS). ROYAL CANADIAN MINT. Canadian Olympic Coins 1988. Set of ten sterling silver proof coins, each having a face value of $20 and each containing one Troy ounce of pure silver. coins encapsulated. felt-lined presentation velvet case with Olympic logo mounted on the outside and a Royal Canadian Mint medallion on the inside. board slipcase (worn). with numbered certificate of authenticity. Ottawa: Royal Canadian Mint, 1985-88. $600
This set of the first silver Canadian coins to feature a face value of $20 was issued to finance and commemorate the 1988 Calgary Winter Olympics. This is the first time that any silver coin had edge lettering on it. The coins include Downhill Skiing, designed by Ian Stewart, Speed Skating, designed by Friedrich Peter, Hockey, designed by Ian Stewart, Biathlon, designed by John Mardon, Cross-Country Skiing, designed by Ian Stewart, Free-Style Skiing, designed by Walter Ott, Figure Skating, designed by Raymond Taylor, Curling, designed by Ian Stewart, Ski-Jumping, designed by Raymond Taylor, and Bobsleigh, designed by John Mardon. The obverse of each coin features Arnold Machlin's classic effigy of Queen Elizabeth II.
85. ONDAATJE, Michael [b. 1943]. The English Patient. 8vo. pp. 5 p.l., 307, [1 leaf]. bds. dw. [Toronto]: McClelland and Stewart, [1992]. $125
First Canadian Edition. Ondaatje, Sri-Lankan born poet, novelist and filmmaker, is one of Canada's most celebrated living authors. He has won the Governor General's Award five times as well as numerous other awards, and is a member of the Order of Canada. The English Patient, set in Tuscany at the end of the Second World War, is his best-known work. It was awarded the Governor General's Award for Fiction in 1992 and earned Ondaatje a share of the Booker Prize, the first ever awarded to a Canadian. The 1996 film version of the novel garnered nine Academy Awards including best picture.
86. CHRÉTIEN, Jean [b. 1934].My Years As Prime Minister. 8vo. pp. 4 p.l., 435. colour illus. index. cloth. dw. Inscribed and signed by Chrétien. [Toronto]: Alfred A. Knopf, [2007]. $125
First Edition. Chrétien was Canada's 20th Prime Minister, serving from 1993 to 2003. He is known for his strong opposition to the Quebec sovereignty movement and his support of official bilingualism and multiculturalism. He led the federal government to its first surplus in 30 years, but his administration also presided over a costly sponsorship program in Quebec that resulted in a major political scandal. The Liberal government retained the unpopular GST even though Chrétien had once promised to abolish it.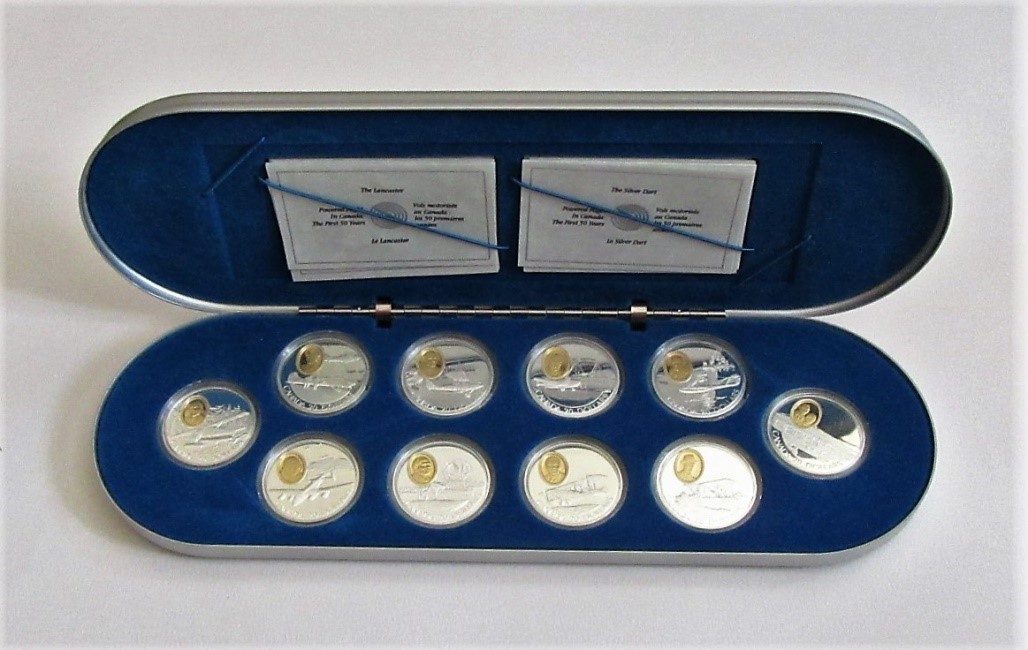 87. ROYAL CANADIAN MINT. Powered Flight In Canada: The First 50 Years. Set of ten proof $20 silver (92.5% silver & 7.5% copper) coins, with 24 Kt. gold covered oval cameo. Coin diameter 38 mm. Total weight of each coin 31.103 grams. certificates of Authenticity for each coin, velveteen-lined aviation theme silver-coloured presentation case (33 x 11 mm.) & board box (box bit rubbed & nicked). [Ottawa: Royal Canadian Mint, 1990-1994]. $800
This set of coins commemorating aviation history includes: the Lancaster (cameo of Air Commodore John Fauquier), Curtiss JN4 (Can) (cameo of Sir Frank Wilton Baillie), de Havilland Gipsy Moth (cameo of Morton A. Seymour), Anson and Harvard (cameo of Air Marshal Robert Leckie), Silver Dart (cameo of John A.D. McCurdy), Canadian Vickers Vedette (cameo of Wilfred T. Reid) , Curtiss HS-2L (cameo of Stuart Graham), Fairchild 71C (cameo of James A. Richardson), Lockheed 14 Super Electra (cameo of Zebulon Lewis Leigh), de Havilland Beaver (cameo of Phillip Clarke Garratt).