Second World War (Art & Posters)
"The Second World War was a defining event in Canadian history, transforming a quiet country on the fringes of global affairs into a critical player in the 20th century's most important struggle. Canada carried out a vital role in the Battle of the Atlantic and the air war over Germany, and contributed forces to the campaigns of western Europe beyond what might be expected of a small nation of then only 11 million people. Between 1939 and 1945 more than one million Canadian men and women served full-time in the armed services. More than 43,000 were killed. Despite the bloodshed, the war against Germany and the Axis powers reinvigorated Canada's industrial base, elevated the role of women in the economy, paved the way for Canada's membership in NATO, and left Canadians with a legacy of proud service and sacrifice embodied in names such as Dieppe, Hong Kong, Ortona and Juno Beach." (Canadian Encyc.)
98. ALDWINCKLE, Eric RCA. OSA. CSGA. Official War Artist, RCAF, WWII. [1909-1980] & CLOUTIER, Albert Edward FCA. CSPWC. RCA. P-ACM. CSGA. P-ADCM. NSAD, NYC. [1902-1965]. Canada's New Army Needs Men Like You.36 x 24 inches. colour offset lithograph on paper.offered framed. Ottawa: Issued for the Dept. of National Defense by the Director of Public Information. [1942]. $2,000


A striking patriotic recruitment poster depicting a soldier on a motorcycle against an image of a knight in shining armour astride a noble steed. During WW II Aldwinckle worked on camouflage in Eastern Canada for the RCAF, and became an Official War Artist from 1943-1945, with the rank of flight lieutenant. Overseas he recorded the activities of the Coastal and Bomber Commands in the British Isles and fighter squadrons of the 2nd Tactical Air Force in North-West Europe. He completed 126 drawings and paintings for the War Collection, and produced many war posters inspired by the Soviet School. Cloutier worked for the Government of Canada as Art Director for the Wartime Information Board [1941], and from 1943-46, was an Official War Artist with the RCAF.
Choko, Canadian War Posters, pp. 75-77, illus. XXVI.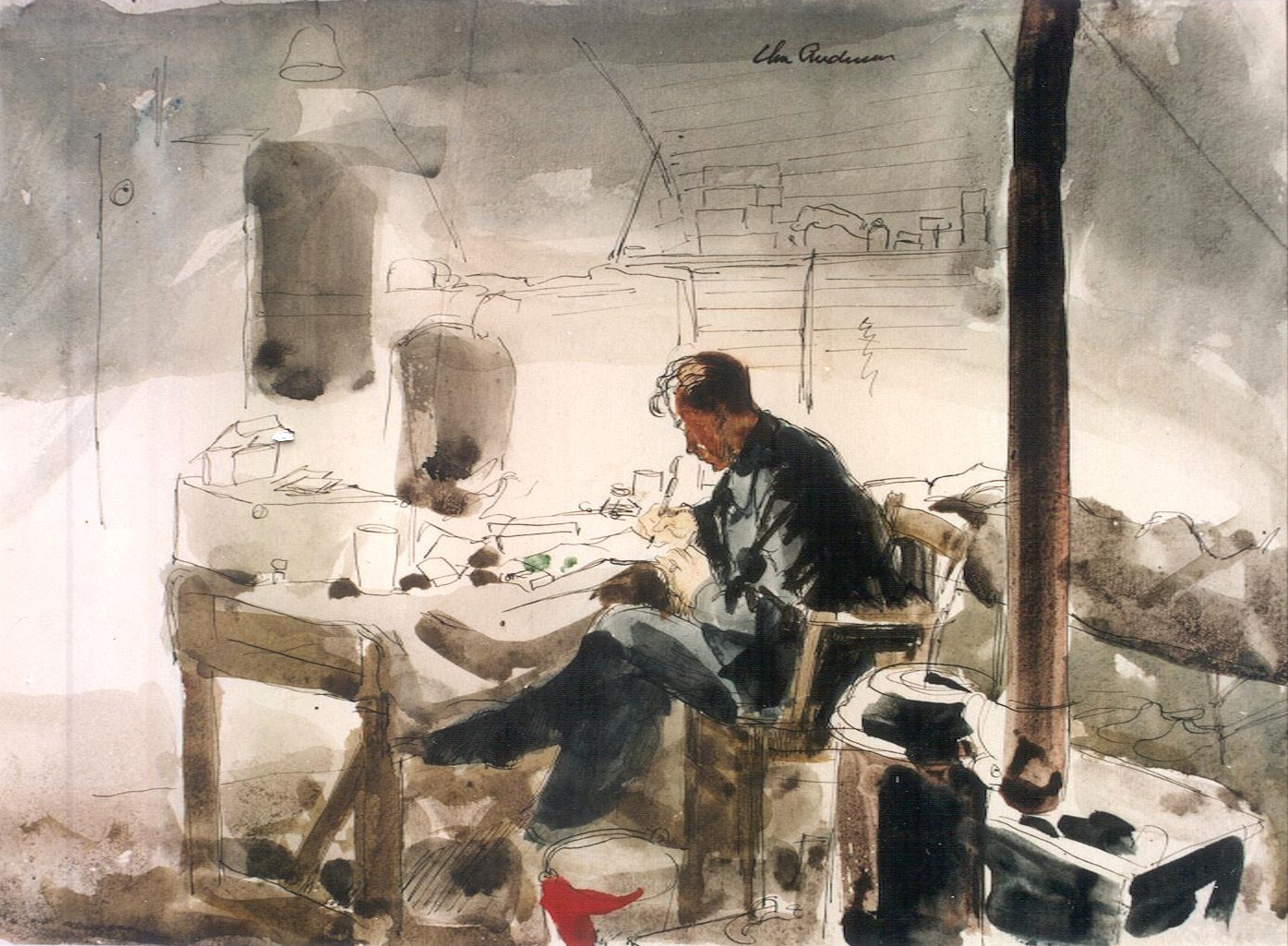 99. ANDERSON, Donald Kenneth. Official War Artist, RCAF, WWII. [1920-2009]. [Sam Johnson Writes a Letter Home]. 9 ¾ x 13 ¼ inches. watercolour over pen and ink on paper. titled & dated "Croft 1943" to inset printed label. signed on recto. $2,500


Anderson enlisted in the RCAF in April 1941 and was employed for at time as an NCO artist in the Directorate of Public Relations at Air Force Headquarters in Ottawa. In July of 1944 he was commissioned and appointed an official war artist and proceeded overseas immediately. He was attached to No. 3 (RCAF) Bomber Group for a short period then was sent to the Continent to cover the activities of No. 127 Fighter Wing (RCAF) and with this Wing moved through France, Belgium, the Netherlands and Denmark. He is represented in the Canadian War Collection by 89 works.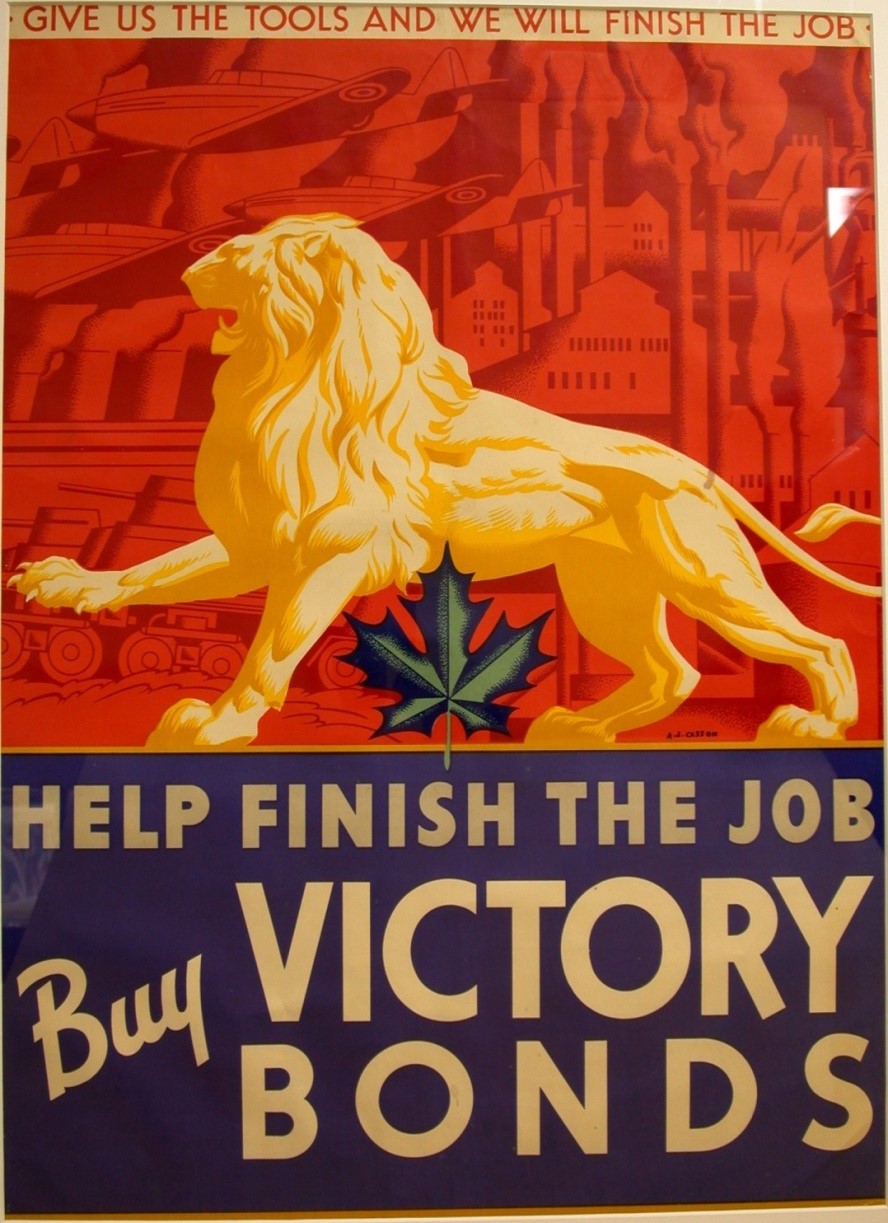 100. CASSON, Alfred Joseph. P-RCA. P-OSA. CSPWC. CPE. The Group of Seven. CGP. [1898-1992]. Give Us the Tools and We Will Finish the Job. Help Finish the Job, Buy Victory Bonds. 25 x 18 inches. colour off-set lithograph on paper. signed in the stone.offered framed. [Ottawa: First Victory Loan Campaign, 1941]. $1,800


This poster was produced for the First Victory Loan Campaign of June 1941. A national poster competition was organized with the theme "Help Finish the Job!" Group of Seven artist, A. J. Casson won first prize at the competition with his design of a lion, maple leaf, and stylized industrial images. This is generally considered to be one of the most iconic Canadian War posters produced during the Second World War.
Choko, Canadian War Posters, p. 76, illus 62 (French version).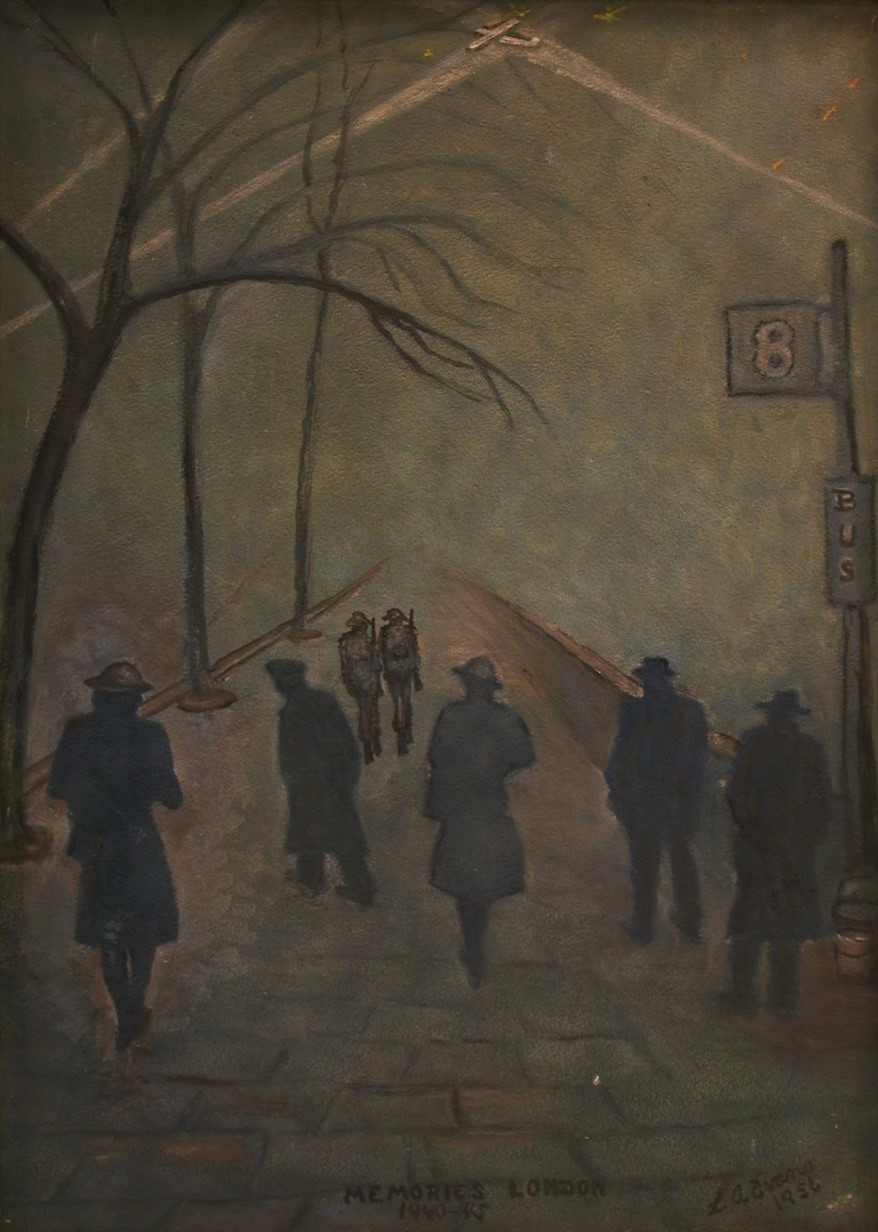 101. EVANS, Lindsay A. Founder, Lloydminster Art Club. [1892-1976]. Memories, London 1940-45.21 7/8 x 15 ½ inches. oil on board. signed, titled, & dated 1956 on recto. $2,200
102. EVANS, Lindsay A. Founder, Lloydminster Art Club. [1892-1976]. Sgt. T.C. Poelger, Cdn: Engineer.30 ½ x 19 ¼ inches. oil on board. signed "C.P.R. Evans L.A., C.M.H.Q., 45" and titled on recto. signed "SPR. Evans L.A., M-4720, C.M.H.Q., QMG-1" and titled on verso. $3,000


Evans went overseas with the Engineers Demolition Corps in 1940 and was commissioned by Military Headquarters to produce portraits and works depicting military life. One of his works, entitled "Sappers Night Shift", was shown at the National Portrait Gallery, London. Evans was a founding member of the Lloydminster Art Club in Alberta/Saskatchewan, and was a long-time friend of A. Y. Jackson.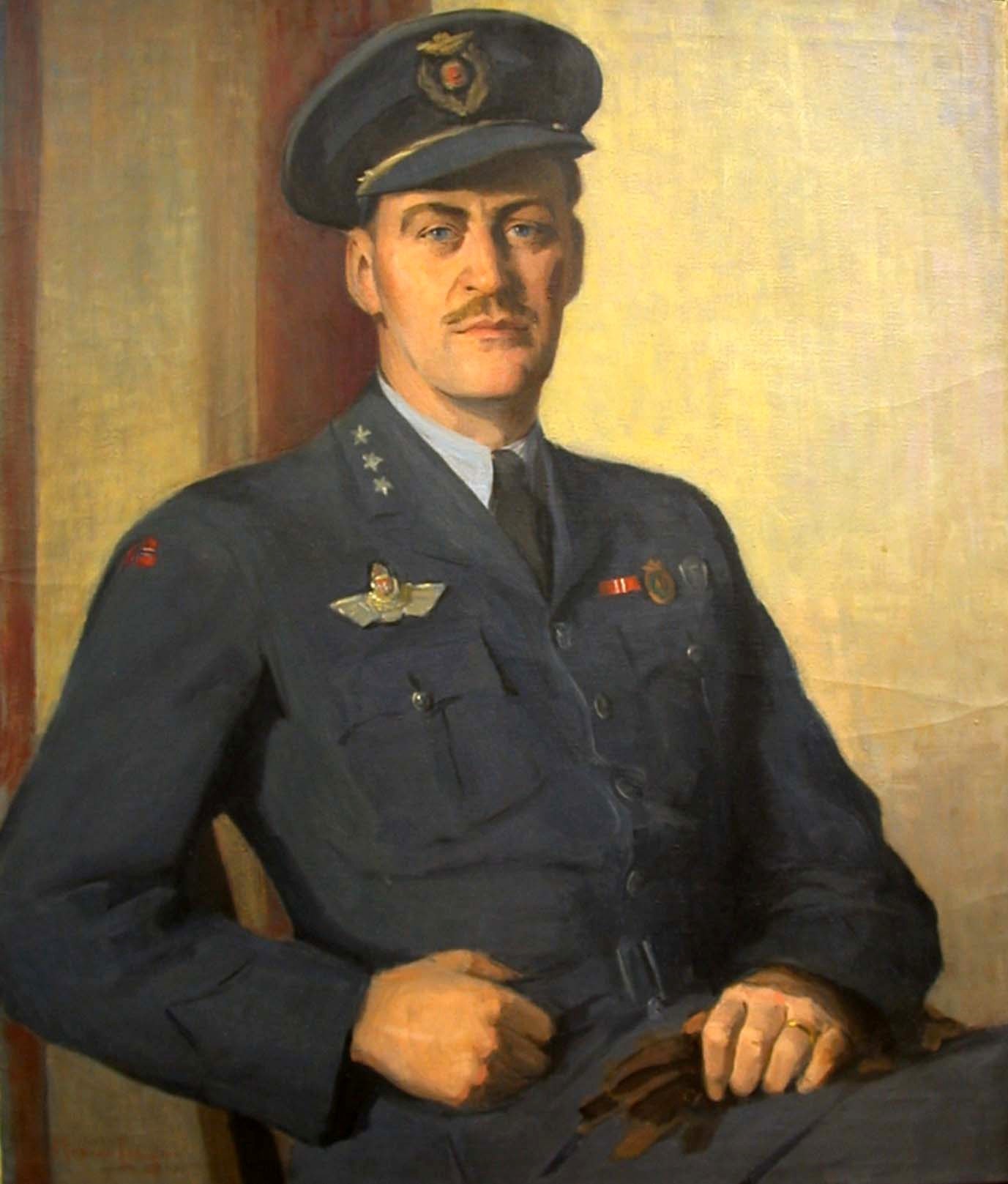 103. LONG, Marion.. OSA. RCA. CIP. [1882-1970]. Norwegian Airman. 42 x 32 inches. oil on canvas. signed & titled on verso. [c.1941]. $4,500
In 1922 Long was elected an Associate of the RCAin 1922 and a full member in 1933 (the first woman in fifty years). In 1941 she began a series of portraits of men and women of the army, navy and air force (including members of the RNAF).
The Royal Norwegian Air Force, in-exile, had a training camp called "Little Norway" near Toronto during WW II. Marian Long painted a series of portraits of the officers and airmen stationed at the base. This particular work may be a portrait of Captain C.F. Jean-Hansen, one of the commandants of "Little Norway". Some of the portraits originally hung at the base and others were exhibited at the RCA and OSA. At the end of the war the artist received the Haakon VII medal for her contribution to the war effort.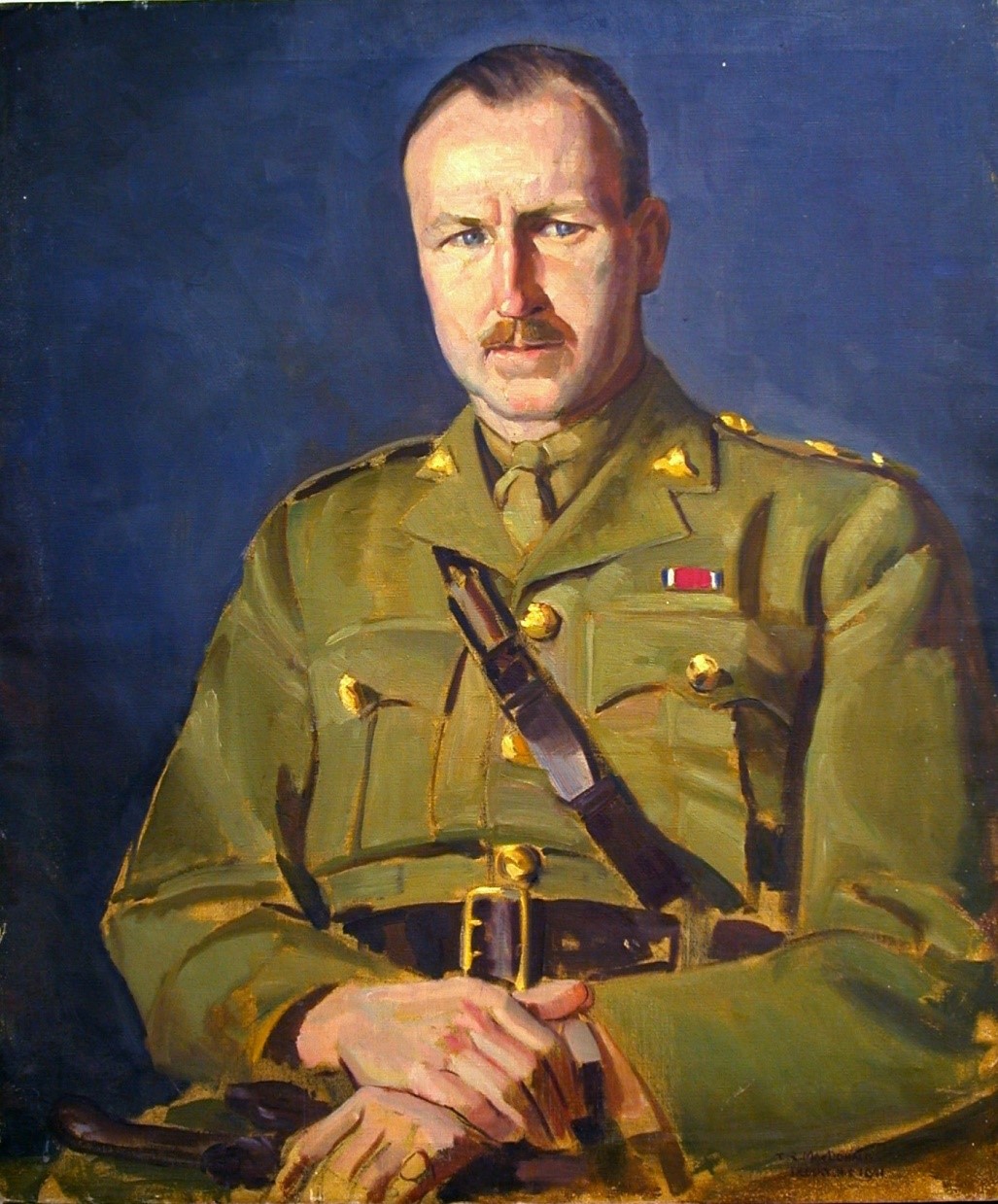 104. MacDONALD, Thomas Reid. RCA. Official War Artist, CA. WWII. [1908-1978]. [Lieutenant-Colonel Hugues Lapointe [1911-1982]]. 30 x 25 inches. oil on canvas. signed & dated 1941 on recto. $5,000
The subject of the portrait, Lieutenant-Colonel Hugues Lapointe,was a sitting Liberal Member of Parliament for Lotbiniére (elected 1940) when he enlisted in 1941. As Major he commanded the Company of Le Régiment de la Chaudiére in the June 6, 1944 Juno Beach landing on D-Day. He had a long and distinguished career including: election to the House of Commons in 1941, 1945, 1949 and 1953; Solicitor General of Canada [1949-1950]; Minister of Veterans Affairs [1950-1957), Lieutenant-Governor of Quebec [1966-1978), and Honorary Colonel of Le Régiment de la Chaudiére.
Thomas Reid MacDonaldenlisted in the Canadian Army during WWII and was sent overseas. He was commissioned as a Lieutenant in 1944 and later appointed an official war artist. He painted portraits and documented the First Canadian Infantry Division in Northern Italy. Discharged in 1945, he returned to Montreal to resume his painting career.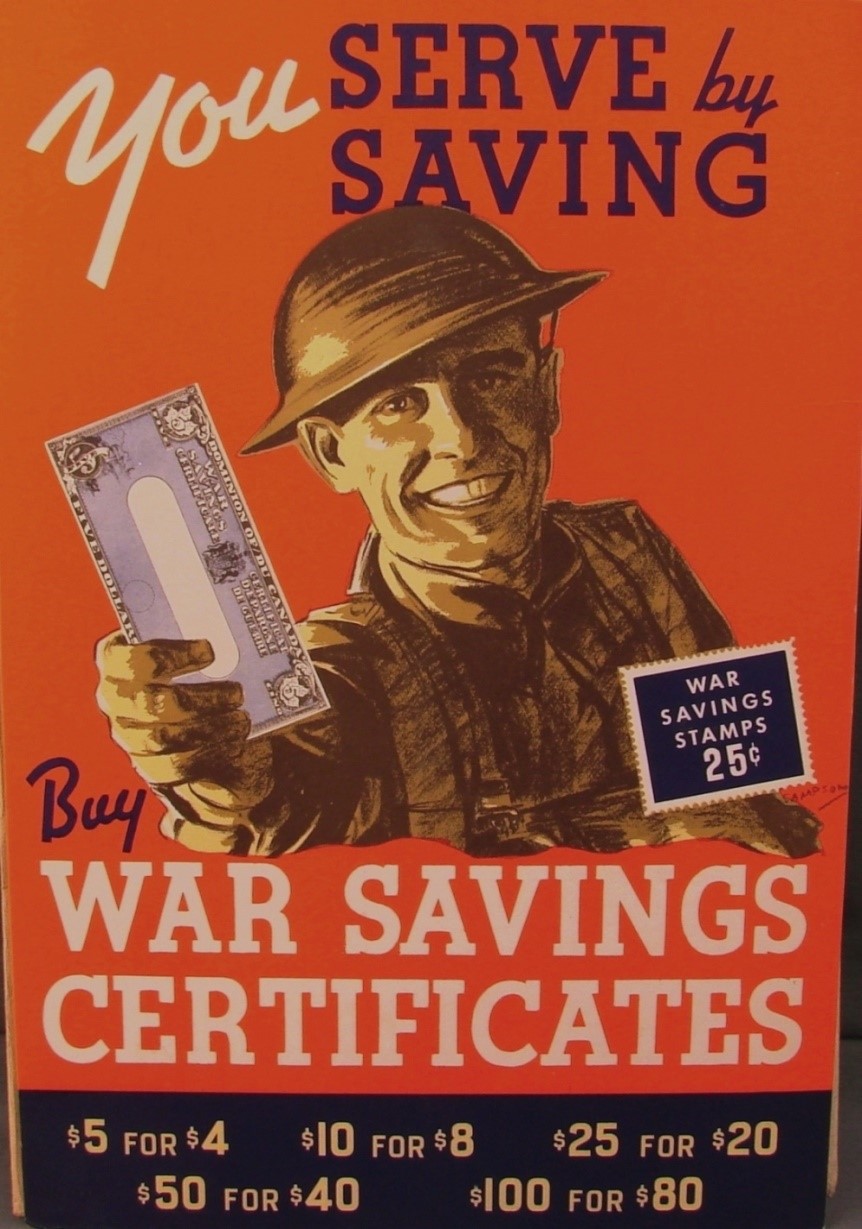 105. SAMPSON, Joseph Ernest. OSA. CSPWC. ALC. ARCA.[1887-1946]. You Serve by Saving Buy War Savings Certificates…18"x 12". offset lithograph on card with cardboard stand, as issued (light wear to lower corners). [Ottawa: c1940- 45]. $450


Millions of Canadians became involved in the war effort by purchasing War Saving Certificates beginning in May of 1940. A total of 318 million dollars was raised as a result of an extensive advertising campaign which included sales at banks, post offices, trust companies and door-to-door sales by volunteers.
Sampson painted various pictures for the Canadian War Records and War Savings Drives including a portrait of Lt. Gen. G. L. McNaughton (1941 War Bond Drive), and Armistice Day Toronto (1919, Canadian War Museum).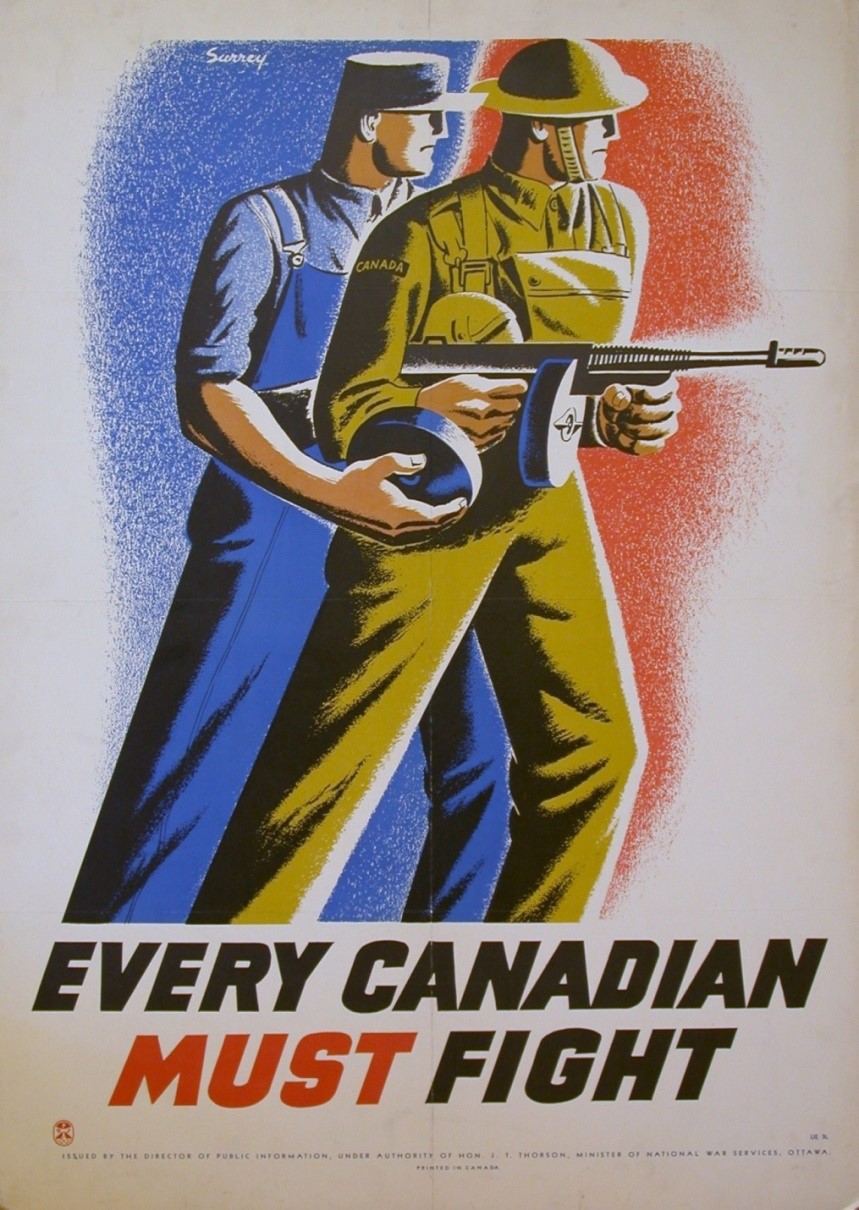 106. SURREY, Phillip Henry Howard. RCA. CSGA. EGP. CAS. [1910-1990]. Every Canadian Must Fight. 30" x 21". colour offset lithograph (horizontal & vertical folds – mounted on foam core). signed in the stone. Ottawa: Issued By The Director Of Public Information, Under Authority Of Hon. J.T. Thorson, Minister Of National War Services, [c1941-42]. $1,400


Another striking war poster, this one by Western Canadian artist Phillip Surrey. The image of a soldier with a machine gun and a worker providing him with ammunition underscores feelings of solidarity, united purpose and patriotism, and the equal importance of the war effort on the home front.
Choko, Canadian War Posters, p. 85, illus 48 (French version).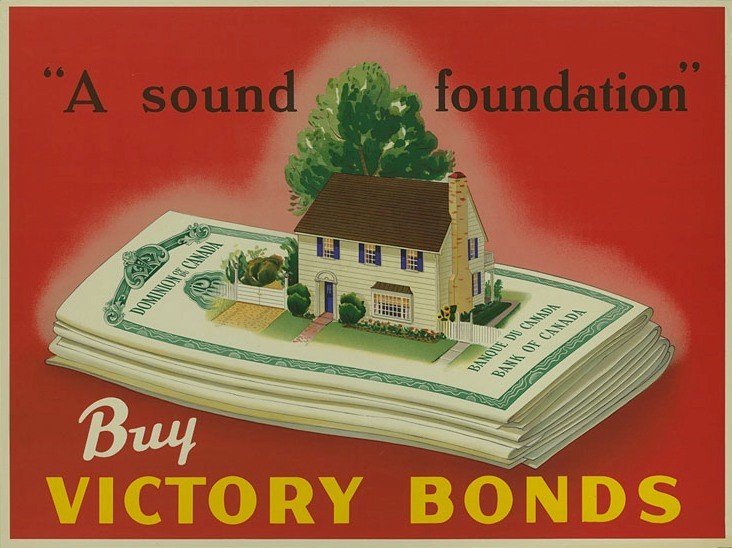 107. ANON. "A Sound Foundation" Buy Victory Bonds. 17 ½ x 23 ½ inches. colour offset lithograph. Canada: c1945. $400


"The sale of Victory Bonds proved far more successful financially. There were ten wartime and one postwar Victory Bond drives. Unlike the War Savings Certificates, there was no purchase limit to Victory Bonds... Canadians bought $12.5 billion worth of Victory Bonds or some $550 per capita with businesses accounting for half of all Victory Bond sales. The first Victory Bond issue in February 1940 met its goal of $20 million in less than 48 hours, the second issue in September 1940 reaching its goal of $30 million almost as quickly." (Wikipedia)
In December of 1941 the war bond and certificate programs were organized more formally under the National War Finance Committee, directed at first by the president of the Bank of Montreal and then by the Governor of the Bank of Canada. The government spent over $3 million on a widespread propaganda campaign utilizing posters, direct mailing, radio and newspaper ads, and volunteers were recruited for bonds drives. These took place every six months during which time no other organization was allowed to solicit public funds.