Toronto Art, Abstraction
136. LUKE, Alexandra. CSPWC. CGP. OSA. The Painters Eleven. [1901-1967]. [Composition in yellow, red & green]. 18 x 11 1/2 inches. oil on masonite. signed on recto. [c1947]. $5,000
Alexandra Luke was one of two female founding members (the other was Hortense Gordon) of the Ontario-based group of abstract artists known as Painters Eleven. It wasn't until 1945 that Luke began formal training in art, first at the Banff School of Fine Arts (1945) where Jock Macdonald supported her interest in abstract art and subsequently at the Hans Hoffman School of Art in Provincetown, Massachusetts, 1947-52. In 1952 Luke organized the first Canadian Abstract Exhibition where she met other artists who would form the 'Painters Eleven'. Shortly before her death Luke and her husband donated their personal collection of Canadian art and provided financial assistance toward the creation of the Robert McLaughlin Gallery in Oshawa in 1967.
Provenance: The collection of fellow "Painters 11" artist Hortense Gordon, inscribed by Gordon on verso.
137. MEREDITH, John. OCA. [1933-2000]. Sprite. 11 ¾ x 9 inches. oil on canvas. signed & dated [19] 61 on recto. signed, titled & dated on verso. $4,500
The brother of painter William Ronald, Meredith became interested in non-objective art through Jock Macdonald at the Ontario College of Art. He held his first solo show at the Gallery of Contemporary Art, Toronto in 1958, and exhibited at Isaacs Gallery between 1961 and 1969. It was at this time that Barry Lord wrote a definitive article in Arts Canada on Meredith (his work was also mentioned in William Withrow's Contemporary Canadian Painting [1972], and Paul Duval's Four Decades of Canadian Art [1972]). His important group shows include: Albright-Knox Art Gallery, Buffalo [1963, 64], Sixth Biennial Exhibition of Canadian Painting [1965], International Biennial, Paris [1965], "Nine Canadians", Inst. of Contemporary Art, Boston [1967]; "Canada '67, Union Carbide Bldg., N.Y. [1967]; "Eight Artists from Canada", Tel-Aviv Museum [1970], and "Toronto Painting, 1953-1965", NGC, Ott. [1972].
Provenance: Isaacs Gallery Ltd., Toronto.
138. NAKAMURA, Kazuo. The Painters Eleven. CSPWC. CGP. CSGA. [1926-2002]. November. 15 x 20 inches. watercolour on paper. signed & dated [19]58 on recto. title to gallery label on verso. $5,000
"Kazuo Nakamura…was among the Japanese Canadians interned during WWII (Tashme, BC, 1942-4). After studying at Toronto's Central Technical School (1948-51), he became a member of Painters Eleven. In the 1950s and 60s his paintings were of 4 distinctly different types: dark, vaguely surreal block structures in stark environments evoking the prairies, muted landscapes with a gentle broken touch, off-white abstractions painted over spare, linear configurations of string laid down on canvas, and linear abstractions in an indeterminate space. All had a simpler structure and coloration (mostly monochrome) than the work of the Eleven…Nakamura described himself as seeking a "fundamental universal pattern in all art and nature." (The Canadian Encyclopedia, website)
Provenance: Theo Waddington Galleries, Toronto, original label on verso.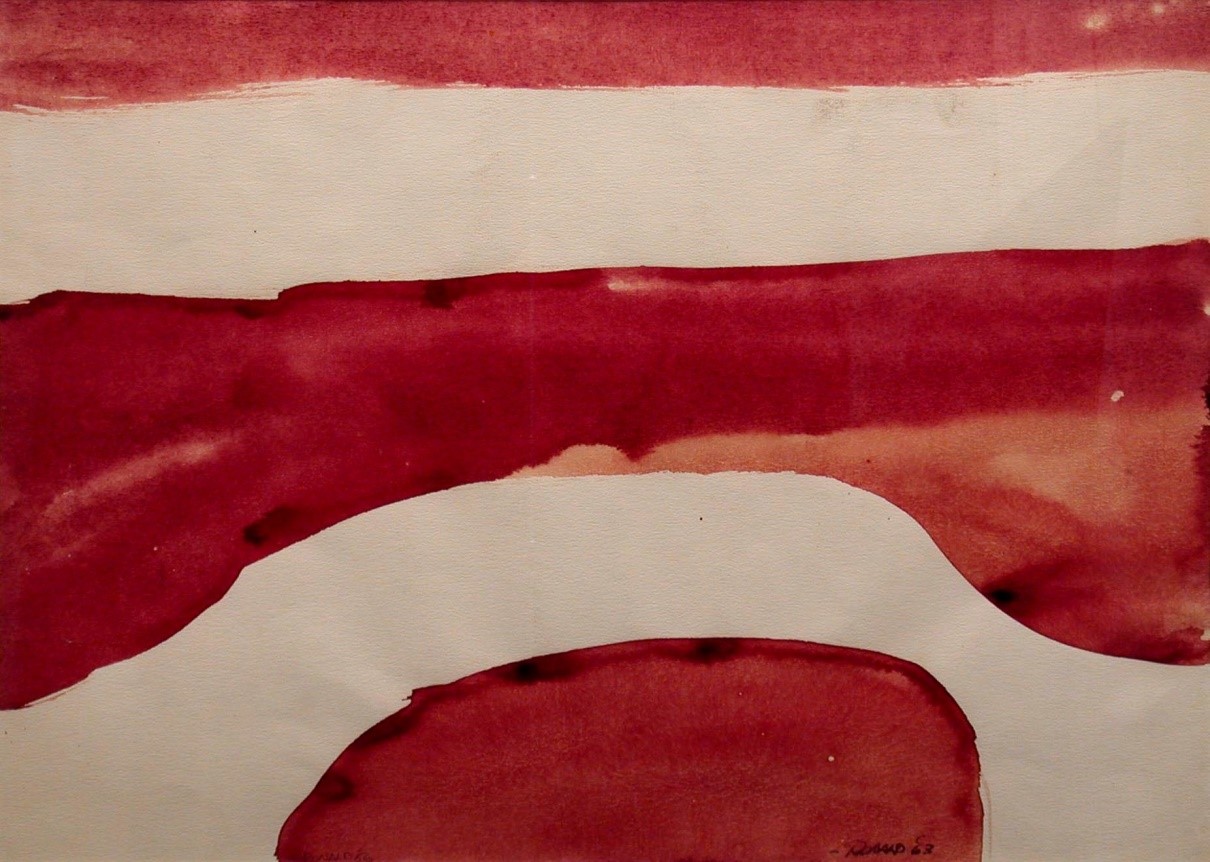 139. RONALD, William. The Painters Eleven. RCA. [1926-1998]. [Forms in red]. 23 ¼ x 17 ½ inches. watercolour on paper. signed & dated [19]63 on recto. $3,500
"William Ronald's abstract expressionism influenced an era in Canadian art; he was the catalyst who organized Painters Eleven, the first abstract painting group in English Canada. Ronald's gift lies in his work's spontaneity, dynamism and energy and in his natural talent for handling paint." (Canadian Encyc.)Ronald was awarded the International Guggenheim Award, Canadian Section in 1956, and was part of the National Gallery of Canada's Second Biennale of Canadian Painting in 1957. Ronald left Painters Eleven to live in New York where he achieved critical and financial success working on contract for the Kootz Gallery until 1964. Ronald is also known for his series of non-representational portraits of Canadian Prime Ministers (1977-84), which he pursued with the financial assistance of a Canada Council senior arts award. In 1975 Ronald was given a major retrospective by the Robert McLaughlin Gallery in Oshawa, Ontario.
Quebec Abstraction
140. BARBEAU, Christian Marcel. RCA. [b.1925]. Paris 72.25 ½ x 32 inches. oil on canvas. signed on recto. signed, titled & dated on verso. $7,000
From 1942 to 1947 Barbeau studied under Paul-Emile Borduas at the École du Meuble in Montréal (Riopelle was a friend and fellow student). He regularly visited Borduas' studio where he met other artists, intellectuals and the Automatistes. As a member of that group he participated in all its exhibitions and signed its manifesto 'Refus Global'. Though Barbeau is mainly known for his paintings he created work in almost all artistic media. Barbeau received various awards including the Samuel and Ayala Zacks Purchase Prize from the Royal Canadian Academy [1963], Lynch-Staunton Foundation Grant from Canada Council [1973], McDonald Canada purchase award [1985], and the Order of Canada [1995]. In 1998 one of his works was used in a Canadian stamp honoring the Automatistes.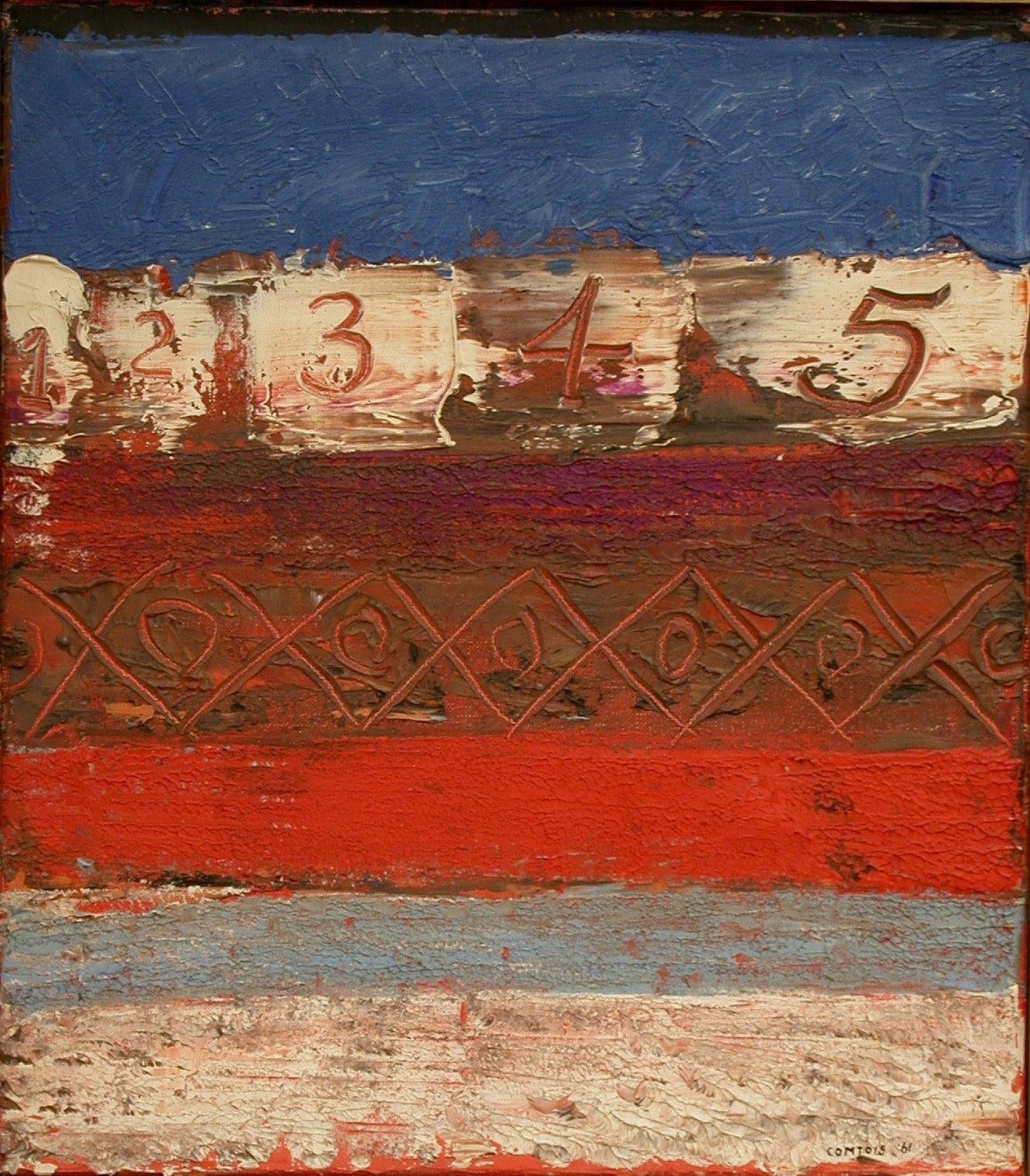 141. COMTOIS, Ulysse. Non-figurative Art Association of Montreal. [1931-1999]. DoBo. 16 x 14 inches. oil on canvas. signed & dated [19]61 on recto. signed, titled, & dated 1961 on verso. $6,000
"Painter-sculptor Ulysse Comtois's professional career spanned over forty years. He exhibited with the Automatistes, an important artistic movement which radically changed the world of Canadian art, and was also one of the first sculptors to experiment with the technique of welded metal in Canada. Comtois was awarded the prestigious Paul-Emile Borduas prize in 1978 for his contribution to the Quebec and international art scene…In 1954, the artist participated in the famed automatiste exhibition La matière chante at the Galérie Antoine. In Montreal, Comtois also came into contact with the Plasticiens and their rigorous geometric abstractions. From 1960 onward, he primarily created modular sculptures…Comtois gained much acclaim for his three-dimensional pieces such as Column (1967-1968), even receiving a Canada Council for the Arts Grant in 1962, which allowed the artist to travel in Europe and Israel for a year. In 1967, Comtois was commissioned to create a mural for the Administration and News Building of Montreal's Expo 67, and received a second Canada Council for the Arts Grant later that year. The following summer, he represented Canada at the Venice Biennale." (National Gallery of Canada website).
Exhibited: Art Gallery of Ontario, remains of old label attached to stretcher.
Provenance: Isaacs Gallery, Toronto, original labels on verso.
142. FERRON, Marcelle. RCA. [1924-2001]. [Untitled Abstraction]. 14 x 18 inches. oil on canvas. signed & dated [19]65 on verso. $22,000
Ferron became a member of the Automatistes and was the only female artist to sign that association's polemical manifesto, 'Refus Global'. In 1961 she was awarded the Silver Medal at the Sao Paulo Biennial in Brazil. "The paintings of this dynamic artist became progressively more forceful. Vibrant colours and larger, fluid forms dominated the canvas. Like fellow automatistes Boudruas and Jean-Paul Riopelle, Ferron applied paint to the canvas thickly, with great intensity and straight from the tube, often using a palette knife rather than a brush…The Musée d'art Contemporain in Montréal held a retrospective of her work in 1970, which was also held in Paris at the Canadian Cultural Centre in 1972." (Canadian Encyc.).
Provenance: Torban V. Kristensen, the Art Emporium, Vancouver; Collection of A. K. Prakash, Toronto.
143. GAUCHER, Yves. RCA. President, Association de Paintres-Graveurs de Montréal. [1933-2000]. [Untitled]. 25 ½ x 19 3/8 inches. gouache over pencil on paper. signed & dated [19] 82 on recto. $5,000


Gaucher began his career as a print-maker, turning to painting in 1964. "As a painter he played with coloured fields, juxtaposing them through the interplay of chromatic energy, symmetry, asymmetry and blank space. In 1966, he participated in the 33rd Venice Biennale and became assistant professor of fine arts at Montréal's Sir George Williams University…, where he taught graphic arts and painting until 2000. His students included celebrated artists such as Betty Goodwin, Jana Sterbak and Marc Séguin…His paintings from the 1980s explore the luminous effects of various colour palettes and tones…In 1996, the Galerie Simon Blais and the Montréal Museum of Fine Arts launched retrospective exhibits of his work. After his death in September 2000, retrospective exhibits were organized across the country in honour of his career." (Canadian Encyc.).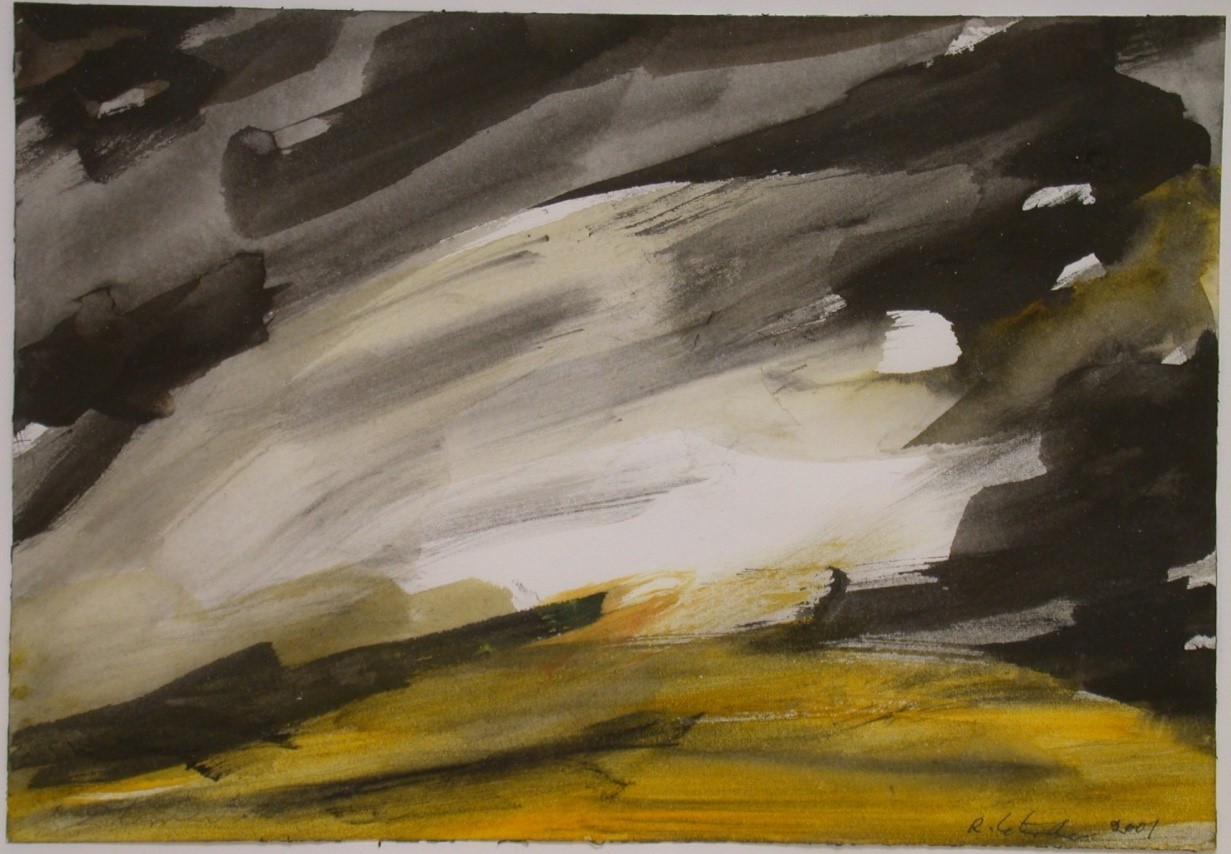 144. LETENDRE. Rita. RCA. Association des Artistes Non-figuratifs, Montreal. [b. 1928]. [Abstract in yellow & black]. 7 x 10 1/8 inches. watercolour on paper. signed, titled, & dated 2007 on recto. $1,600
"Rita Letendre's work attracted attention in the early 1950s through her association with Paul-Émile Borduas and the Montreal abstractionists known as the Automatistes. Their primary objective was the liberation of the creative force through the painted surface. Although their influence was instrumental in the evolution of her style, Letendre developed a singular vision in her body of work that resulted in an international reputation and an extensive exhibition record…Increasingly her work exhibited more space and tension, indicating a greater commitment to form, shifting…to the more ordered, geometric mode of the Plasticiens. Colour fields are broken apart and expanded, while a reduced range of pigmentation creates a feeling of intensity. The surfaces became more compelling with densely applied gestural strokes that evoke raw states of emotion, restlessness and energy...Letendre has said that her work is grounded in metaphors of light, darkness and movement in an ongoing commitment to the process of discovery of the self." (National Gallery of Canada website).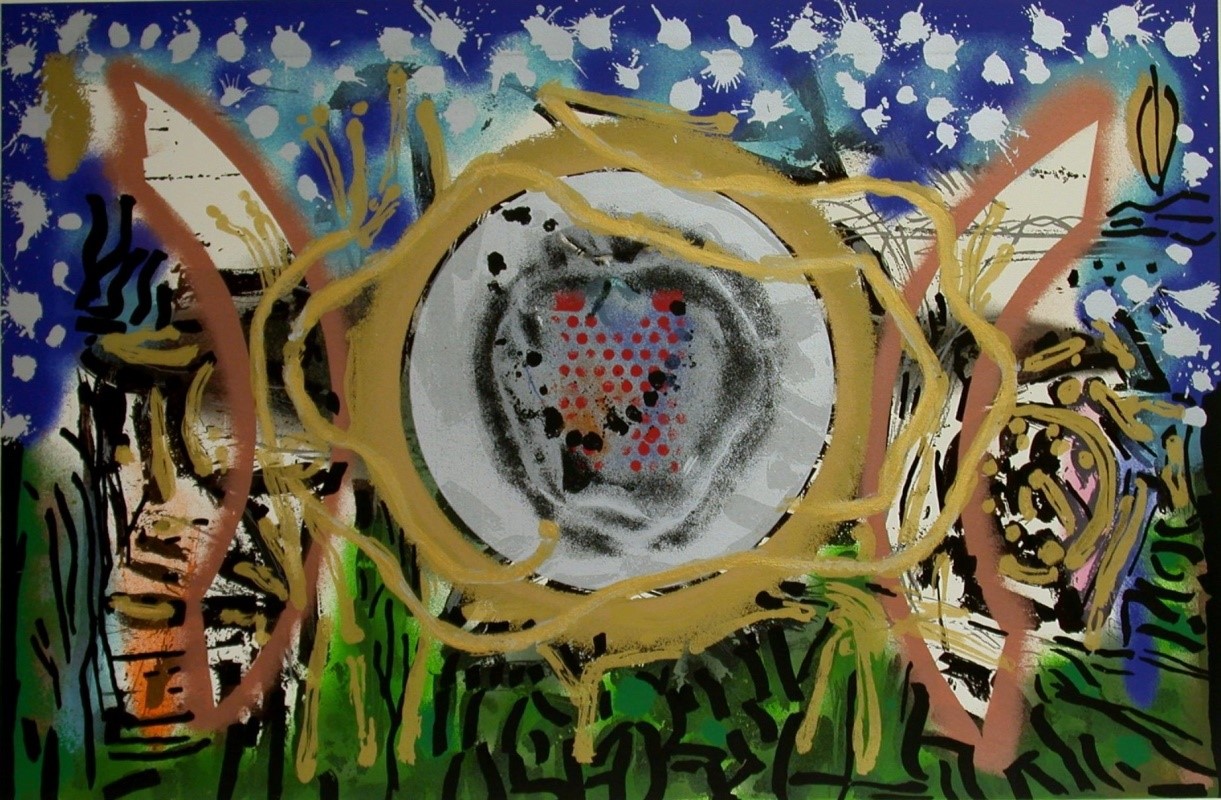 145. RIOPELLE, Jean-Paul. RCA. Founding member of "Les Automatistes". [1923-2002]. AU-DE-ÇA. 24 ¼ x 37 inches. colour silkscreen & intaglio, with gold, copper, & silver paint. signed & numbered in pencil. edition of 75 copies. bearing Novak Studio chop mark (printed at Novak Graphics Inc.). [1995]. $7,000
Not listed in the printed edition of the Catalogue Raisonné but in the CD formatted addendum.
One of the original signers of the 'Refus Global' manifesto of the Automatistes, Riopelle is the best known of Canada's abstract painters, and was one of the first Canadians to attract major international recognition. A Companion of the Order of Canada and a Grand Officer of the National Order of Québec, Riopelle represented Canada at the 1962 Venice Biennale. In 1981 he received a large retrospective at the Musée National d'Art, Centre Georges Pompidou in Paris in 1981 that travelled to the Musée national des beaux-arts du Québec and the Musée d'art contemporain de Montréal.
Canadian Graphic and Illustration Art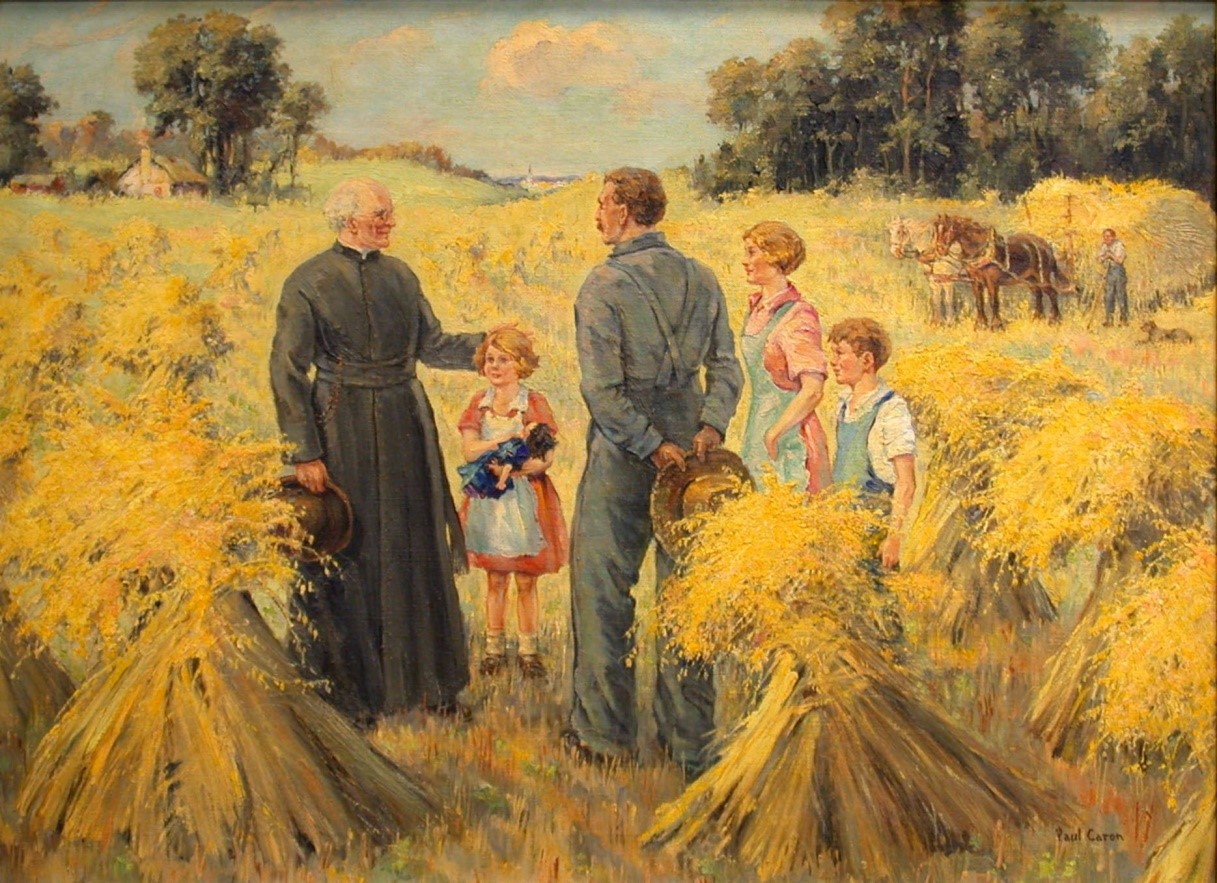 146. CARON, Paul Archibald Octave. ARCA. AC. CSGA. CPE. PPC. [1874-1941]. Le Curé du Village. 17 ½ x 23 inches. oil on canvas. signed on recto. $10,000
This image was used as illustration art for a calendar produced for Dow Beer company of Quebec (a copy of the original calendar also included).
A former student of William Brymmer. Maurice Cullen and Edmond Dyonnet at the Art Association of Montreal School, Caron worked as: draughtsman for J.C. Spence & Sons, Mtl., makers of stained-glass (1891-1902); as an illustrator for La Presse (1897-1908) and the Montreal Star; as an illustrator and later director for Desbarats Advertising Agency, Mtl, before he became a full-time painter of the old buildings of Montreal and Quebec City, and of landscapes of the Laurentians and Baie St. Paul region. He won the Jessie Dow Prize for watercolours twice, in 1931 and 1936.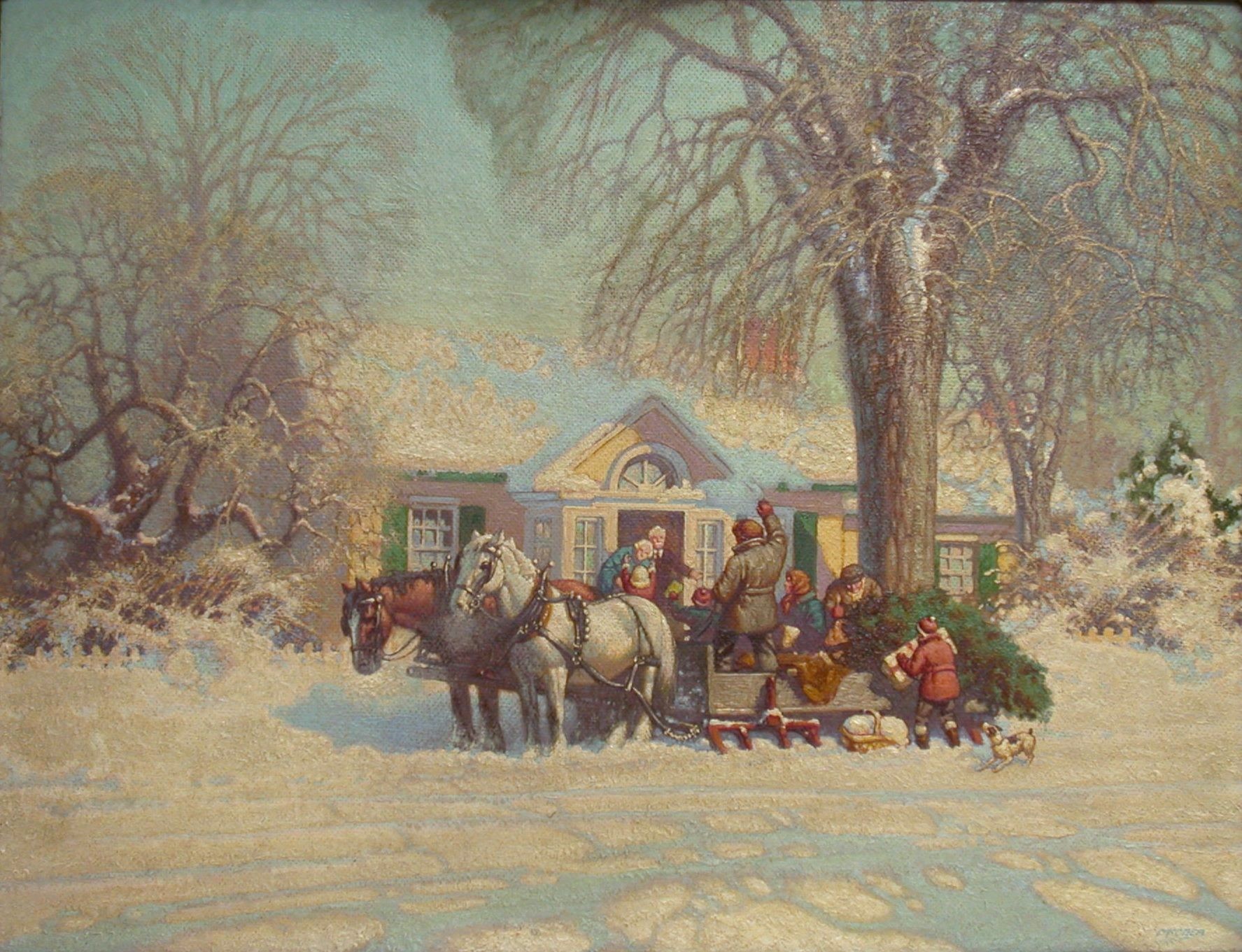 147. McCREA, Harold Wellington. OSA. CSGA. [1887-1969]. Happy Christmas; Home for Christmas. 20 x 26 inches. oil on masonite. signed on recto. titled to artist's label verso. also titled to a copy of the original greeting card. $10,000
McCrea was a painter, graphic artist, cartoonist and illustrator who worked in oil, tempera, watercolor, and pen and ink. He was commissioned to do drawings for the Ford Historical Museum in Dearborn, Michigan (c.1918) and to paint a series of sixty oil paintings depicting Canadian life and history by the T. Eaton Company, Toronto (c.1929). From 1910 to 1914 he worked at the commercial art and design firm Grip Limited (Toronto), where he would have associated with Group of Seven members J.E.H. MacDonald, Arthur Lismer, Frank Johnston, Frederick Varley and Franklin Carmichael as well as Tom Thomson. Around 1920 he opened his own studio and worked as a freelance commercial artist and painter for the rest of his life.
Provenance: Collection of the McCarthy family, Toronto (the family were printers and this image was at one time reproduced on a seasonal greeting card).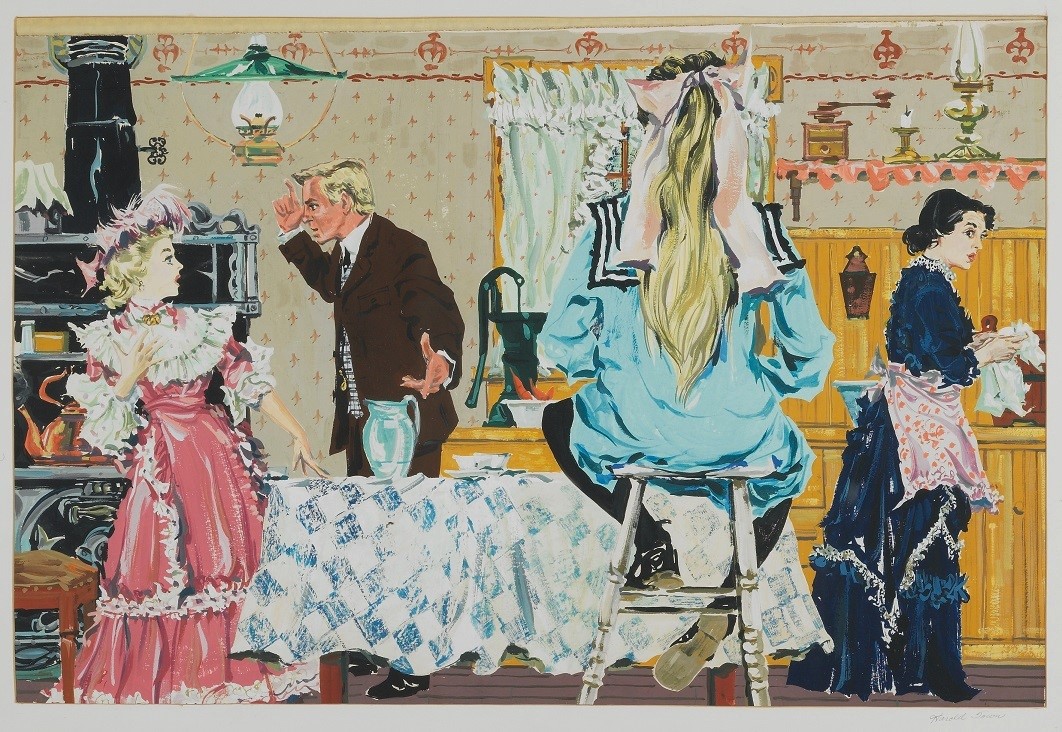 148. TOWN, Harold Barling. RCA. OSA. CPE. The Painters Eleven. [1924-1990]. This Stranger, My Mother. 17 ½ x 27 inches. oil on board. (also included, a copy of the original illustration from the magazine applied to the verso). remains of signature on verso. signed on matting. [c1957]. $1,700
The original graphic work used as the illustration for the book excerpt, "This Stranger, My Mother" by Adeline Attwood, published in Chatelaine Magazine. Also included is a copy of the final printed work published in the magazine.
"A provocative and prolific painter and printmaker, co-founder of the Painters Eleven group, Town worked simultaneously in a wide range of techniques throughout his long career (painting, drawing, prints, collage and assembly), and infused them with his characteristic ingenuity, fertile imagination and technical virtuosity...Town's works, which displayed a love of colour, energy and dramatic intensity, range from masterful drawings to geometric motifs, and include dynamic abstracts reflecting many inspirations and styles... Town received a number of commissions for public works of art and twice represented Canada at the Venice Biennale…In 1957 Town received the Biennale de São Paulo's Arno Award, an honorary doctorate from York University in 1966 and, in 1968, became an Officer of the Order of Canada." (National Gallery of Canada, Ottawa, website).
Exhibited: Eight Annual Exhibition of Canadian Advertising and Editorial Art, Art Directors Club, Toronto [#309], original labels on verso.
The Sixties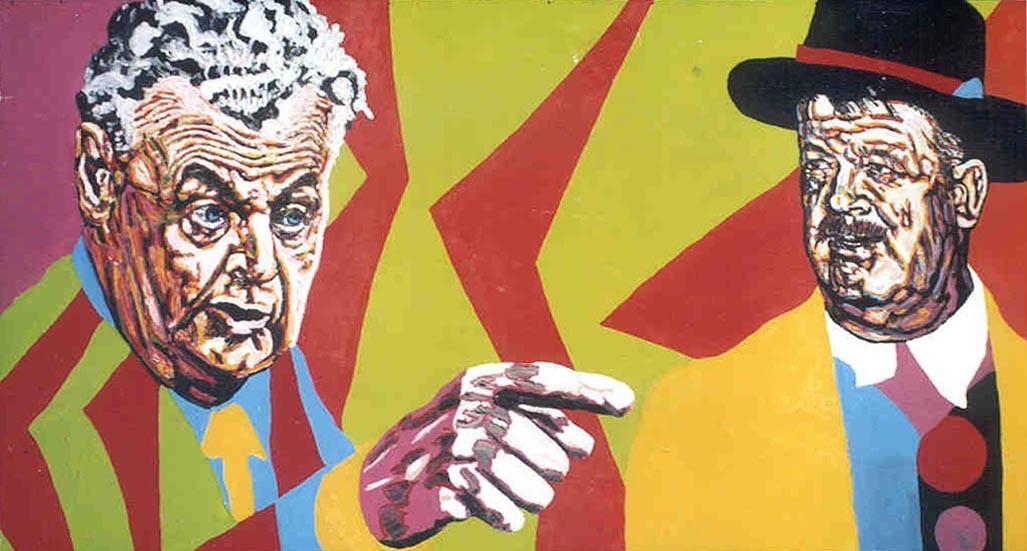 149. BOYLE, John B[ernard] [b. 1941]. Nihilist Spasm Band. Niagara Artists' Cooperative. [b. 1941]. Movie Box –John and Peter [John Diefenbaker and Peter Virigin, Doukhobor leader]. oil on ply-wood panel. 1967. $3,000
The Movie 'Box'was a painted construction shown in the 1968 National Gallery touring exhibition "On the Bias", curated by Alvin Balkind, 1968-69. The piece, which originally included an 8mm movie projector and film produced by the artist, was disassembled after the tour. Each panel was done as a complete painting connected to the others only by the contemporary (1960's) subject matter (politicians, events, writers, students, friends, etc.) that interested the artist during the production of the piece.
Boyle was a founding-member of the Nihilist Spasm Band in 1965 and a founder-member of the Niagara Artists' Cooperative in 1970. Boyle, a strong Canadian nationalist, often included images of well-known Canadian historical and contemporary figures in his works, including William Lyon Mackenzie, Louis Riel, and Marshall McLuhan. Boyle has received a number of significant public commissions including two huge murals for the Queen Street subway station, Toronto ("Our Knell" 1980, 7 x 49 ft. long of baked porcelain on steel) depicting author Nellie McClung and William Lyon Mackenzie with a background of major buildings of the area. Boyle designed a stamp for Canada Post in 1974 to honour Guglielmo Marconi, the father of radio.
Provenance: Acquired directly from the artist.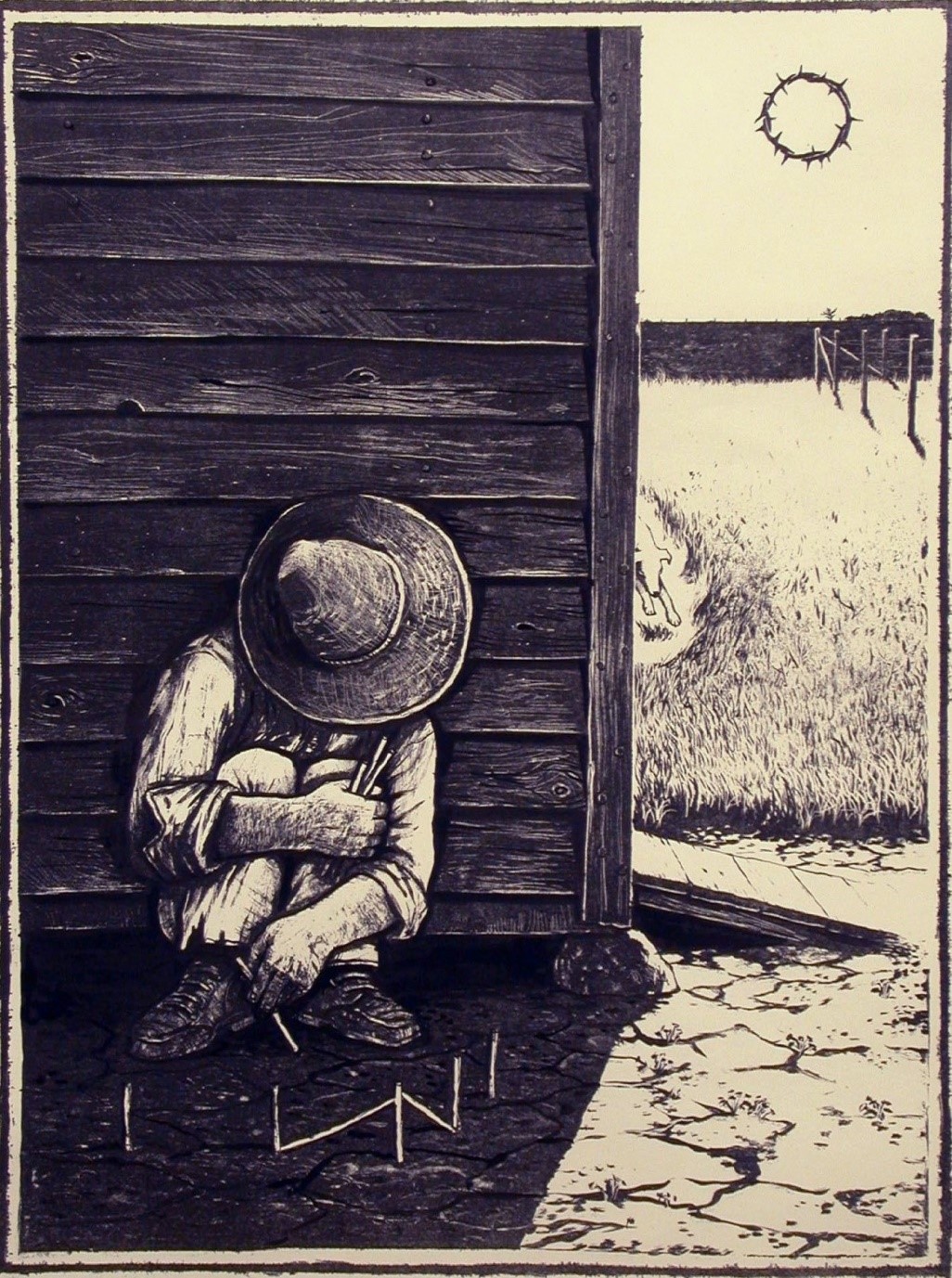 150. KURELEK, William. RCA. [1927-1977]. The Hound of Heaven. 17 ¾ x 13 ¼ inches. Lithograph. Toronto: Art Publications Inc, 1965. $2,000
Edition of 100 examples, signed, titled, & numbered ["78/100"] in pencil. Originally published as part of "Toronto 20" a portfolio by the Jerrold Morris Gallery, Toronto.
Kurelek's realist and symbolist paintings were influenced by his Ukrainian heritage, his childhood on the Prairies, his bouts with depression, his conversion to Roman Catholicism. He studied at the University of Manitoba, the Ontario College of Art in Toronto, and at the Instituto Allende in Mexico, and also apprenticed with a professional picture framer. It was Avrom Isaacs in Toronto who gave him his first show in 1960. The following year, at the women's committee annual exhibition of the Toronto Art Gallery, one of his paintings (Hailstorm in Alberta) was selected for the Museum of Modern Art, New York by Director Alfred H. Barr. Kurelek completed a number of significant painting series including "Farm Memories" (Isaacs Gallery 1961); "Children's Games" (Montreal, Gallery XII, 1963); "An Immigrant Farms In Canada" (Isaacs Gallery, 1964); "Manitoba Bog Paintings" (Agnes Lefort Gallery, Montreal, 1967); and "The Ukrainian Pioneer Woman In Canada" (Isaacs Gallery, 1968).
Provenance: The Estate of Jim Hennok, Toronto.
151. RAYNER, Gordon [1935-2010]. Pierre. In Commemoration of the Prime Minister's Strange visit to Ibiza in the Summer of 1968. 18 x 23 inches. colour photo-offset. signed in the print "Collage by Gordon Rayner". [c1968]. $300
Produced on the occasion of an exhibition of work by Gordon Rayner at the Isaacs Gallery, Toronto. "Rayner's early 1960s work, with its juxtaposed materials, experiments in canvas shape and sense of humour, reflects the neo-dada mood then prevalent in Toronto. In time he became a sumptuous painter of Canadian landscape, especially the area around Magnetawan, Ontario, in the Muskokas. His cityscapes reflect his home on Toronto's Spadina Avenue. Rayner's work boldly ricochets from one concern to another, even within the same painting, though his inventions are united by his broad touch and spectacular sense of colour. The work Rayner produced during the last phase of his career was less oriented toward aggressive experimentation with material and techniques as it was sumptuous and painterly, often addressing emotionally potent and even spiritual themes." (Canadian Encyc.)
Provenance: Collection of Av Isaacs, The Isaacs Gallery, Toronto.
152. WIELAND, Joyce. ARCA. RCA. [1931-1999]. Squid Jiggin' (drop title: "O this is the place where the fishermen gather with oil skins and boots…"). 19 ½ x 24 ½ inches. red & grey lithograph on silk. signed & titled to remains of old frame backing. [1973]. $2,500
This work is an out-of-edition artist's proof. The regular edition was signed, dated [19] 73, & numbered in pencil out of an edition of eight examples. The printed text is taken from the popular Newfoundland folk song "The Squid Jiggin' Ground" originally written by Arthur Scammel in 1928 (recordings were made by Hank Snow and Stompin' Tom Connors). As in her previous O Canada (1970), it is an actual image of her lips as she mouths the lyrics.
"A pioneering feminist artist and the first woman to receive a solo exhibition at the National Gallery of Canada and the Art Gallery of Ontario, Joyce Wieland was a prominent and influential figure in the Canadian art scene from the 1960s to the 1980s....Passionately concerned with the aesthetic perspective of the woman artist, Wieland drew inspiration from Canadian history, politics and ecology. Her search led her to challenge the dominance of painting and the traditional materials of high art through the use of domestic and craft materials. Challenging accepted hierarchies, her works included not only painting, lithography, collage and film, but also cartoons, embroidery, knitting, quilting, and, for True Patriot Love, an exquisitely decorated cake. In her fabric work and in her films, Wieland made use of female imagery but also the materials that women employ in their daily lives...Wieland's commissions included the 1972 Canada Post office commission for a World Health Day stamp; Defend the Earth/Défendez la terre, a quilted wall mural for the National Science Library, Ottawa (1972-73); the quilted cloth assemblage, Barren Ground Caribou, for the Spadina Subway, Toronto (1977-78)...Joyce Wieland was...made an Officer of the Order of Canada in 1982." (Canadian Encyc.).
Provenance: Collection of Av Isaacs, The Isaacs Gallery, Toronto.
First Nations Art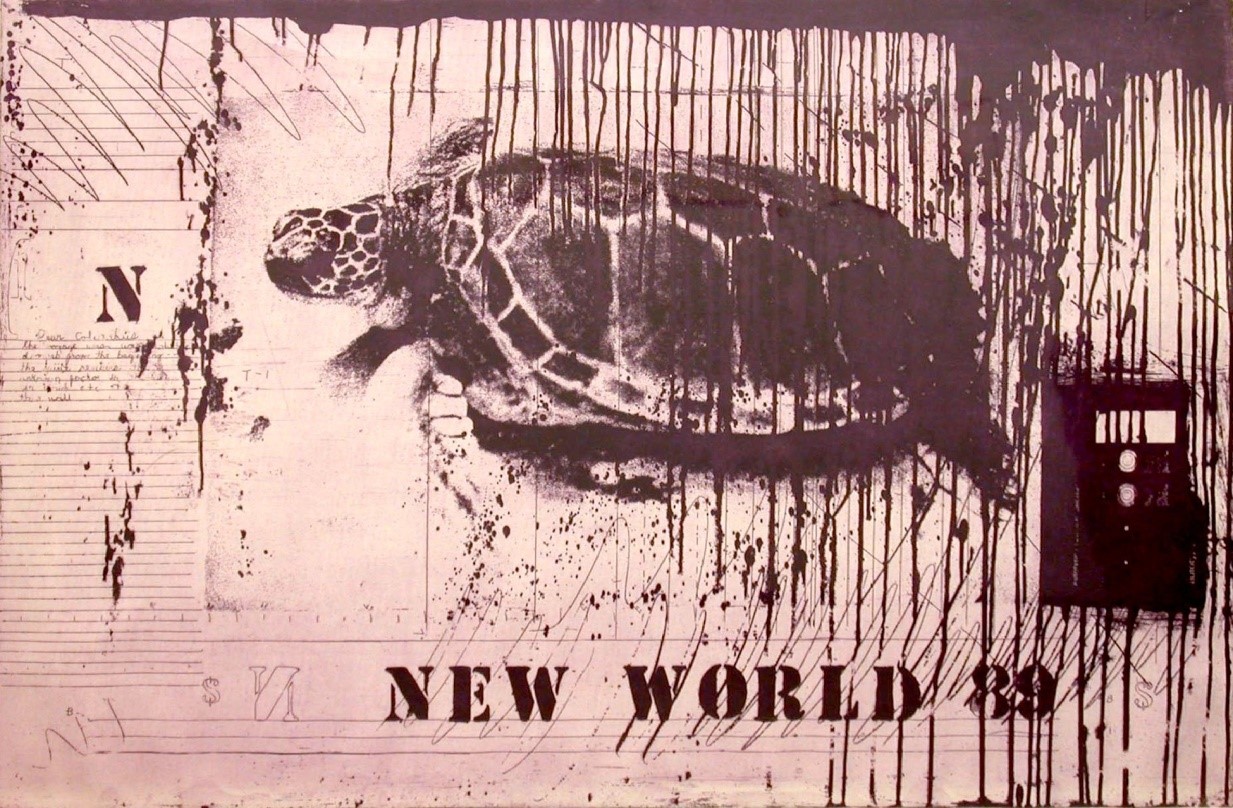 153. BEAM, Carl. RCA. [1943-2005]. New World 89. 45 x 29 ½ inches. Etching on paper. signed, titled & inscribed "Artist's Proof" in pencil. $3,000
Beam, an innovative conceptual artist of international stature, was the first contemporary aboriginal artist whose work was purchased by the National Gallery of Canada. His work was the subject of a major National Gallery retrospective in 2010. Born on Manitoulin Island, Ontario, Beam earned a Bachelor's degree in fine art from the University of Victoria art school and later did post-graduate work at the University of Alberta and taught at Ojibway Cultural Foundation. Beam worked in a variety of media, including watercolour and coloured pencil, acrylic and graphite on plexiglass and plywood; colour Xerox and mixed media; photo-emulsion and acrylic on paper, canvas, and ceramics. He is known mainly for his unique prints which juxtapose images of the contemporary world and technology with symbols from First Nations culture and photos of historical native leaders (Chief Sitting Bull, Geronimo and others), embodying multiple layers of meaning.
154. BEAM, Carl. RCA. [1943-2005]. Buried Images. 18 x 8 x 1 ¼ inches. 12 inch wooden ruler with black feather tied with red twine. sand loosely laid on the bottom of the frame. Toronto: Lake Galleries, 1995. $500
Edition of 999 numbered examples, signed by Beam on the ruler verso and on the lower right corner of backing.
This multiple was produced in conjunction with the exhibition Buried Images May 18 - June 11, 1995, at Lake Galleries Toronto. It is part of a series of works derived from a 1992 action called Burying the Ruler, in which the artist ritually buried a ruler in sand. This was first time the artist produced a work of this nature.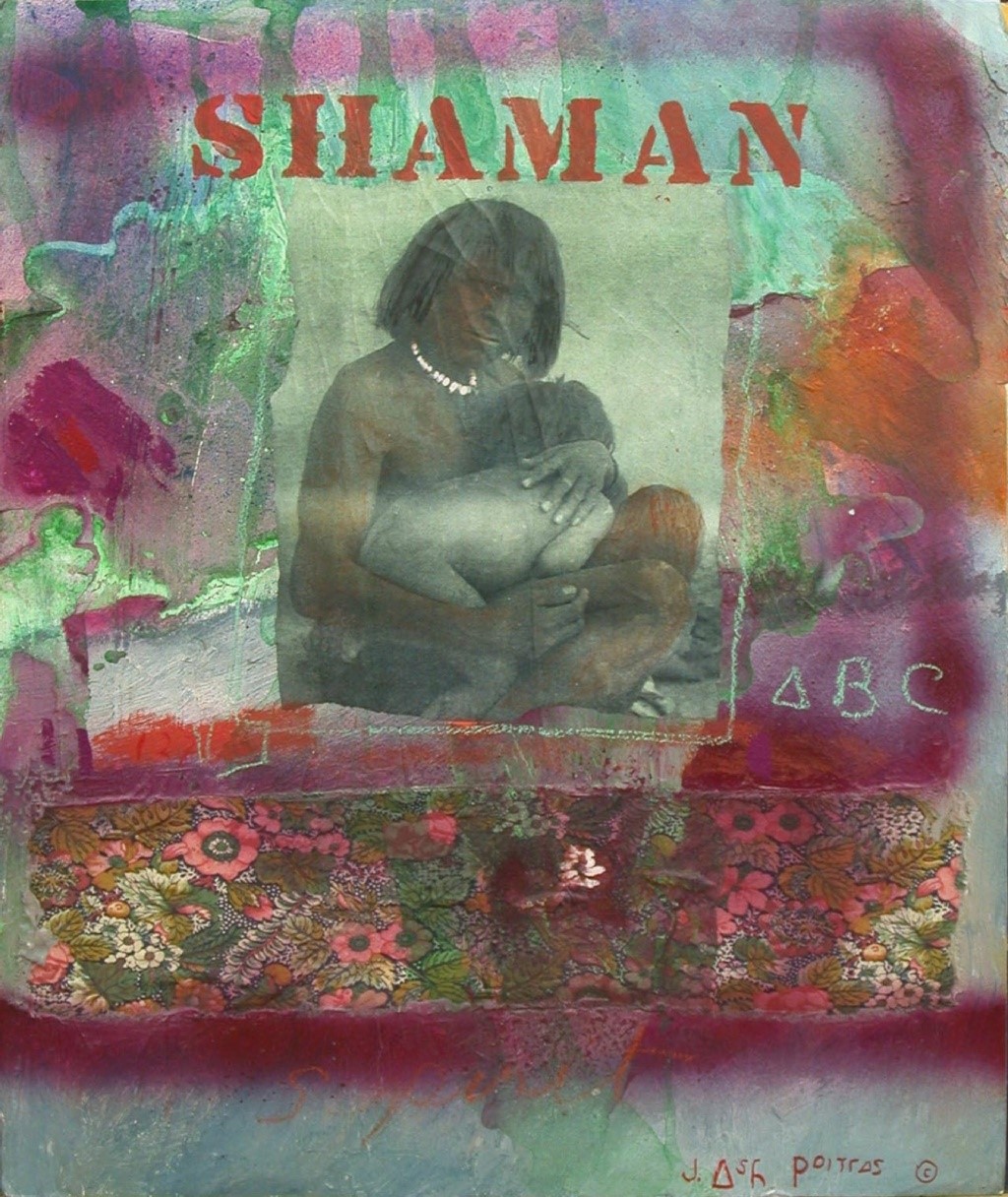 155. POITRAS, Jane Ash. [b. 1951]. Shaman. 17 ¼ x 22 inches. collage with acrylic on paper. signed & titled on recto. $2,600
"Jane Ash Poitras began to seek her Chipewyan roots only in early adulthood, after a Roman Catholic upbringing. She earned a degree in microbiology and then went on to study art, completing her postgraduate studies in printmaking at Columbia University in 1985. There she was exposed to the work of American artists including Mark Rothko, Kurt Schwitters, Robert Rauschenberg, and Cy Twombly. Like them, she layers images and text into multiple narrative strands, a technique she has carried from printmaking to painting. Poitras has pursued the knowledge and practice of indigenous spirituality for many years, embracing personal, historical, and contemporary aspects of Native spiritual life. She has sought to understand and enrich her own spiritual being through research, the teaching of elders and shamans, and participation in ceremonial life. She has also explored the relationship of personal identity with cultural identity and the history of Native people, integrating these into her art making." (National Gallery of Canada website)
Canadian Inuit Art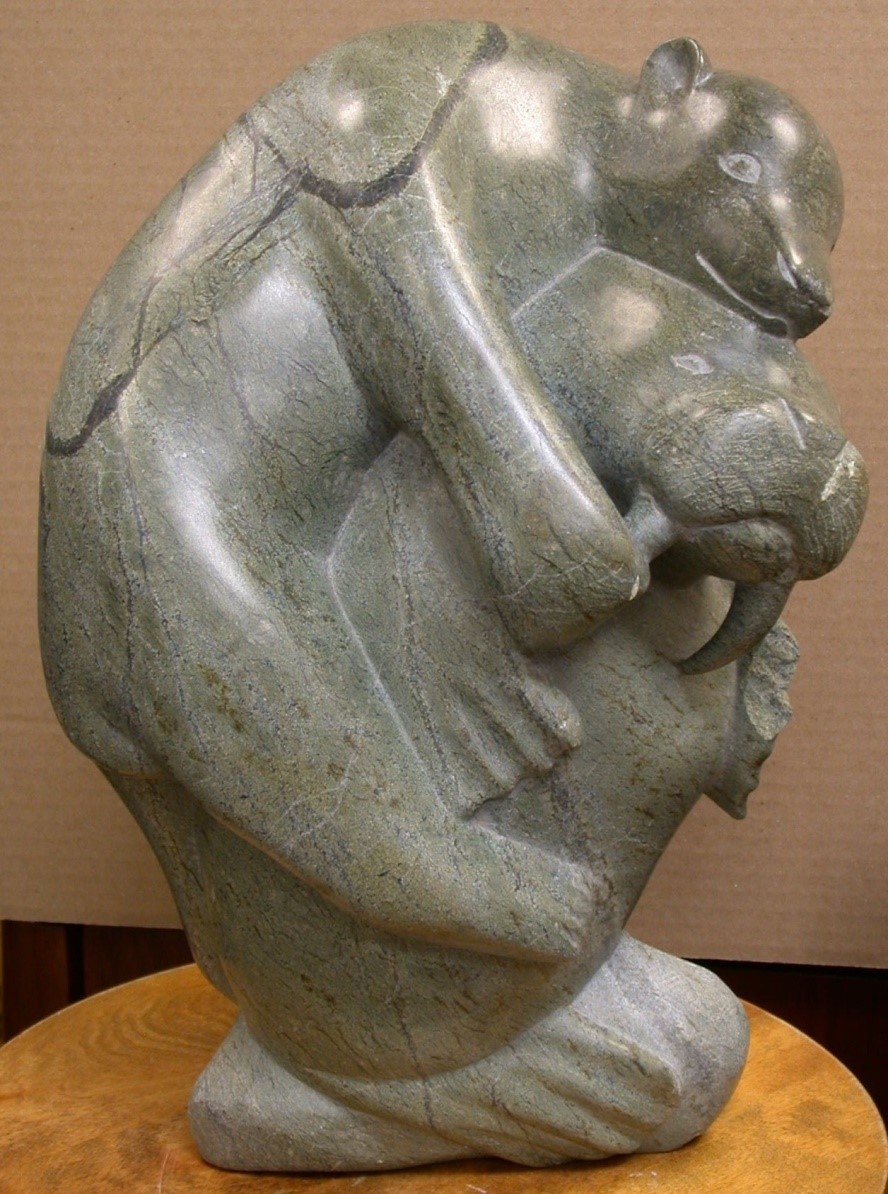 156. KELLY, Mathew Moshe. [Canadian Inuit, b. 1947]. [Bear and Walrus]. 16 x 9 ½ x 6 inches. light grey carved soapstone. bearing original Cape Dorset, North-West Territories, Co-operative labels to bottom. $3,000
Provenance: The Gallery Moos, Toronto; The Estate of Walter Moos.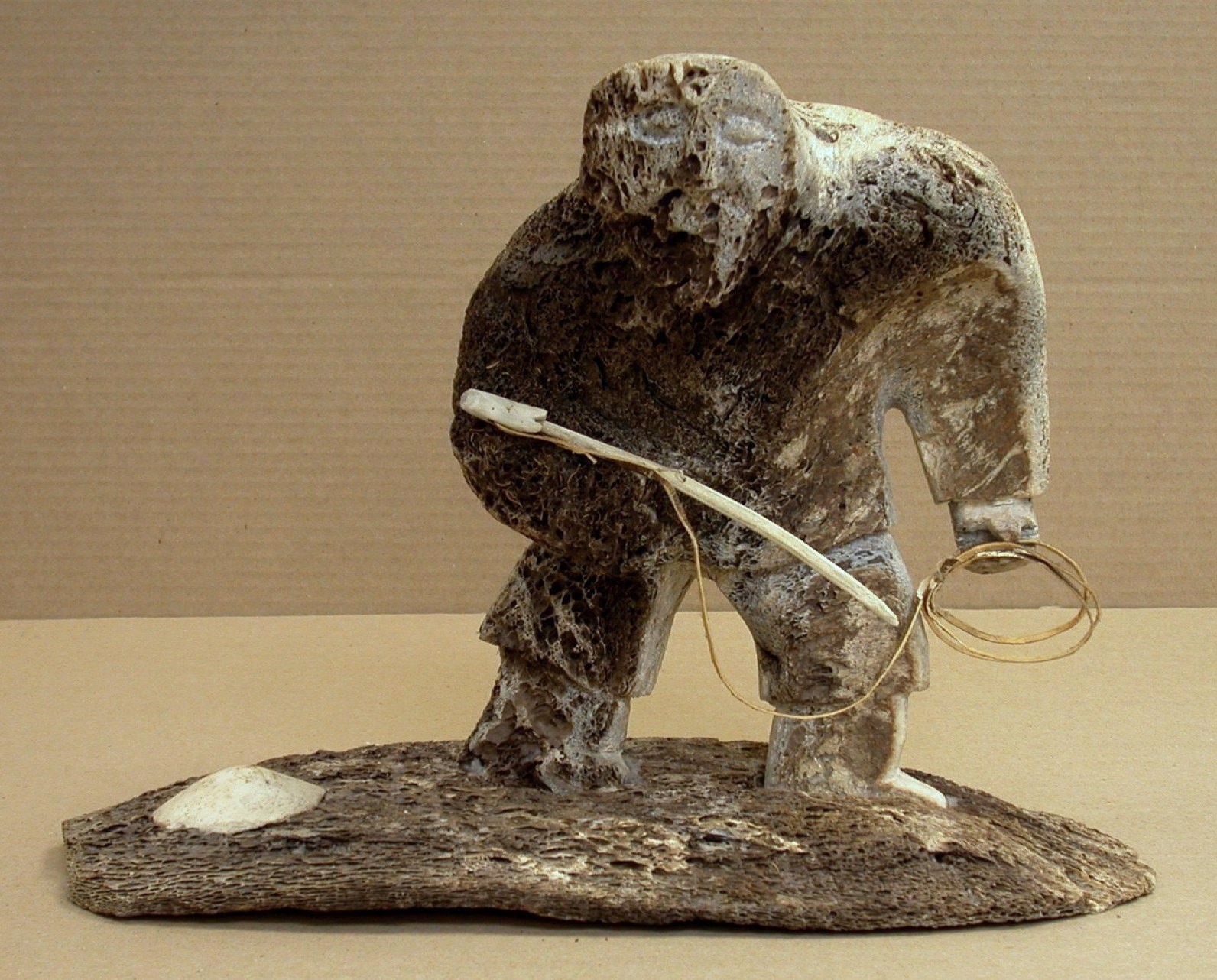 157. [20th CENTURY CANADIAN INUIT SCHOOL]. [Inuit Hunter with Harpoon]. 11 ½ x 8 x 20 ¼ inches. whale bone, hide, & twine. unsigned. [1980's]. $1,400
This carving is similar to work done by artist Jaypate Karpik, from Pangnirtung, Baffin Island, Nunavut.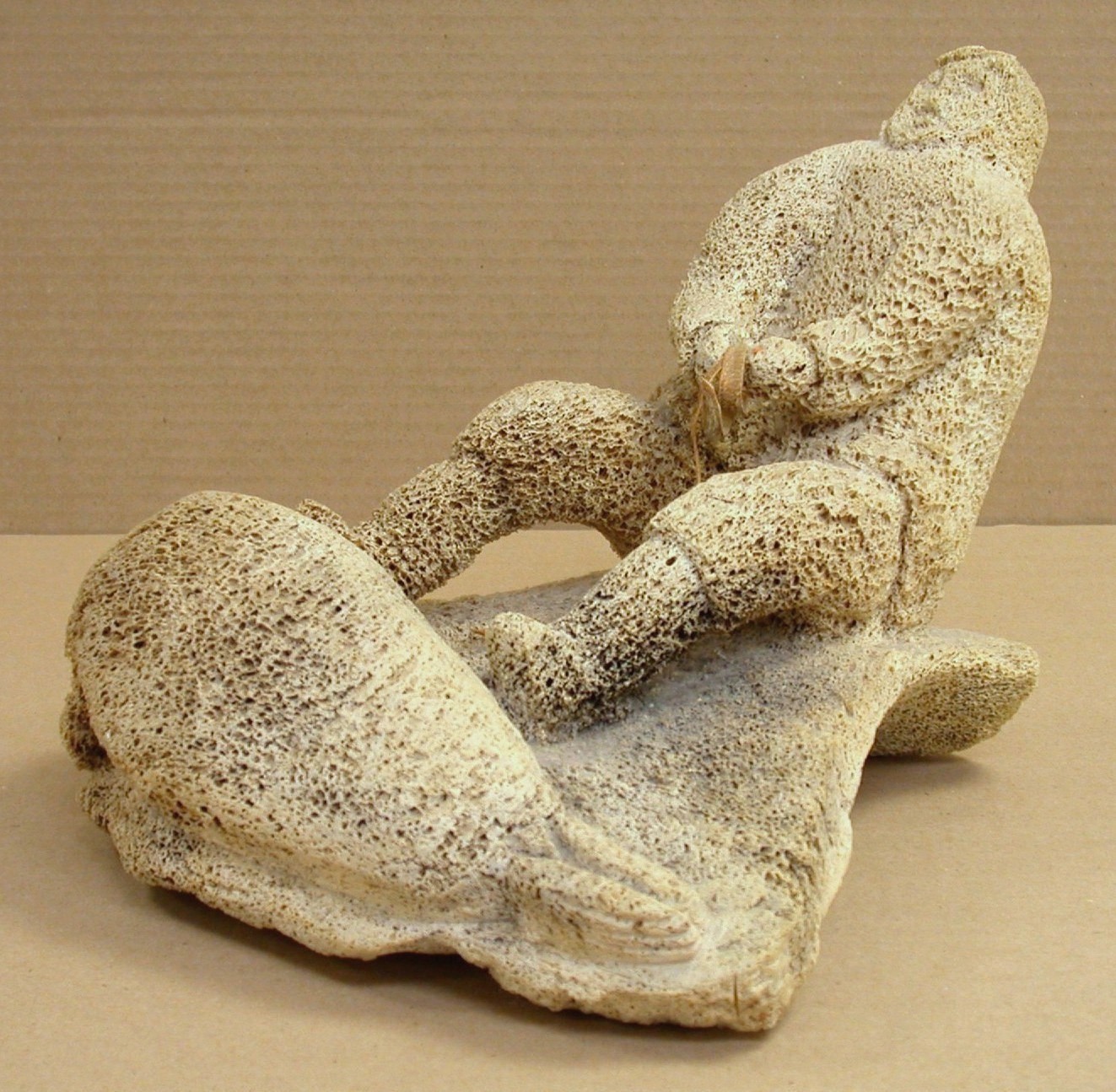 158. [20th CENTURY CANADIAN INUIT SCHOOL]. [Inuit Hunter and Seal]. 9 x 14 x 13 inches. whale bone. unsigned. [1980's]. $1,000
Canadian Protest Art
159. Art Against the GST. black and red lithograph on paper. signed, titled, and numbered in pencil. Lake Galleries, Toronto: 1990. $75
Produced on the occasion of the group exhibition "Art Against the GST" held at Lake Galleries, Toronto, from August to September 1990. The exhibition was held to protest the new "goods and services tax". Instituted by the Mulroney government, the GST would also be applied to art and books, thereby causing an unnecessary burden on culture and education.